Disclosure of Material Connection: Some of the links in this post may be "affiliate links." This means if you click on the link and purchase an item, I will receive an affiliate commission. Disclosure in accordance with the Federal Trade Commission's 16 CFR, Part 255. This site is a participant in the Amazon Services LLC Associates Program, an affiliate advertising program designed to provide a means for sites to earn advertising fees by advertising and linking to Amazon.
My mom is crafty (in more ways than one) and you'd think that would make Mother's Day shopping a little bit easier… But it doesn't. Here's some gift ideas for your also crafty hard to shop for mother that she can actually use.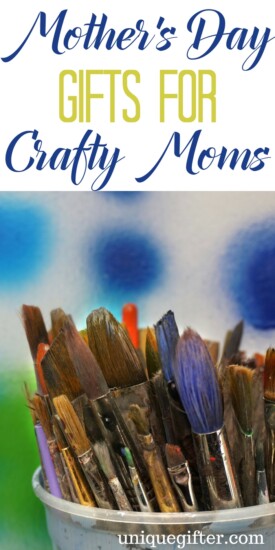 Mother's Day Gifts for Crafty Moms
Hot Glue Gun
Get her something that's great quality and is easy to use. Glue guns are kind of the go-to for craft projects so mom will welcome one as a gift, especially a cordless one, so the cord doesn't get in the way and accidentally wreck something!
Fabric
There's so many DIY projects mom can embellish with a bit of fabric. Even if she doesn't sew, fabric can be used in scrapbooking or other crafts.
Portable Sewing Machine
Great for those quick fixes or small craft projects! Mom will be able to save the day even more than she already does.
Custom Stamp
A really cool, personalized gift for Mother's Day! This stamp can be customized so that mom can put her name on everything she creates.
Lap Crafting Table
If mom isn't lucky enough to have a craft room (or wants to watch tv) she can still get those projects done on the couch. This tray has compartments so everything will be within reach.
Metallic Pens
Get mom started with calligraphy or enhance her craft projects with these pens. It's always a fun surprise to get new craft supplies!
Paint Brush Holder
No more searching for the right paint brush for your mom when you give her this awesome Mother's Day gift. Throw in a packet of paintbrushes for an even bigger surprise.
Crafty Shirt
Because you're her greatest DIY project.
Label Maker
Not only can she use it to enhance her crafting projects but mom will be thrilled to finally label all of her craft supplies. This is a quality model with a nice storage case.
Wooden Sign
Something thoughtful for her craft room or just to be hung around the house, this sign is definitely going to make mom happy on Mother's Day. It says "created to create".
Cricut Machine
There's no such thing as too many crafting tools! If your crafty mom doesn't already have one of these then what are you waiting for? It can be used in so many ways and these are a must-have, slightly pricey item, so she will love it as a gift!
Craft Storage
The problem isn't that mom has too many craft supplies, the problem is that she doesn't have enough places to store them. Help her out.
Create Candle
Something a little bit different for Mother's Day. Treat mom to some handmade relaxation as she burns this pretty "create" candle.
Love Shirt
Maybe she already has enough craft supplies (not sure if that's possible) so grab a t-shirt for mom instead.
Stamp Set
Use your imagination and think about what kind of crafts your mom likes to make when choosing stamps as a gift for Mother's Day. Or go with something natural, like these letters.
Craft Room Art Print
Pick this print up in the size that will fit best then pick out a frame that really suits mom for a perfect Mother's Day gift.
Personalized Tape Measure
So mom's out shopping and needs a tape measure… Boom! She pulls out the personalized tape measure that her favourite child bought her for Mother's Day.
Tote Bag
Because sometimes crafts need to be transported.
Create Mug
Coffee goes great with all-night-last-minute-omg-the-party-is-tomorrow crafting sessions. Perk mom up with one that suits her personality.
Embroidery Machine
If mom does any kind of sewing or wants to get into embroidery this is a "wow" Mother's Day gift. Think of all the personalized towels you'll be getting in return!
You can also include a gift card to mom's favorite craft store if you really want to win Mother's Day favour.