Disclosure of Material Connection: Some of the links in this post may be "affiliate links." This means if you click on the link and purchase an item, I will receive an affiliate commission. Disclosure in accordance with the Federal Trade Commission's 16 CFR, Part 255. This site is a participant in the Amazon Services LLC Associates Program, an affiliate advertising program designed to provide a means for sites to earn advertising fees by advertising and linking to Amazon.
These ways to taste a rainbow are filling and fun! From the sweet, to the savory and even the healthy. These recipes are a great way to incorporate the vibrant and fun colors of the rainbow into the foods you love. If you haven't tried them yet, they're sure to make their way to your recipe card soon enough! Take these fun and fantastic rainbow colored foods for a spin to see just how they can brighten up your plate. We've got a selection of rainbow recipes, and a selection of rainbow snacks – big or small, you'll find something fun and delicious here!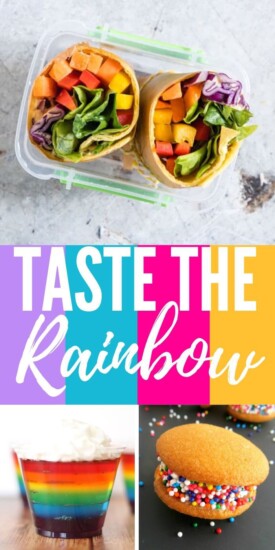 Must-Try Ways to Taste a Rainbow With Recipes
If you've got little ones at home, you'll probably find yourself in a quandary about what to make them for lunch or snacks. Keeping things healthy is ideal, but not always the easiest thing in practice. Some of these recipes can help you get them excited for having a few more servings of fruits and vegetables. And, when it's time for dessert there's a few sweets in here that will take the whole rainbow theme to the next level. For a rainbow themed kid's party, these recipes are a must-try!
There's plenty of fresh ways to enjoy some of the foods you already love. You can even find a few recipes to throw into the rotation, or for a fun rainbow themed get together. The possibilities are endless, but so are the flavors! You can have a sweet treat, healthy and satisfying crunch, or savory delight with these rainbow recipe ideas! If you're looking for some creative and entertaining ways to taste a rainbow, give one of these a spin.
15+ ways to taste a rainbow
Hosting a party and looking for a bright and cheery food option? These Rainbow Snack Ideas will not disappoint! They are delicious, vibrant, and will impress a crowd in mere seconds. They aren't even hard to make either. Besides, it's impossible not to have a blast when you are whipping up a batch of snacks or when you're eating them.
15+ Rainbow Snack Ideas
I'm sure you already know, but rainbows are so hot right now! They go with themed birthday, St. Patrick's Day, or even unicorn parties. Plus, they taste great on a regular non-event day too. I find myself munching on these rainbow treats just because they are so good. Try them for yourself and you'll understand why.
Rainbow Snack Ideas
All of these rainbow snack ideas are TONS of fun and add life to any party you are throwing. Great for unicorn parties, St. Patrick's Day or even birthdays. Go wild and enjoy!

Which one of these fun ways to taste the rainbow caught your attention? For me it was fairy bread! I've never heard of it before whipping some up with this recipe. And I've got to say, it's one of my new favorite guilty pleasures. Any one of these recipes can help you find a new way to enjoy food in a new way.
Check out some of our other posts you will love!