Disclosure of Material Connection: Some of the links in this post may be "affiliate links." This means if you click on the link and purchase an item, I will receive an affiliate commission. Disclosure in accordance with the Federal Trade Commission's 16 CFR, Part 255. This site is a participant in the Amazon Services LLC Associates Program, an affiliate advertising program designed to provide a means for sites to earn advertising fees by advertising and linking to Amazon.
Your sister is retiring from her work and you want to throw her a party or at the very least, get her a gift to commemorate all of the hard work that she has put in over the years. Below are just a few ideas to get the juices flowing. Make sure to choose a good one, after all, she is your sister and she has worked hard!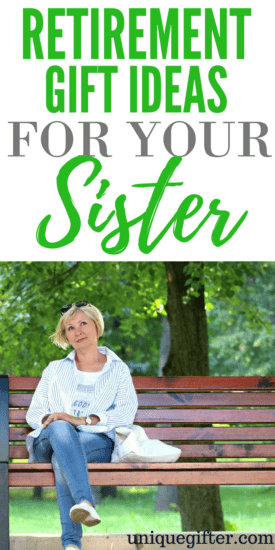 "Remember the past, enjoy the present, embrace the future" Keychain
As your sister retires, it is important for her to do as this keychain says: to remember the past, enjoy the present, and embrace the future. It will serve as a good reminder whenever she grabs her keys to go somewhere.
"Goodbye tension, hello pension" Coffee Mug
If your sister has a job where she will be receiving a pension during retirement, this coffee mug will make the perfect gift. It reminds her that she is saying goodbye to her work and tension, but hello to something that is very pleasant!
"Wine made me do it" Shirt
In her retirement, she may be enjoying so much more wine. Get her this "Wine made me do it" shirt to wear on those days where she is struggling and needs a little help from the wine.
Bucket List Notebook
Help your sister create a bucket list for her retirement with this bucket list notebook.
"School is out forever" Mug
For your sister who is a teacher, remind her that school is out forever now that she is retiring from her teaching position. It might be a hard transition, but is still a positive change for her.
"Life is better at the beach" Wine Glass
For most people, whether they are retiring or not, life is better at the beach. That's why this wine glass with the saying on it is perfect for your sister's retirement!
50 States, 5,000 Ideas: Where to Go, When to Go, What to See, What to Do by Joe Yogerst
Give your sister some retirement travel ideas with this book that has five thousand ideas of where to go in the fifty states and what to see while there!
"The book was better" Shirt
Now that your sister will have so much more time to read and watch movies, she is bound to say that the book was better about a movie, and then this shirt will certainly come in handy!
"Everything tastes better with cat hair in it" Coffee Mug
More time with her cats means more cat hair everywhere, which means this "Everything tastes better with cat hair in it" coffee mug is the perfect addition to her mug collection.
Rest & Relaxation Body Mist
Help your sister enjoy more rest and relaxation during her retirement with this body mist!
Best Choice Hammock
Your sister will be able to relax much more often now that she is retiring, and this hammock to hang up in her backyard will help her do so in the great outdoors as well.
Mind Over Matter by Nora Roberts
As I mentioned above, your sister will have more time to read books. Why not get her a book to get started with, with this Mind Over Matter novel by Nora Roberts?
Personalized Yoga Mat
If your sister isn't already into yoga, this is the perfect time for her to get into it. Get her started on the right foot with a personalized yoga mat!
Rest and Relaxation Bath Bombs
Another perfect gift to help her relax more as she enjoys her retirement, these Rest and Relaxation bath bombs will make a great addition to her bath ritual.
"Adventure Awaits" Map Luggage Tags
Send her on adventures in style with these "Adventure Awaits" map luggage tags!
Personalized Wire Bookmark
If your sister is a writer at heart, she may enjoy writing a novel or a story of her life while she enjoys retirement, and having her name monogrammed on a notebook will make it even more fun.
"Good vibes only" Wall Print
Help her get her whole retirement off on a positive note with this "Good vibes only" wall print to put up on her wall.
Creatures of Beauty Adult Coloring Book
Adult coloring books are awesome, everyone needs one, especially your retiring sister! This adult coloring book with creatures of beauty will help her relive her childhood as she colors in the pictures.
Sundome 2-Person Tent
If your sister enjoys camping, this two-person tent is a great addition to her camping gear. She may need a new one for her retirement adventures, whether she goes alone or with a companion.
"Off to see the world" Travel Wallet
Traveling is the gift for being retired and this travel wallet will help her store all of the important things she needs for traveling outside of the country.
Whether your sister and you are close or not, giving her a gift to make this momentous occasion even better is always a good idea! Any one of these would be an excellent choice, depending on what your sister will enjoy.