Disclosure of Material Connection: Some of the links in this post may be "affiliate links." This means if you click on the link and purchase an item, I will receive an affiliate commission. Disclosure in accordance with the Federal Trade Commission's 16 CFR, Part 255. This site is a participant in the Amazon Services LLC Associates Program, an affiliate advertising program designed to provide a means for sites to earn advertising fees by advertising and linking to Amazon.
A principal you know is retiring. Whether you knew them as a kid, know them now as a colleague or friend, or however else you may have met them, you may want to consider getting them a gift for retirement. They have worked hard to provide better education to children and served a school in a leadership capacity for quite a few years. Show them your support by grabbing up one of these wonderful gifts to celebrate their retirement! Check out these retirement gifts for principals.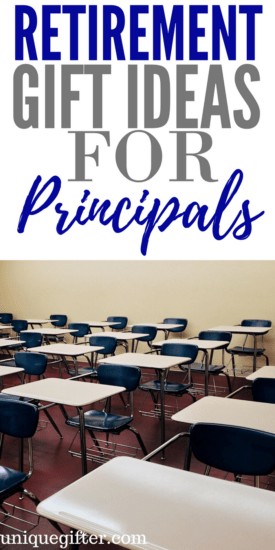 Retirement Gifts for Principals
If you are looking for the perfect retirement gifts for principals, you'll want to keep reading. We have some of the best gifts out there. The question is, which gift will you choose? These gifts are perfect for any principal ending his career.
"I turn coffee into happy students" Coffee Mug
While not the highest priority of a principal, as the quality of education trumps other priorities, but one of the biggest goals of a principal is often helping their students be happier and healthier. This mug is a wonderful way to commemorate all the happy students they have helped in their careers.
"Inspire" Butterfly in Jar
Your favorite principal has spent many years inspiring teachers, staff, and students. Make sure to show them how inspirational that you have found them and their work with this decor piece!
"Mrs. _____" Coffee Mug Using Scrabble Letters
A cute mug that spells their name out with scrabble letters is an awesome way to gift them for their hard work as they finish their career.
Pencil Cufflinks
Custom cufflinks, such of these designed to look like pencils, also make a wonderful gift for the retiring principal in your life.
"Behind every great school is a caring principal" Personalized Necklace
They likely made the school they were a principal of a better place for being there, caring for the students, and making an impact. This sweet necklace will be nice for them to wear to show off how much they care for their past students.
"Enrich, Inspire, Teach" Money Clip
While most people don't use money clips these days, this "Enrich, Inspire, Teach" money clip is still a nice gesture and will make a wonderful gift for them as they retire.
Vanilla Lavender Candle
Candles always make a great choice if you're not sure what they would like. Vanilla and lavender are relaxing and pleasant scents that most people will love!
"Rooted in Love" Personalized Gardening Tools
How they went about their work as a principal was "Rooted in Love," and if they love to garden or have ever expressed to you that they would like to start growing their own garden, these personalized gardening tools will make them smile!
"If you think my hands are full, you should see my heart" Coffee Mug
Their hands and heart have been full in their work as a principal, which means this adorable coffee mug is just perfect for them to sip their coffee from during retirement!
"Mrs. ____… It takes a BIG heart to shape young minds" Planter
Your favorite retiring principal has had to have a big heart to shape the young minds in her school, and with this planter, you can really show her how much you have noticed that in her! Make it an even nicer gesture by planting a flower in it before gifting it!
"Thank you for being a light in my child's life" Personalized Keychain
If it is your child's principal that is retiring, this personalized keychain to thank them for being a light in your kid's life is a super sweet gift for them and shows how much you care to have had them in your life!
Crisp Apple Bath Bomb
Another gift that is great if you aren't sure what they would like but want to get them something that is nice, and maybe even smells heavenly, is this lovely crisp apple bath bomb.
Personalized Notepad Holder
If the retiring principal in your life enjoys writing, a nice personalized notepad holder with their name on it will certainly make a great gift for their retirement.
Bucket List Journal with Maps
Now that they are no longer going to work everyday as a principal, they may want to enjoy traveling and ticking items off on their bucket list.
"The influence of a good principal can never be erased" Coffee Mug
How they have influenced the students at their school can't be erased from the minds of those who were influenced the most, and this mug is such a nice way to say so.
Monogrammed Wine Glass
A monogrammed wine glass is every wino's favorite gift, so if you know the retiring principal in your life enjoys drinking wine, get them a wine glass with their name on it!
"Adventure Awaits" Notebook
Besides traveling and ticking items off from their bucket list, they may have other adventures in mind. Help them hone in on how they want to spend their retirement with this lovely notebook to write down their plans in!
Personalized Tote Bag
Anyone who carries a lot of books, notebooks, papers, or other tools with them will love a personalized tote bag to carry these things throughout the day.
365 Best Inspirational Quotes: Daily Motivation for Your Best Year Ever by K. Kruze
Help inspire them to go on to do great things in their retirement with this book of 365 inspirational quotes, one a day for a whole year. It will keep them inspired and motivated as they navigate their first year in retirement!
"Nothing can dim the light that shines from within. -Maya Angelou" Foil Wall Print
Remind them that nothing can dim their light, and to let it shine out even while they aren't working so that they can remember they can still touch many lives.
Retiring from a job as important as being a principal is tough on someone who enjoys improving lives and helping young people figure things out. One of these awesome gifts will help ease the pain and help them transition into retirement. I love these gifts for history teachers.
If you have a male music teacher in your life, these gifts will also be helpful! What is your favorite gift idea for a principal? Share yours in the comments!