Disclosure of Material Connection: Some of the links in this post may be "affiliate links." This means if you click on the link and purchase an item, I will receive an affiliate commission. Disclosure in accordance with the Federal Trade Commission's 16 CFR, Part 255. This site is a participant in the Amazon Services LLC Associates Program, an affiliate advertising program designed to provide a means for sites to earn advertising fees by advertising and linking to Amazon.
Sometimes being a grown-up is really hard. And, one of the hardest aspects of grownup life is the fact that we often have to grin and bear it. Here are some of the things that drive a lot of us crazy, and sometimes we just need to take a moment to vent.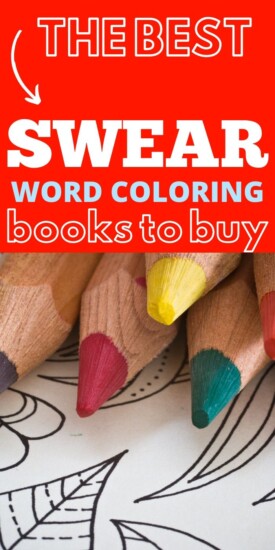 Kids, who has kids? You love them, but if they ask another question in the next three minutes, you're probably going to lose your mind.
In-laws, if you're lucky enough to have nice in-laws, I'm so happy for you. If you have in-laws who can't stand you and you can't stand them, you just have to smile and nod to keep the peace.
Grown-up life, bills, student loans, and all of the other things that can just drive you crazy. And, if you can't take a vacation, there is one thing you can do.
Grab a swear word coloring book and color your cares away.
Swear Word Coloring Book – 50 Shades Of Bullsh*t – Dark Edition
Some things are just total bull, and this book calls those things out!
70 Swear Word Coloring Page; Swear Word Coloring Book for Stress Relief
Who knew there were 70 different swear word combinations that you could color and work your stress out with.
Adult Coloring Book for Stress Relief Go F*ck Yourself – Rude Coloring Pages – 26 Page Swear Word – FOR ADULTS ONLY
This coloring book is excellent for those days when someone is super condescending to you, and you just want to tell them to go f#ck yourself. Or, the boss who talks down to you and you're thinking, I know more than you do and you're the boss?! You'll miss me when I'm gone.
Swear word coloring book 24 pages swear coloring adult printable
One of my favorite things about printable coloring pages is the variety of pages. Sometimes the most creative designs aren't in a regular coloring book.
Sale Swear word coloring book curse word 24 pages
This book has a great title, and the title sold me on the book. F#ck it, Let's Color.
Color to Release Your Anger
If you're watching the Stock Market eat your investment gains, you're probably feeling a little angry. Or you're probably feeling outraged. Start coloring to release that anger.
F*ck This Sh*t Adult Coloring Book
If you're looking at your stock portfolio and freaking out and feel like flipping the nearest table in anger, this coloring book is for you.
Effing Adorable- Cute Critters with Foul Mouths
There is nothing cuter or more surprising than cute critters cussing you out. This book shares the experience with you.
30 Swear Word Coloring Pages – Instant Download Kawaii Coloring
Japan has kawaii style characters. And kawaii style is all about being super cute! Color these super cute characters with potty mouths today.
Funny Coloring Book Instant Download Swear Word Coloring Book for Adults
Sometimes swear words can be funny. Laugh your butt off while coloring in this funny swear word Coloring book.
Swear Word Coloring Book 33 pages Black Printable Instant Download
One of the coolest things about Etsy is the opportunity to find unique, one of a kind coloring books that you might not find anywhere else.
36 Swear Word Coloring Book- Printable Quotes Mandala Patterns
Enjoy coloring these stunning mandala patterns and get out any intense feelings that you may be having about life and the world around you. Maybe throw in a meditation practice at the same time.
F*ck It, Mommin' Ain't Easy Coloring Book Swear Word Adult Coloring Book for Moms
I'm not a mom, but I have a lot of mom friends that are about to get this coloring book. Being a mom is not only rewarding, but it's also really hard too, and sometimes moms just need a moment to say "F#ck it!" with a glass of mom juice.
Adult Colouring Page, Swear Word Coloring Book Page, Dirty C*nt
This book might be a bit too intense for Americans, but for our Irish friends who use the c-word in their vernacular, they would love this book.
Swear Word Coloring Book, Inspirational
Who knew that swear words could be wrapped up in inspirational messages? Get inspired as you color in this book.
The Break-Up Adult Coloring Book
There's nothing worse than the pain of a bad breakup. This coloring book acknowledges that pain and helps you work through it.
40 Sloth Coloring Pages Swear Word Coloring Book for Adults
Kristen Bell isn't the only sloth lover out there. There is nothing better than sloths cussing, and this coloring book allows the sloth obsessed to enjoy the experience.
Swear Word Coloring Book, Inspirational, Printable
Enjoy even more life inspiration in this swear word printable coloring book.
Zero F*cks Given, Swear Word Coloring Book Page
It often feels like people want you to care about everything. Well, this coloring book allows you to tell the truth "zero f*cks given!" And, you don't even have to feel bad about it.
Swear Word Adult Coloring Book
I'm just as surprised as you are by how many swear word coloring books there are in the world.
Swear Word Coloring Book
Well, sh$t, here's another swear word coloring book for you to enjoy on a beautiful day.
7 Page F*ck Cancer Sweary Curse Word Coloring Book Printable
Often times, we may find ourselves in difficult situations. Fighting cancer is definitely one of those situations where you need to shout to the world f*ck cancer! But, sometimes, you just don't have the energy to do so. Instead, color the message and work through your feelings.
DIGITAL An Irreverent Adult Coloring Book: Chill the F*ck Out
Do you have that friend who's always worked up about everything? Politics, sports, or the economy. This is the coloring book that you should give them.
Adult Coloring book printable Page: Swear word Print at home
Do you ever think to yourself damn that was crazy? Well, this printable will have you coloring that out.
I May Go to Hell, But I'll be Coloring on the Way Down-Instant Digital Download-A Swear Word Adult Coloring Book
Sometimes as adults, we may think things that are naughty or just not that nice. This coloring book acknowledges that truth.
F'k Cancer – Coping & Coloring: The Adult Coloring Book of Stress-Relieving Coloring Pages to Support Cancer Survivors and Cancer Awareness
Because cancer journeys can be long, here is another f*k cancer coloring book to keep spirits uplifted.
40 Pages Sweary Dog Adult Coloring Book
Have you ever imagined what your dog is thinking? Now imagine what they're thinking and add curse words.
Adult Coloring Book, Owl Coloring Pages, 24 Swear Words, Instant Download
When I think about owls, I think of them as wise and benevolent creatures. This book shows their spicier side.
Swear Word Adult Coloring Book for Angry Democrats
It feels like the United States is constantly in an election season. This angry Democrat coloring book is for your friend who can't stand how things are going. Now, we just need to find an angry Republican coloring book for those moments when they're angry too.
Cat Coloring Book for Adults
Cats really don't need their people. And, if they could talk, most of us could imagine them swearing at the stupidity of people.
10 Alternative Swearing Clean Swearing Printable Coloring Pages
Some of the best swear words out there are the clean swear words. Have fun learning all of the creative ways you can cuss people out without using actual bad words.
HOW RUDE PDF instant download, a coloring book for rude women
As women, we are often discouraged from sharing what's on our minds. This coloring book is for the women who are fed up with that.
Cats Talking Shit! (Shut the F*ck Up and Color, Volume 3 of the Adult Coloring Book Series)
Everyone knows that if cats could talk, they would absolutely talk shit about the people around them.
Download and Print Coloring Book – 32 Images – Oh Shit! Let's Color Sweary Mandalas
Mandalas are so beautiful and fun to color.
OFFENSIVE! Cuss Swear Word Mandala Zentangle
Enjoy coloring more offensive mandalas with this coloring book.
Swearing Pattern Coloring Book
I love coloring fun and random patterns, and I hope that you will too.
DIGITAL I Don't Give A SHIT! Adult Coloring book
As adults, we're always forced to have an opinion or express that we care about everything. Sometimes it's nice to admit that you just don't give a shit.
You Are Fucking Awesome: A Motivating Swear Word Coloring Book for Adults
In case you don't hear this enough-YOU'RE FUCKING AWESOME. Don't believe me; enjoy the coloring book that reinforces the message.
Swear Word Coloring Book: Hilarious Sweary Coloring book For Fun and Stress Relief
Have fun with these funny swear word combinations.
A Swear Word Coloring Book for Adults: Sweary AF: F*ckity F*ck F*ck F*ck
Sometimes dropping an f-bomb can be a lot of fun. This book helps you do that.
FUCK OFF: Swear Word Adult Coloring Book: Moron: 50 Swear Words To Color Your Anger Away
I bet there are so many moments when you just want to tell people to fuck off. But, you don't because you're a civilized human being. Instead, color your emotions.
Make Life Your Bitch: Motivational adult coloring book. Turn your stress into success!
Sometimes life tries to make you its bitch. Instead, turn things around and make life YOUR bitch instead.
Swear Word Coloring Book: The Jungle Adult Coloring Book featured with Sweary Words & Animals
Do you ever imagine animals in the jungle enjoying their lives? Is it just me? Well, now imagine them saying swear words too.
Coloring Books for Adults Relaxation: Swear Word Animal Designs
Coloring can be so relaxing on a cold day when you're trapped inside of your home. Or, on a beautiful day when you can color in the sunshine from your favorite patio.
Stress Relief Coloring Book with Sweary Words, Animals and Flowers
Destress yourself while coloring your favorite flowers and animals.
50 Shades Of Bullsh*t: Dark Edition: Swear Word Coloring Book
Adult life can be filled with a lot of unnecessary bulllsh*t; this coloring book acknowledges that fact.
Never Forget You Are Fucking Magical: Swear Word Coloring Book
Just in case no one has told you this recently, you're fucking magical. Now, don't forget to grab the coloring book.
Fuck This Shit Swear Word Coloring Book: Geometric Mandala Designs
Have you ever been faced with an unexpected bill or repair that comes out of nowhere? That's the perfect moment just to say "fuck this shit!" But, we're adults, so we'll color our anger away instead.
Adult Coloring Book: Piece Of Shit: 50 Swear Word Coloring Pages For Adults
If people could listen to other people's internal dialogues, we would all freak out. This coloring book gives us insight into the different things that most people are thinking but leave unsaid.
The Art of Not Giving a Fuck: A Callous Adult Coloring Book of Disregard
Have you noticed the number of books about not giving a fuck? Well, maybe it's a reaction as a result of people caring about everything and anything to the point where they're driving themselves crazy. This coloring book unapologetically gives you permission to not give a fuck.
Color and Cuss: A Hilarious Swear Word Adult Coloring Book
Sometimes it's nice to sit down and color quietly all of the things that you think about during the middle of the night that you wouldn't say out loud.
Eat Shit & Die: An adult coloring book to help you cope with those asshats who try to ruin your day
I feel like this is the perfect book for the person who has to deal with a crappy daily commute.
B*tch: Adult Swear Words Coloring Book: 50 Vulgar Swear Words to Color the Bullsh*t Away!
Feel empowered by coloring all of the bad words that you never say out loud.
Color And Cuss Swear Word Coloring Book
Grab a nice glass of wine and color your cares away.
Maybe Swearing Will Help: Adult Coloring Book
Have you had those moments when you needed to talk to someone about a difficult time in your life? Or, you're just stressed the heck out? This coloring book poses the following question "Maybe swearing will help?" It won't hurt to try it out.
50 Swear Words to Color Your Anger Away
There are so many things that can piss the average adult off politics, student loan debt, gluten-allergies, and some vegans. Color your anger away with the following coloring book.
I Am Sick of This S**t Coloring Book (Swear and Relax) (Volume 1)
Is there a situation that never seems to end and is driving you crazy? Sometimes we just get sick of shit and just need a break.
Holy Mother Forking Shirtballs: Clean Swear Word Coloring Book for Adults
Tired of coloring actual bad words? Learn some more creative and colorful, clean swear words in this fun coloring book.
Salty Bitches: Vintage Ladies Talking Trash: Adult Coloring Book
Every once in a while, I like to imagine what people were like in previous decades. My theory is that they were pretty similar to how we are now, except with better technology. Have fun with coloring vintage ladies who curse.
Fuck All The Way Off Triggered Animals: A Scornful Swearing Adult Coloring Book
This may be one of my favorite coloring books on this list. The idea of triggered animals is hilarious to me, and I imagine it's hilarious to you as well.
An Old Fashioned Merry F**king Christmas: A Swearing Adult Coloring Book For The Holidays
The holiday season can be so damn stressful. This coloring book acknowledges the stress that comes during the holiday season.
A Swear Word Coloring Book for Adults: Eat A Bag of D*cks
Eggplant emoji for the win. If you're still trying to figure out all of the dirty emojis floating around, this coloring book will help you with that problem.
Cocky as F*ck: A Cock-licious Coloring Book for Adults
If you enjoy anatomical humor, this book is for you.
Foul-Mouthed Felines: A Humorous Adult Coloring Book for Cat Lovers: Cursing Swearing Cats Coloring Book for adults
Cats cussing out their humans never gets old.
Angry Swearing Cats (Creative Sweary Coloring Book for Adults with Funny Cursing Words)
What situations do you think your favorite cats find themselves swearing about? This coloring book shares some scenarios with you.
Sweary Cat Stress Relieving Designs & Patterns Black Background Adult Coloring Book
If you're cat-obsessed, then this coloring book is for you.
Swearing Unicorn Coloring Book
I'm saving the best for last. Unicorns are always thought to be so sweet. What if they're not?
There you have it, 67 coloring books filled with salty language, fun scenarios, and an excellent opportunity to sit down for a while and color your cares away.