Disclosure of Material Connection: Some of the links in this post may be "affiliate links." This means if you click on the link and purchase an item, I will receive an affiliate commission. Disclosure in accordance with the Federal Trade Commission's 16 CFR, Part 255. This site is a participant in the Amazon Services LLC Associates Program, an affiliate advertising program designed to provide a means for sites to earn advertising fees by advertising and linking to Amazon.
As your loved one is returning from deployment, you may be considering what to get them as a welcome home gift. Being far away from each other isn't easy and your hearts have been yearning for this special time for a long time. Any one of the gifts here in this list will be perfect, because they come from the heart. Let them know you were thinking of them while they were away and welcome them home with some fun gifts.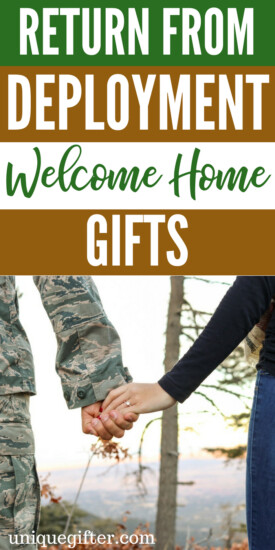 Special Return from Deployment Welcome Home Gifts
"Our love is deployment strong" Shirt
Your love is deployment strong, and no matter how long they are gone, you are always together in your hearts.
Custom State "Home" Bracelet
Even though you move around a lot, there is likely a state that just screams "home" to them or you as a family. Get it put on this bracelet so that their home state is never too far away.
Personalized Message Filled Mason Jar
Fill this mason jar with sweet, thoughtful messages for your loved one to read when they return. Maybe you could even read them together!
"World's okayest mom" Wine Glass
While she is home, she may occasionally need a glass of wine, and when she does, this wine glass is a good reminder that she needs to take care of herself too.
"So far from home" Ring
When they are far from home, this ring will remind them that they have someone who loves them waiting for them.
"Home of a soldier" American Flag Rustic Sign
Perfect for the window or porch, this "home of a soldier" American flag rustic sign will look exceptionally nice and make them feel more at home.
Naval Aviator Tumbler
For the naval aviator, this tumbler is lovely for keeping them caffeinated or hydrated, depending on their drink of choice.
Captain America Watercolor Print
As a soldier, they are like Captain America in a lot of ways. If they also love his character, they will love this watercolor print to hang up on the wall at home.
"Land of the free, home of the brave" Silver Dog Tag Necklace
America is the land of the free and the home of the brave. Your loved one coming home from deployment plays a big part in that! Let them wear those words close to their heart everyday!
Custom Kneeling Praying Soldier Figurine
Prayer has gotten both of you through thick and thin during their deployment and even more than that!
"Onward Christian Soldiers" Hymn Print
For the Christian soldier, this hymn is there to remind them what their ultimate goal is.
Vintage Service Flag Wooden Wall Art
This wooden wall art of a vintage service flag will look great hung up on the wall or placed somewhere in the home where the whole family can see it.
"Home is in my soldier's arms" Welcome Mat
You can remind them that home is wherever you are in their arms, with a beautiful, yet simple gift like this welcome mat.
"Protect and serve to the highest degree, just promise you'll always come home to me. I love you." Personalized Keychain
Remind them that no matter what goes on, that you always want them to come home to you because you love them.
"A soldier doesn't fight because he hates what is in front of him, he fights because he loves what he left behind" Sign
The reason your soldier fights so hard is because he loves his family and wants to protect and serve for them.
"Welcome home soldier" Dog Shirt
If your loved one has a dog who is going to be equally excited to see him, this shirt is a great way for the dog to "talk" to them to welcome them home from deployment.
"God gives his hardest battles to his strongest soldiers" Wood Sign
God only gives his hardest battles to his strongest soldiers. This wood sign will remind them that you think they are the strongest person.
Customized "Map my heart" Pendant
This customized "map my heart" pendant is something they can keep close and remind them where their own heart lies when the going gets tough.
"Some heroes wear capes, ours wears combat boots" Personalized Picture Frame
Some heroes may wear capes, but your own hero wears combat boots. Place a picture of you and your loved one, or the whole family, in this frame for them to display with pride.
"Land of the free because of the brave" Keyring with Husband Charm
This is the land of the free because of the brave that serve.
When your loved one comes home from a deployment, their main highlight is seeing you again. A gift is just the icing on top!