Disclosure of Material Connection: Some of the links in this post may be "affiliate links." This means if you click on the link and purchase an item, I will receive an affiliate commission. Disclosure in accordance with the Federal Trade Commission's 16 CFR, Part 255. This site is a participant in the Amazon Services LLC Associates Program, an affiliate advertising program designed to provide a means for sites to earn advertising fees by advertising and linking to Amazon.
You have to see this awesome list of romantic five senses gifts for her! Each year when Valentine's Day rolls around, men all over the world are frantically trying to find the perfect gift for their lovely lady. I am going to try to make it easy for you with this list of romantic five senses gifts for her. Each one of these gift ideas is meant to awaken all of her feelings and allow her to feel loved and pampered. Now you can sit back, look at these excellent gift ideas, and purchase what you like the best. Keep in mind; you can get her more than one gift, considering that she is so important to you.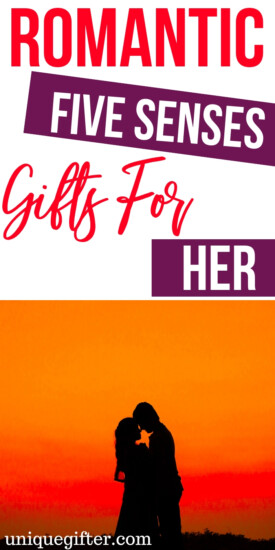 Fun Romantic Five Senses Gifts for Her
She will feel so loved and adored with any of these romantic and flirty gifts!
King Beer/Queen Wine Glasses
These glasses are meant to be full of some delicious drinks that will get you both a little tipsy. Now the king and queen can drink in style.
Chocolate Covered Strawberries
Is there anything that is more romantic than chocolate-covered strawberries? I promise you will win some extra points if you give this to her.
Edible Underwear
Plan on things heating up in the romance department after she opens this gift. She is going to love it!
Coffee Lover Sampler
Each coffee is inspired by love, and the names are romantic and flirty. This is a coffee lovers dream gift.
Make Your Own Wine
You'll have a great time making wine together with this awesome kit. Sip on your creative and get steamy.
Touch
Massage Oil
Give her this massage oil and rub her feet, back, neck, and shoulders. She will love every second and may even feel a little frisky.
Sex Coupons
There will be all kinds of ways to arouse her sense of touch with these romanticly naughty coupons.
Leather Whip & Feather Tickler
Things will get heated up rather quickly when you break out this gift. Surprise her with an evening of romance and fun.
Bathrobe
Make her feel taken care of with this giant relaxing bathrobe. She will feel extra cozy and relaxed.
Sight
Romantic Love Notes
Leave these love notes all over the house, in her car, or even at her office. Each set comes with twelve different cards.
One Shoulder Black Dress
Both of you are going to love the sight of her in this one-shoulder little black dress. Take her out to dinner and a show too!
Magic Box
They will customize these boxes with whatever you would like. Each box is handmade, and then it will cast shadows on the walls.
"I Love You" Necklace
This necklace has the words "I love you," written in 120 languages. How cool is this necklace? I promise she will be thrilled!
Names In Sand Photo
She will cherish this thoughtful gift with both of your names written in the sand. So romantic and fun!
Hearing
A Night Of Southern Comfort Audio Book
A steamy book that she isn't going to want to stop listening to. This storyline is filled with lots of naughtiness that you won't want to stop hearing.
Instrumental Love Songs
Turn on these instrumental love songs quietly and enjoy a few dances with your loving lady.
Photosound Wave Print
Do you have a song as a couple? If so, turn it into a sound wave photo. You can include your favorite picture too. This is a one of a kind gift.
Smell
Essential Oil Rose Petals

These rose petals smell amazing, look gorgeous, and she is going to think they are fantastic!
"Blow Me" Soy Candle
There are tons of smells you can choose from like a tropical punch, lemon drop, chocolate, and sex on the beach. They all smell amazing!
Aromatherapy Diffuser
This gift is functional, and the essential oils are something she is going to go crazy for. There are so many different combinations she can throw together too.
Don't you think she is going to love all of these romantic five senses gifts for her? Make her feel loved and special!