Disclosure of Material Connection: Some of the links in this post may be "affiliate links." This means if you click on the link and purchase an item, I will receive an affiliate commission. Disclosure in accordance with the Federal Trade Commission's 16 CFR, Part 255. This site is a participant in the Amazon Services LLC Associates Program, an affiliate advertising program designed to provide a means for sites to earn advertising fees by advertising and linking to Amazon.
These spooky Halloween gifts are perfect for your Halloween loving friends. Each one is creepy and the exactly what someone needs who is a fanatic of Halloween. Take a look at these ideas!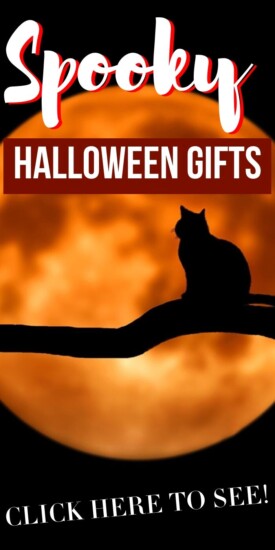 Buy or make your own version of monster survival kits such as the Zombie Survival Kit, Werewolf Bite Kit, Vampire Bloodsucking Bite Kit, and so on. Include things someone might need in such kits including candy (for the shock!) and a note explaining what each item does to help counteract the effects.
I mean who doesn't want a flying dragon? This looks like something that came right out of a horror movie. Anyone who enjoys a little fright will love this.
Ever play with one of these? Well, it might be fun to give one as a gift and get together to see if you can communicate and connect with the spirits in the afterlife. At the very least, it's a fun and entertaining distraction on the spookiest of nights.
Séance with a Psychic
Along with the same idea as the Ouija board, maybe you should consider hiring a professional instead of doing it yourself. There are plenty of local psychics located in your local phonebook (of all places!), and booking a séance with a psychic could be an interesting diversion for the night. Call upon someone you both knew while they were alive and experience a little afterworld communication at least once in your life.
These skull printed scarves initially designed and sold by Alexander McQueen are rather popular in the high fashion world and almost everyone and their sister own one. If you can't afford the real thing (which retails around $270 USD), you could certainly buy a similar looking imitation on high street for cheaper.
Sounds spooky, right? Here is a really neat skeleton hand holding a glass eyeball water globe. A great display piece for Halloween or if they like the spooky feel they could showcase this piece all year round.
Halloween-Themed Food
When in doubt, give food! Cupcakes with a Halloween theme are always a surefire winner especially if you get creative and use dark brown chocolate crumbled on top as dirt, and fashion little tombstones out of icing to create your own creepy confection.
Horror Film Set
Head to the store and buy a selection of horror films that you know will be sure to please someone. A few classic suggestions: Carrie, Interview with the Vampire, Friday the 13th, Nightmare on Elm Street, Dawn of the Dead, Silence of the Lambs, and The Shining. Whichever ones you pick, they will be a great way to spend Halloween together.
Buy creepy household décor like curtains décor that look like someone has been stabbed in your bathroom that has handprints painted in red, smeared down its sides, along with a matching bath mat in white that turns the color red when coming into contact with water, leaving a fresh red footprint.
Speaking of creepy décor, why not have it be functional as well? The ever-popular set of knives by Raffaele Innello that are placed into a block-shaped like a man could be a whimsical, Halloween-appropriate gift.
Skeleton or Skull
Yes, a real skeleton or skull! Not necessarily human of course, but perhaps a study in taxidermy with a skeleton of a small animal, carefully preserved and able to be placed on display.
Tarot Cards
Buying a stack doesn't mean you'll immediately develop the Third Eye to be able to predict people's futures, but it doesn't mean you can't at least try!
This premium vodka is growing in popularity and makes quite a showpiece, packaged in a clear skull bottle!
From cute pumpkin cupcakes to creepy-crawly worms, pick up a Halloween cookbook as a gift so your recipient can host the best Halloween party on the block.
It is one scary movie, and it screams Halloween. Buy your friend or family member this mask and let them wear it or put it on display. This mask looks SO real!
Spiders are so much better when they're edible, aren't they?
Even More Halloween Themed Posts
Have you ever given any Halloween gifts? What did you give?