Disclosure of Material Connection: Some of the links in this post may be "affiliate links." This means if you click on the link and purchase an item, I will receive an affiliate commission. Disclosure in accordance with the Federal Trade Commission's 16 CFR, Part 255. This site is a participant in the Amazon Services LLC Associates Program, an affiliate advertising program designed to provide a means for sites to earn advertising fees by advertising and linking to Amazon.
Besides chocolate, what on Earth do you get teen boy for Easter? Here are some gifts that he will not roll his eyes at or shove under the bed, I promise.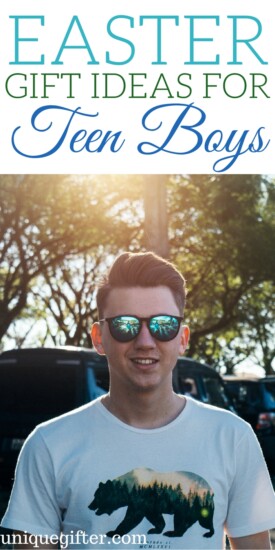 Easter Gift Ideas for Teen Boys
Giant Bowling Set
Easter usually means it's time to play outside and that means it's time to get out the giant inflatable bowling set.
Hex Bug
Remote control anything is a lot of fun for a teenage boy but it's even better if it's a tiny bug to freak people out with.
Lego Set
Your teenager has moved away from the childish Lego sets and colorful pieces. Get him something challenging like the architecture series.
Desk Bunny
This cute bunny will stand guard on your teen boy's desk while he does homework (plays computer games). The ears are scissors!
Watch
Even though we all have cellphones there's something special about having a nice watch. Get him something that fits his personality: sports if he's into that, or more formal if he likes to dress up.
Did You Feed The Dog?
Giving a teen boy this gift might just change his life. The chart reminds him what he needs to do every day and you just slide the indicator over to check it off. Easy to tell what has, and hasn't, been done yet.
Bunny Kingdom Game
Bunny Kingdom combines adorable bunny figures with in-depth drafting and territory control elements for an interesting strategy game.
Go Puck
He'll never be able to use "my phone was dead" as an excuse to not reply to you with this gift.
Big Ball of Whacks
Even teenagers need time to fidget and play to help them think about a task, or just wind down.
Hot Dog Maker
Now that your teen boy is cooking on his own why not make his life a little easier, and tastier, with a hot dog maker.
Video Games
Pretty much any game he wants is a great Easter gift, or you can pick up something like this retro Pac-Man arcade game that plays a bunch of classic games.
Inconsequential Dilemmas
This book is filled with flow charts to help resolve the inconsequential dilemmas that plague your teen boy's life. Some include: Should I change the channel? And can I eat food off the floor?
Easter Basket
If you're putting together an Easter basket for your teen boy, especially if there's younger sibling in the house, grab something handmade like this basket on Etsy. Just because he's older doesn't mean he won't get a kick out of seeing his favorite character on the side.
How to Rob a Bank
Board games are always a great gift for teen boys. This one he can play with friends where one person is the robber and everyone else plays as guards.
Sunglasses
Help him fight off spring sunshine when he emerges from his room or basement by gifting these stylish sunglasses.
Donut Mug
Unfortunately most teens already drink coffee, so why not give him his own special mug to brighten each morning (or afternoon on the weekend).
Drone
Get him outside this spring by giving your teen boy a drone for Easter.
Magnetic Poetry
Get some laughs going in your kitchen with a unique magnetic poetry set. There are all different kinds so pick one that's suited to his interests!
Crap List
It's hard for teen boys to stay organized. Help him out by giving him a special place to write down all his important crap.
Gift Basket
Sometimes it's just easier to buy an assembled Easter basket. This one is full of things a teen boy would like and it's all ready to give!
Being a teenager is hard so it's nice to make them feel loved and thought about, especially when they're too old (or too young) for most of the fun stuff.