Want to buy an adult graphic novel fan some reading or book themed gifts? We rounded up 20 different great books to choice from!
Graphic novels weren't a thing when I was growing up. Comics, the floppies, on those spinning racks were. I devoured one superhero book after another until Marvel played the epic crossovers card one too many time and my preteen budget couldn't bear it anymore. It wasn't until college that I returned to the world of comics, now in the form of graphic novels, at the urging of a friend for life.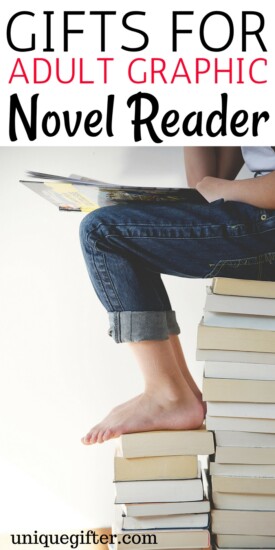 Epic Gifts for Adults reading Graphic Novels
I thought 20 books would be hard to gather but obviously, I'd forgotten how many simply amazing books are out there. I'm gathering them up here into a series so you can dive in and read to your heart's delight.
Gail Simone and Dale Eaglesham's Secret Six
Only Gail Simone could write villains so well that I, an avowed defender of good, could empathize with villains and even miss them when their series ends. What's worse, I can't even pick a favorite from this band of misfits! I like them all!
This is just a small selection of fantastic graphic novels and there's plenty more where that came from! Are you reading a particularly good graphic novel right now? Do share in the comments!