Disclosure of Material Connection: Some of the links in this post may be "affiliate links." This means if you click on the link and purchase an item, I will receive an affiliate commission. Disclosure in accordance with the Federal Trade Commission's 16 CFR, Part 255. This site is a participant in the Amazon Services LLC Associates Program, an affiliate advertising program designed to provide a means for sites to earn advertising fees by advertising and linking to Amazon.
Graphic novels weren't a thing when I was growing up. Comics, the floppies, on those spinning racks were. I devoured one superhero book after another until Marvel played the epic crossovers card one too many time and my preteen budget couldn't bear it anymore. It wasn't until college that I returned to the world of comics, now in the form of graphic novels, at the urging of a friend for life.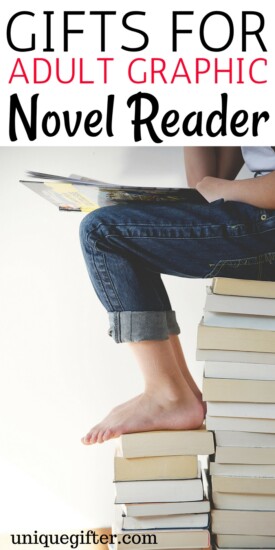 I thought 20 books would be hard to gather but obviously, I'd forgotten how many simply amazing books are out there. I'm gathering them up here into a series so you can dive in and read to your heart's delight.
Epic Gifts for Adults reading Graphic Novels
Neil Gaiman's The Sandman Vol. 1: Preludes & Nocturnes
This book is why I came back to comics, the rest of this list is why I stayed.
G. Willow Wilson and Adrian Alphona's Ms Marvel
The first Pakistani-American superhero that I know of, Ms Marvel / Kamala Khan is the most relatable teenager I've ever read. Maybe it's because she's a first generation immigrant, and I know those feels.
Art Spiegelman's The Complete Maus
I first read this in college, and even though we'd studied WWII, the Holocaust, and Elie Wiesel under a Jewish teacher whose own family had been touched by these events, Maus really brought it home.
Kelly Sue DeConnick and Valentine De Landro's Bitch Planet
There's nothing like thinking you've read it all, knowing all the tropes, starting a new GN, and finding your assumptions turned on their head by the end of the first issue. This book is fantastic and so is its creator. Read read read!
Gene Luen Yang's American Born Chinese
Complex immigrant narratives wrapped up in great storytelling and characters.
Kelly Sue DeConnick and David Lopez's Captain Marvel
Comics are associated with superheroes for good reason, and Kelly Sue brings us a version of Captain Marvel that we just want more of.
Brian K. Vaughan and Fiona Staples's Saga
Saga is hands down amazing.
Noelle Stevenson and Grace Ellis's Lumberjanes
Lumberjanes is full of unexpected twists from the very first pages, and keeps you going on bigger and weirder mysteries. You won't want to miss the adventure of five best friends as they take on the world and the supernatural.
John Layman and Rob Guillory's Chew
My favorite memory about this book is actually not about reading the book itself but of when my best friend decided to try and make things Really Awkward. In Barnes and Noble, he turned to a random shopper and said "Can you believe she won't read Chew?" This completely random person turned to me, shocked: Why not?? It's SO GOOD!!! He spent ten minutes trying to convince me that I really should read this book. At the time I was insulted that he would just believe that of me, another random stranger, but now I'm struck by the fact that it's so good, literally random comics reader was familiar with it and a fierce advocate.
Gail Simone and Cat Staggs's Crosswind
Gail Simone should come with a warning label but I don't know how a short label could encompass her incredible writing and twisted mind.
Mark Long, Jim Demonakos, and Nate Powell's The Silence of Our Friends
I bought this book specifically because of a spotlight panel on Nate Powell, a decent guy who worked his way up the hard way, and my instincts didn't steer me wrong. This was a heartbreaking time in our history that we need to remember clearly and learn from.
John Lewis, Andrew Aydin and Nate Powell's March
Speaking of incredible moments in American history, and civil rights, this is a MUST READ. Most of us are probably familiar with Representative John Lewis who even now continues to march for justice and civil rights, but you need to know his roots.
Gail Simone and Dale Eaglesham's Secret Six
Only Gail Simone could write villains so well that I, an avowed defender of good, could empathize with villains and even miss them when their series ends. What's worse, I can't even pick a favorite from this band of misfits! I like them all!
Marjane Satrapi's Persepolis: The Story of a Childhood
Marjane Satrapi's memoir, growing up in Iran during the Islamic Revolution, a world of political repression, war and revolution. She is proof that life still goes on despite almost absurdly adverse conditions.
Richard Starkings and Joe Kelly's Elephantmen
Imagine a world where giant animal hybrids are brainwashed to be a giant army, and then they're freed to become part of society. Yeah. You'll want to read this.
Marjorie Liu and Sana Takeda's Monstress
Even if this wasn't a richly woven story, in a fascinating world, with incredible characters, you should read it for the cats. But it is, so you should read it for all of the above.
Ta-Nehisi Coates and Brian Stelfreeze's Black Panther: A Nation Under Our Feet
Black Panther is amazing. Ta-Nehisi Coates is an incredible writer. Putting the two together is just a total win.
Nidhi Chanani's Pashmina
We met Nidhi Chanani at San Diego Comic Con lo these many years ago and her beautifully vivid art has kept us coming back for more every year so we were THRILLED to see her new book combining her lushly compelling art to tell one of many complex immigrant narratives.
Greg Pak and Takeshi Miyazawa's Mech Cadet Yu
I grew up on Robotech so OF COURSE I was hooked on starting from this summary: "giant sentient robots from outer space come to Earth and bond forever with a brand new crop of cadets at Sky Corps Academy to help keep the planet safe."
Nilah Magruder's M.F.K.
"Journeys are hard on the social recluses of the world." This line alone was responsible for drawing me into this book.
This is just a small selection of fantastic graphic novels and there's plenty more where that came from! Are you reading a particularly good graphic novel right now? Do share in the comments!