Disclosure of Material Connection: Some of the links in this post may be "affiliate links." This means if you click on the link and purchase an item, I will receive an affiliate commission. Disclosure in accordance with the Federal Trade Commission's 16 CFR, Part 255. This site is a participant in the Amazon Services LLC Associates Program, an affiliate advertising program designed to provide a means for sites to earn advertising fees by advertising and linking to Amazon.
From paper tabletop products to yards of gift wrap, hosting a party often means you're contributing a ton of waste to the world. The next time you're planning a party, take a minute to think about all the disposable décor, plastic tableware, and excessive gift wrapping that go along with a celebration. But throwing a party doesn't have to be bad for the planet. There are a variety of simple swaps you can make to turn your traditional celebration into an eco-friendly party.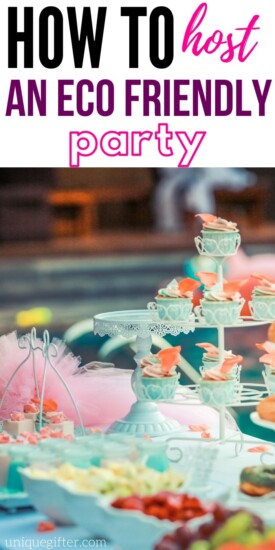 Reusable Cups
One of the biggest contributors to trash at any party are the cups. They're often made of plastic, which instantly contributes to excess waste. Instead of placing a stack of plastic party cups on your food table, think about using reusable cups. You could even let your guests take the cups home as favors after your party is over!
Paper Straws
Straws are a fun way to enjoy a drink at a get-together. But straws are so harmful to the environment! Not only are they made of plastic, which is harmful to the earth, but they are also deadly to animals in the wild. Instead of grabbing plastic straws for your next get-together, choose paper straws instead. They're biodegradable and come in so many cute designs and colors, they might actually make a better addition to your food and drink display than traditional straws.
Reusable Tableware
Instead of choosing disposable plates for your party, consider using traditional tableware instead. Melamine plates come in a variety of styles and colors, making them great for parties. And you won't have to worry about them breaking if someone drops them, like you would with glass plates. But the best part about swapping your paper tableware for melamine is that you won't be adding to the landfill when your party's over. Simply wash the plates and use them at your next get-together.
Compostable Plates
If you like the idea of hosting an eco-friendly party, but don't want to have to worry about doing dishes when your guests leave, consider using compostable plates instead. Uncoated paper plates are the best option when searching for eco-friendly party supplies. They can be composted after the party is over, which is much better than simply dropping them in the trash.
Mason Jar Cups
Hosting a rustic-themed party? Why not use mason jars as cups at your get-together. They'll add to the rustic charm of your celebration and help you reduce the amount of waste your party causes. It's a win-win!
Reusable Tablecloths and Napkins
Placing a tablecloth over the tables at your party is a popular way to decorate at any type of celebration. And while using plastic tablecloths may help you add a pop of color and makes party clean-up a breeze. But they also add a ton of waste to the earth after your party is over! Instead, use cloth tablecloths and napkins at your gathering. White tablecloths are perfect because they can be used over and over again. And you can add a pop of color to each table by using cloth napkins that double as tabletop decor.
Smaller Serving Sizes
Food waste is another big problem at many celebrations. To help reduce the amount of food that goes uneaten, start by encouraging RSVPs from your guests. This will help you know exactly how much food to prepare for the get-together, helping you avoid making too much of each dish. Offering smaller serving sizes once your guests are at the party will help reduce the amount of food left on your guests' plates, which will also help reduce food waste from your party.
Sustainable Menu
When planning your party's menu, think about how you can make your party food more sustainable. Buying locally sourced or organic ingredients is a great place to start. Locally sourced food requires less energy to transport, while the sustainable farming practices used by organic farmers are better for the environment than traditionally grown fruits and vegetables.
Pour Your Own Drinks
Offering plastic water bottles or proportioned drinks to your guests is popular because it's convenient. But all those bottles only add to the waste your party creates. Instead, offer your guests drinks from pitchers or larger two-liter bottles to help avoid additional trash created by your party.
Less Wasteful Favors
From tiny plastic toys to individually wrapped candies, party favors can contribute tons of waste to the world. To help make your party eco-friendly, think about favors that can be reused or consumed to avoid helping your guests contribute to the landfill after they leave your party. Reusable bags or cups are a great choice for packaging your favors. And inside, consider including a delicious treat, eco-friendly wooden toy, or skip the favors altogether.
Recycling Receptacles
Make it simple for your guests to recycle during your party by setting up a recycling receptacle next to your trashcan. This will give your guests a chance to easily recycle their plastic, glass, and paper products instead of simply tossing everything in the trash when they're finished.