Disclosure of Material Connection: Some of the links in this post may be "affiliate links." This means if you click on the link and purchase an item, I will receive an affiliate commission. Disclosure in accordance with the Federal Trade Commission's 16 CFR, Part 255. This site is a participant in the Amazon Services LLC Associates Program, an affiliate advertising program designed to provide a means for sites to earn advertising fees by advertising and linking to Amazon.
Have you ever had a fingerprint free stainless steel trash can? Me either. They're pretty pricey. That's why you may see one on a wedding gift registry. More common is a regular trash can, or one for the bathroom. Have you ever purchased a new garbage can and then had trouble figuring out which exact garbage bag fits? You could be the super-star gift giver if you go out and buy some premium, properly fitting bin bags.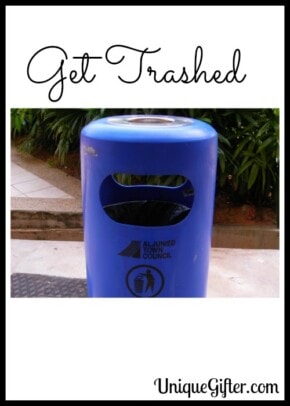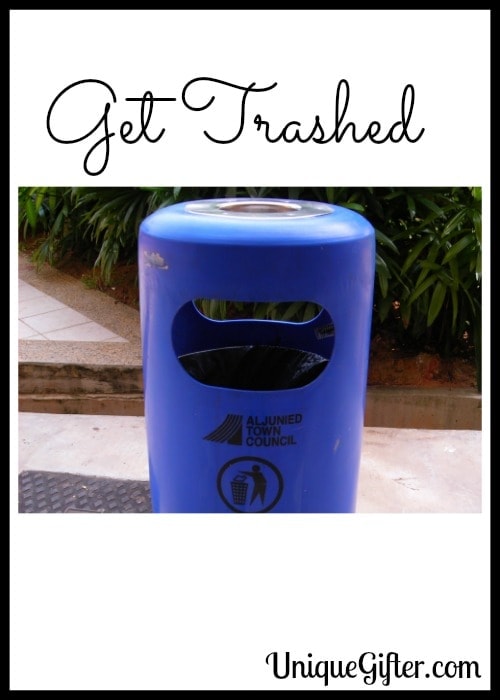 That said, garbage bags aren't exactly going to earn you the title of "awesomest gift giver ever." Nope. To make it memorable, you have to decide if it's appropriate for your relationship with your friend. A trash can lets you play on some themes, like "keep it clean," or "get trashed."
Trash Can #1
Purchase the can, then the garbage bags. Now, pick out some alcohol. It could be a can full of microbrews, a bottle of champagne, some wine, a little Grey Goose, a few Colt 45s, whatever you feel is suitable for the couple. If you have a specific, good memory together that includes a drink, choose that and mention it in your card. Maybe that time at the cottage drinking the obscure South African beer? Your graduation trip to Cuba with all the mojitos? Include a card which says, "think of us whenever you get trashed." Or something along those lines.
Trash Can #2
This one is more suitable for a wedding shower or bachelorette. Especially if it is a lingerie shower. Purchase the trash can and the garbage bags, then add in some lingerie, toys, a book, anything that is recipient and guest-list acceptable. Put it all together and add a message that says you want the couple to keep things clean in public, or something along those lines.
What other sassy sayings can you think of to go along with a boring old bin, to make it a unique and creative wedding gift idea??