Disclosure of Material Connection: Some of the links in this post may be "affiliate links." This means if you click on the link and purchase an item, I will receive an affiliate commission. Disclosure in accordance with the Federal Trade Commission's 16 CFR, Part 255. This site is a participant in the Amazon Services LLC Associates Program, an affiliate advertising program designed to provide a means for sites to earn advertising fees by advertising and linking to Amazon.
Valentine's Day is filled with romance, love, sensuality and of course sexiness. So you have a new boyfriend and you want to give him a gift for Valentine's Day; Having a new boyfriend is exciting, everything is all new. You can make him feel wanted and loved even if it is your first Valentine's Day together and it has only been two months. You will be earning some great new girlfriend bonus points.

Valentine's​ ​Day​ ​Gift​ ​Ideas​ Ideal ​for​ ​a​ ​New Boyfriend​
Bartender's Pal Stainless Steel Personalized Bottle Opener
Do you two already have a special word or two? Get it imprinted on the personalized bottle opener and he will surely remember you for a long time! He will appreciate the quality and usefulness of the bottle opener and be reminded of the fun times you had in the beginning of your relationship. If your new boyfriend turns into your husband what a fun reminder and great conversation starter of the beginnings.
Personalized men's docking station
A nice dark wood to compliment his phone and small belongings like his watch and other jewelry pieces. This lets him know that you care about his belongings and he will appreciate a safe place to have his items in one spot. You can also personalize it with just his name or use both of your initials to show him you plan to be there long term.
GoSun Go Portable Solar Oven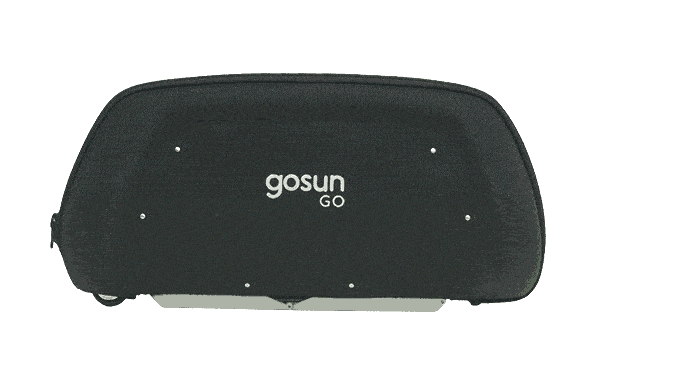 Buy Now –> Use Code AMBAC99 to Save $25
Does he like hotdogs? He will appreciate having the latest technology, and this one will satisfy his hunger too. Men love new gadgets, he will have the newest way to make hotdogs, boil water using the sun, impress his friends and make him feel special. A solar powered, durable and portable solar oven is perfect, he can take it anywhere such as the next game or camping trip.
Bottle Tops Shot Glass Set
Men like to be cute too and he can be man-cute with these bottle top shaped shot glasses. Taking shots can be fun in these recycled 2 ounce bottle tops. With a set of four he can toast the day with you and a couple of more people.
Scented Valentine Drawer Sachets, Pink Love Potion Home Fragrance
He will see your loving message everyday on his personalized scented satchel. Show him how connected you are to him each day. Use a romantic quote or something that only you two know about, sort of like a secret lovers handshake. Add your favorite scent so he will get all warm and fuzzy about you each day he smells your scent.
I'd Pick You Every Time Guitar Pick
Show him he would be your pick every time. He will remember he is your pick with this cool guitar pick, even if he doesn't play one. It is a great keepsake to have.
Valentine's Day Gift Bucket
This bucket has a bottle opener, a Best Buy gift card plus a flask, great multi-use gift. He will get different uses getting a gift-bucket of goodies. He will feel special because he will be getting different things that have long term use, the gift card is to mens favorite place – BestBuy.
Personalized Candle, Soy Candle
Get this candle personalized with your favorite scent and saying so he won't ever miss you. He will see this candle and always have you with him. Add your favorite love quote or message and he will always remember what he means to you.
Mancave Men's Grooming Giftset
He will love having a Mancave grooming set. Shows him you understand his needs for grooming while catering to his skin. He won't have to use yours, he now has his own set that he can proudly use.
Craft Beer USA Bottle Cap Holder Map
With this map you can collect memories of craft brews together!
Good Morning Babe Hand Stamped Spoon, Stainless Steel Coffee Spoon
He will love his spoon giving him a dose of you with each sip or bite he takes with this special spoon. He will have an everyday reminder of how special he is to you, smiling every morning with this custom good morning message from you.
Beer Mug and Beard Care Kit
A great multi-use gift with a fun "manly" mug, beard oil with comb and a bar soap of your choice. His morning routine is all set all in one gift. He will even have a small notebook to jot down all his morning thoughts, great way to help him do some brain dumps and help him clear his mind. That way he can focus on you more huh.
Valentine Gift Stud-Bucket
With these tasty chocolate shaped cigars and other fun, useful and practical items. Such as a bottle opener, Axe body spray and some stud coupons for him to use for various fun rewards just for hm.
Catered Cravings Gift Baskets with Sweet and Salty Snacks
He will enjoy his tasty snack basket of goodies. With a mix of sweet and salty items it will satisfy many of his cravings. He can set this near his TV to easily have snacks on hand or bring them to work for easy quick snacking during his breaks.
The Man Can Gift Basket
The man can is full of luxurious items for him to take special care of his skin. The can easily holds all the items needed for his morning self care routine and can be reused later for holding other items. Men like to be pampered too and he will love that you care about him so much.
Perry Ellis 3 ct Amber Fragrance Set
Give him three different scent choices to choose from with this Perry Ellis cologne gift set. Comes in a gift box he can easily choose which scent to wear. The scents are great for everyday use including work.
Desktop Punching Bag
Work can be quite frustrating at times. Help him unwind when he gets home with this stress relieving punching bag. It easily sets on top of his desk, table, dresser or kitchen counter even. When he can get rid of that frustration and little bit of extra aggressive energy he will love to cuddle with you more.
Valentine Movie Sweets Gift Basket
This fun gift basket will make movie night a breeze for you both. Have all your snacks handy for the fun Valentine's movie night. Take some of the guesswork away from him so he can focus more on enjoying his time with you.
Choose Your Weapon T-Shirt
Show your boyfriend you are ok with him letting loose and relaxing playing his game. Whether he plays XBox or PS4 he will like his gamer shirt. Which weapon of choice will he be using to decompress after a hard day's work?
I Flexed and the Sleeves Fell Off Tank Top
Show him how buff he is in this confidence booster men's tank top. All men like to think they are the most buff, now he can show off those biceps. He will love that you noticed his hard work too.
Your first Valentine's Day together can be a great first couples holiday to remember. Get him something he can use for himself and gain more you girlfriend points when that item is a long term reminder of the beginnings. You will show him you genuinely are into him, his hobbies, his interests and everything about him is just so special to you. Items that can be personalized can be done with a romantic quote or something that becomes a sweet inside joke for years to come. Make your first Valentine's Day not just special but memorable too.