Disclosure of Material Connection: Some of the links in this post may be "affiliate links." This means if you click on the link and purchase an item, I will receive an affiliate commission. Disclosure in accordance with the Federal Trade Commission's 16 CFR, Part 255. This site is a participant in the Amazon Services LLC Associates Program, an affiliate advertising program designed to provide a means for sites to earn advertising fees by advertising and linking to Amazon.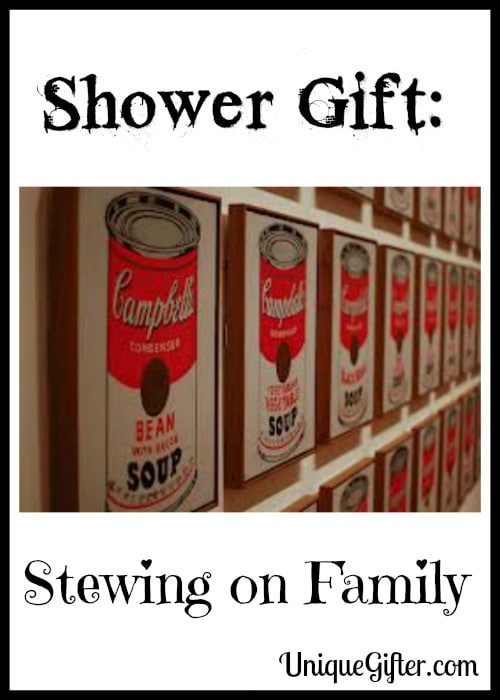 [CC Attribution – Ben Mason]
"Soup is a lot like a family. Each ingredient enhances the others; each batch has its own characteristics; and it needs time to simmer to reach full flavor."
Today's gift idea makes for a creative and unique twist on the pantry stocking wedding shower or engagement party.  This can be adapted to be a gift from a single person, small group, or large group.  I think it would be a fun thing to start as a tradition from a group that frequently hosts showers, such as a church group or book club.  To get us started, I made a cute little printable using that quote.  It is available in large and small sizes: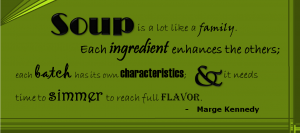 Click for the Green Large Printable (approx 3″ x 6.5″)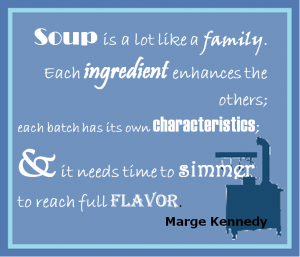 Click for the Blue Small Printable Tag (approx 3″ x 3.5″)
Start with a very soup-related item from the gift registry, such as a pot, a ladle, some soup bowls or a crock pot.  From there, you can add all sorts of other registry items like measuring cups, oven mitts, cutting board, knife, grater, salt and pepper, throw blanket, trivet, etc.
Next, you have some choices.  You can buy a cookbook, type up some of your own recipes, or have everyone contribute a recipe.  Cookbooks can often be had for under $10 from Winners or in the Chapters discount section.
Third, soup's on!
Have everyone bring an ingredient for soup to contribute.  You may want to create a big ol' list of ingredient suggestions and possibly even assign some key things to shower attendees.  At the bottom of the post is a bunch of soup ingredient suggestions.  The recipient probably won't want to make a million soups immediately, so try to mostly stick with non-perishable ingredients.  Don't forget to include some pre-made soups for those lazy days.  It would be a good idea to also get some reusable grocery bags, so the recipient can easily take everything home.
Another awesome choice is to make a super-cute soup mix in a jar.  There is a fantastic list over at Budget101, plus many at Allrecipes.  You could also consider purchasing one of the books below [affiliate links], which are under $5 each.
Don't forget to include a card with a nice message from you!
Congratulations on coming together in marriage, to create your very own little family!  We have gathered up these ingredients, to start you on your way to reaching full flavor as a family.  Here are some things for the quick days, things for the cold and cuddly days, things for the long days and hopes for all the best for the rest of your days.
Tip: If your soup is lacking a bit of je ne sais quoi, the quoi can be added with some wine.  Wine adds depth to flavours and might be the little somethin' somethin' it needs.
Ingredient Suggestions:
barley, lentils, beans, stock, bag of onions, dried onions, split peas, stewed tomatoes, alphabet noodles, dried shrimp, ginger, garlic, spices, tinned soups, tetra pack soups, potatoes, squash, corn, miso soup mix, orzo, rice, noodles, chicken noodle soup, curry, parmesan, ramen, chili powder, hot sauce