Disclosure of Material Connection: Some of the links in this post may be "affiliate links." This means if you click on the link and purchase an item, I will receive an affiliate commission. Disclosure in accordance with the Federal Trade Commission's 16 CFR, Part 255. This site is a participant in the Amazon Services LLC Associates Program, an affiliate advertising program designed to provide a means for sites to earn advertising fees by advertising and linking to Amazon.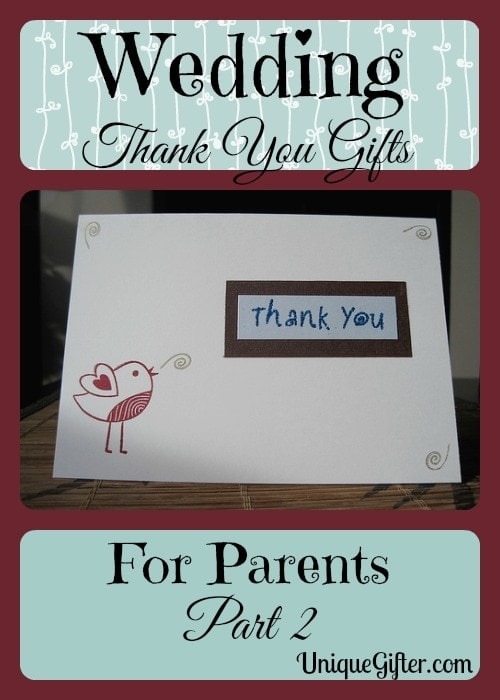 Part I of III – Traditional Parent Thank You Gifts for Weddings
Part II of III – Modern Parent Gifts for Weddings
Part III of III – Even More Parent Thank You Gifts for Weddings
After reading last week's post with traditional wedding thank you gifts for parents, this week we add a more modern spin on things:
Digital Picture Frame
Weddings are one of those times that you get lots of awesome, professional photographs taken of friends and family.  Usually the other times are restricted to babies, when kids are small and perhaps graduations.  Your parents probably took a million pictures of you when you were itsy bitsy and would love to do so again.  If you give them a digital picture frame, they can see an endless parade of your gorgeous new pictures.  This is also a fantastic gift for a grandparent.  Depending on your parents' level of tech-savviness, you may want to pre-load the photos.  You can check some of them out on Amazon, here
.
Weekend Away – B&B
Believe it or not, weddings can be stressful for parents, too!  They are often equally invested in all of the details, set up, guest list decisions, family politics and the emotions of seeing their kids taking another step in adulthood.  Sending them away to relax for the weekend, especially at a Bed and Breakfast, can be a nice way to say "Thank you."  Many of the daily deal sites, such as groupon, will feature hotel and B&B deals.  You can also check what the deals look like in other cities, as they might have a hotel advertised that is a convenient destination for your parents.
Additional China for their Pattern
Weddings come with many traditional gifts, one of which is china.  Maybe your parents would still like the covered vegetable tureen that they're missing in their collection.  Perhaps they have an uneven number of soup bowls due to Uncle Billy having that accident that one time?  If your parents use and appreciate their china, give them a piece to add to the set.  You can find lots of pieces for discontinued patterns on eBay.com and on Replacements.com.  Even if the patterns have not been discontinued, you may find the best prices on eBay!
Classes
Lots of classes are fun, here are a few ideas:
Cooking
Photography
Horseback Riding
Guided Hiking
Again, check your local daily deal sites to see if there are any deals!
Massages or a Spa Day
As I noted above, parents get stressed and tired out from weddings, too.  Consider giving your parents a wedding thank-you gift of a couples massage, individual massage or a spa treatment.  Yet again, check for deals online or if a local spa has a sale on.  Don't think that this is just a wedding thank you gift for Mom!  There are a lot of spa treatments and massages for Dad, too.
Did you miss Part I – Traditional Parent Thank You Gifts for Weddings?  If not, move on to Wedding Thank You Gifts for Parents – Part III, for even more ideas!
PS – Sorry about the lack of posts lately, the site semi crashed.  Thankfully, Andrea at Nuts and Bolts Media saved me from the brink of disaster and I am slowly rebuilding things!
[Photo – Creative Commons Attribution – lindsay.dee.bunny]