Disclosure of Material Connection: Some of the links in this post may be "affiliate links." This means if you click on the link and purchase an item, I will receive an affiliate commission. Disclosure in accordance with the Federal Trade Commission's 16 CFR, Part 255. This site is a participant in the Amazon Services LLC Associates Program, an affiliate advertising program designed to provide a means for sites to earn advertising fees by advertising and linking to Amazon.
Are you looking for a gift for your coworkers? Look no further! Here's a great list of 32 different gift ideas for your next office gift exchange. You will find a variety of ideas from fun and silly gifts, to decorative and useful gifts. Do you want to know what the best part of these gifts are? All of these gifts cost $20 or less!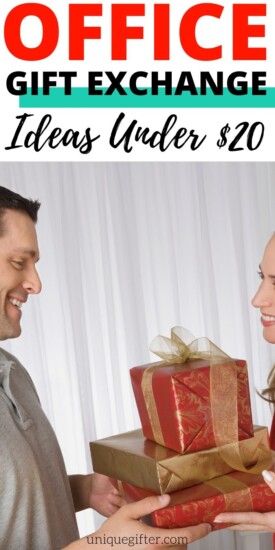 The Best Office Gift Exchange Ideas Under 20$
Check out these funny and practical office inspired gifts your co workers would love to see!
See also: Moving to a more work from home situation? Check out our favorite gifts for coworkers with a home office!
Watch Sticky Notes
We all have that coworker who needs to jot reminders down on various sticky notes. Well, here is the perfect gift for that coworker! Now she can keep her most important reminders on her wrist.
Oh the Meetings You'll Go To Parody
Do you have a coworker who has little ones at home? They will probably appreciate this silly parody of Dr. Suess's, Oh the Places You'll Go.
Office Mad Libs
When you have a group of coworkers working in close quarters this mad libs book is going to come in handy to lighten the mood on those extra frustrating days.
Funny Pencil Set
If you are looking for a humorous gift take a look at this pencil set. Each pencil comes engraved with different sarcastic comments.
Desktop Skee-ball
Desktop skee-ball is the ultimate game for an office desk. That is unless the boss's office is right around the corner!
Infusion Water Bottle
When the break room coffee pot is dry your coworker is going to thank you for gifting her with this infusion water bottle.
Better Coworkers Mug
Do you need an idea for a gift from the group? I think all of the employees in the office would gladly chip in for this mug.
Wacky Waving Inflatable Arm Guy
That wacky, waving, inflatable arm guy is now available in miniature desktop sizes! It's a great way to add a little exciting to any boring office.
Per My Last Email Craft
This gift can be given as is, for the crafty coworker in your office, or you can complete this cross stitch kit yourself, if you're feeling crafty!
3D Wooden Puzzle
Is one of your coworkers often stressed to the max? Check out this 3D wooden brain teaser puzzle. It can be a fantastic way to give them a little brain break!
Keep Calm Journal
Here's a blank journal for that coworker who is a little OCD, or even just incredibly organized. Perhaps they can use a little laugh!
Like a Boss Mug
Toss a biscotti or a small bag of coffee in this "Like a Boss" mug, and you'll have the perfect gift for that coworker who is constantly annihilating their workload.
Bitch About Bitches Glass
The office gossip is never ending. Your best office pal is sure to appreciate the next ladies' night out, full of gossip and drinks in her new glass.
Screaming Goat
When your coworker complains that everyone keeps touching the things on his desk, here is the gift he needs. All it will take is a single touch of the screaming goat and his coworkers will learn to keep their paws off!
Felt Letter Board
Your coworkers will now have a cute and easy way to leave messages when they walk away from their desk. Best of all, this complete set comes with all of the essentials, including a stand and letters!
Desktop Corn Hole
Okay, so maybe skee-ball isn't the great desktop game out there. Corn hole is a great idea for those coworkers who practically share a desk.
Pimple Popper
You know that coworker that is often stressed to the max? Do them a favor. Give them this pimple popping gift. While it may seem a little gross, it can instantly release stress during difficult days.
Bear Paper Clip Holder
No one likes spending their own money on office supplies and organizational products. Gift this adorable magnetic paper clip holder, to help keep your coworker's desk drawer from getting littered with loose paper clips.
Memo Pad Bundle
Most can relate to these hilarious and adorable memo pads. The bundle comes with 4 sets of pads, each with its own design.
You're Awesome Stainless Steel Tumbler
Only the most awesome coworker will be receiving a brand new stainless steel tumbler! You can't go wrong with this one. It even comes with a lid, straw, and cleaning brush.
Office Crew Shirt
How cute are these office crew shirts? Get one for each member of your office crew!
Toilet Golf
It may be called toilet golf, however this small putting green works just as well with an office chair!
Sticky Note Holder
This sticky note holder is much cuter than your average post it cube. It even comes with a starter set of sticky notes!
Magnetic Stress Relief Toy
There is something incredibly soothing about this magnetic stress relief toy. It will take up very little space on a desk, and your coworkers can create a magnetic sculpture, while relieving stress.
Air Plant
Bring some life into the office with this tiny air plant. It's super easy to maintain, and will bring out the positive vibes.
Cubicle, Sweet Cubicle
Home, sweet home! Or, cubicle, sweet cubicle, rather! It's basically the same thing when so much time is spent in the office!
K Cup Storage
If your office has a Keurig but everyone seems to help themselves to everyone else's coffee perhaps these plain K Cup storage pods can keep your coworkers coffee pods safe, and hidden!
Leader Quote Block
Here's a little inspirational piece for the leaders in your office.
Colleagues and Friends Photo Frame
Not everyone becomes amazing friends with their colleagues, but if you are fortunate to have a colleague in your life who is also a great friend, check this out! Add a photo of the two of you and it's ready to gift!
Mini Sandbox
Who wouldn't rather be at the beach? I guess this mini beach sandbox will have to do when trapped inside the office.
I Would Hang Out With You Candle
Here's a great smelling candle for any colleague of yours that doesn't get on your nerves, and you could see hanging out with!
When you're looking for the best office gift exchange ideas under 20$, you've got the challenge of finding something anyone would love, that's also affordable! Luckily these office inspired gifts do just that. Did any of these make it to the office? Let us know!
See also: They're the backbone of any good office. Treat your secretary right with these fabulous gift ideas!