Disclosure of Material Connection: Some of the links in this post may be "affiliate links." This means if you click on the link and purchase an item, I will receive an affiliate commission. Disclosure in accordance with the Federal Trade Commission's 16 CFR, Part 255. This site is a participant in the Amazon Services LLC Associates Program, an affiliate advertising program designed to provide a means for sites to earn advertising fees by advertising and linking to Amazon.
Hi Folks.
Some people asked me to put together some ideas on stocking stuffers.
It appears that I got a little bit carried away. I hope that it is helpful to you!!
The following are 400+ Stocking Stuffer gift ideas!
They'll work will work for the men, women, boyfriends, girlfriends, fiancés and fiancées, husbands, wives, friends, best friends and family in your lives. These stocking stuffer ideas are for teens, adults and maybe even seniors. Please visit our list of the Most Incredible Stocking Stuffer ideas for literally everyone on your list, if you don't find what you need here!
They are all generally affordable, with most being under $5 or $10. Please add any further suggestions in the comments.
In case you find yourself having a lot in common with an exhausted Santa, the ideas on the list have been set up to take you to places where you can buy them, or at least find out where to buy them. (Using affiliate links, meaning I get a small kick back, at absolutely no cost to you… think of it as a way to say 'thank-you' for the dozens of hours I've spent on this!)
All nice and easy, "clickety, clickety, delivered!"
These are in a very loose order, so please, keep scrolling until you find things that strike your fancy! Something in the Hobbies list may be just perfect, you never know.

Adult Stocking Stuffers for the Sporty and Outdoorsy

Climbing Nuts
Stuff Sacks
Bike Tools
Filzer UFO Light
Sport Specific Socks – ie Bike Socks, Ski Socks, Triathlon Socks
Sport Specific Gloves – ie Bike Gloves, Kayak Gloves, Weightlifting Gloves
Bike Tire C02 Cartridges
CamelBak Cleaning Tabs
Waterproof Matches
Hiking First Aid Kit
Hot/Cold Pack
Ski Wax – Cross Country, P tex, or downhill
Collapsible Water Bottle
Floor Hockey Balls
Field Hockey Ball
Waterproof Notebook (Showering, Camping, Kayaking..)
Jump Rope
Pedometer
Baseball
Heart Rate Monitor
Tick Remover
Whistle
Adult Stocking Stuffers That are Deliciously Devourable

Adult Stocking Stuffers For the Foodie or Kitchen Dweller

Vanilla Beans
Saffron
Kitchen Gadget
Metal Anti-Odor "soap bar"
Kitchen Timer
Whisks
Gourmet salt
Straws
Apron
Paring Knife
Grill Charms Set
Knife Sharpener
Bamboo Utensils
Latte Milk Thermometer
Candy Thermometer
Seafood Cracker/Picks
Egg Cups – give everyone one and have them for breakfast!
Microplane Grater/Zester
Genuine Food Extracts – ie Vanilla
Canning Jar Plastic Lids
Canning Lids
Egg Molds – ie Mustache!
Ice Cream Scoop
Avocado Slicer
Company's Coming niche topic cookbooks
Specialty Oil/Vinegar
Coconut Oil
Bamboo Skewers
Adult Stocking Stuffers For the Baker


Adult Stocking Stuffers For the Entertainer
Paper Napkins
Wine Charms
Cheese/Paté Knife
Wine Aerator
Cocktail Swizzle Sticks
Table Topics Cards
Whiskey Stones – Love these things!!
Plastic Drink Swords
Wine Out Stain Remover
Wine Stopper
Nice Fondue Forks
Sugar Cubes – for cocktails and serving tea/coffee
Funny Ice Cube Trays
Decanter Cleaning Beads
Drink Rimmers
Bar Towel
Chopstick Rests
Knife Rests
Sugar Tongs
Pickle Fork

Some Stocking Stuffers for Wintertime
Hand Warmer Hot Packs
Lip Chap
Winter Gloves
Face Protector Cream
Mulling Spices
Christmas Ornament
Toque
Blooming Teas
Nutcracker & Nuts

Adult Stocking Stuffers For Stylish Folks
Cufflinks
Cologne
Wallet
Collar Stays
Money Clip
Bow Tie
Handkerchief
Scarf
Pocket Square
Head Band
Shoe Horn
Extra Earring Backs
Sunglasses
Bra Strap Holder Together Thingie
Charm Bracelet Charms
Clutch or Wristlet Purse
Chequebook Case
T Shirt
Camisole

Adult Stocking Stuffers For Travelers
Luggage Tags
Travel Toothpaste
Hand Sanitizer
Pocket Dictionary/Translator
London A to Z
Airline Size Liquids
City Guide Book
Ear Plugs
International Plug Adapter
Passport Holder
Money Belt for traveling
Foreign Currency for upcoming trips
Travel Kleenex

Adult Stocking Stuffers For Techy Pursuits
Electronics Cleaning Putty
Cable Organizers
Cable Ties
Car/Wall Charger for Phone
iPhone Stand
Memory Cards
Cell Phone Case
Conductive Fingertip Gloves for Smartphones/Tablets
Earbud Holder
Phone Charms – Apparently they're a thing?
iDevice Screen Protector
Backup Battery for a Phone or Camera
Kindle/Kobo Case
Mousepad
Compressed Air (for Keyboards)
Video Game
Anything from ThinkGeek.com
Wireless Mouse
Gold Tipped RCA Cables
Adult Stocking Stuffers For Artists and Musicians
Art Supplies
Guitar Picks
Sharpies
Personalized Stationery

Adult Stocking Stuffers For Professional People
Adult Stocking Stuffers For Fun and Time with Friends
Magnetic Poetry
Cards Against Humanity
Movie Passes
Tickets – Airplane, Concerts, Museums, Sports, Cirque, etc.
Brainteaser Puzzles
Dominoes
Sudoku
Mini Books
Mad Libs
Darts
Ticket Stub Diary
Experiences Gift Cards – Decorate Cookies, Look at Christmas Lights, etc
Music – Gift Cards, CDs, Memory sticks with songs
Audiobooks
Travel Size Games
Adult Stocking Stuffers That are All Bacon
Adult Stocking Stuffers For the Ensuite
Nail Polish
Shaving Soap
Bobby Pins
Votive Candles
Soap
Body Wash
Makeup
Face Blotting Sheets
Bath Bombs
Good Tweezers
Cheesy DVD
Deck of Cards
Man Candles
Massage Oil
Massage Bar
Loofah
Pumice Stone
Comb
Adult Toys… use your discretion!!
Makeup Pads
Hair Brush
Body Wax
Toothpaste Squeezer thingie
Lotion
Aftershave
Ring Holder
Adult Stocking Stuffers that are Handy to Have
Zip Ties
Multi Tool
Rechargeable Batteries
Battery Charger
Thumb Tacks
Tire Pressure Gauge
Paracord Bracelet
Tape Measure
Drill Bits
Zippo – You can get them engraved, too.
Magnets
Specialty Glue – ie Bondo, Gorilla Glue
Toothbrush Sanitizer
Change Purse
Duct Tape – Especially the Coloured Ones
Post-its or Notepads
Day Timer
Glow Sticks
Shoe Shine Cloths
Shake/Windup Flashlight
Fire Starter
Lock De-Icer Keychain
Flare Pen
Pepper Spray
Scotch Tape
Double Sided Tape (Ahem, this can be used for many things)
Pill Box
Package Opening Tool
Umbrella
Goo Gone or Goof Off
Jar Opener
Minimergency Kit
Exacto Knife/ Olaf Knife
Adult Stocking Stuffers For Kids at Heart
Adult Stocking Stuffers for Crafty Pursuits and Hobbies
Camera Lens Cap
Camera Lens Filters
Mini Tripod
Gardening Seeds
Seed Bombs for Guerrilla Gardening
Crochet Hook
Fishing Tackle
Arrow Tips /Fletching
Ammo
Scrapbooking Stickers
Scrapbooking Punches
Golf Balls
Golf Tees
Golf Towel
Beads for Crafting
Stamping Ink Pads
Pin Cushion
Sewing Notions – buttons, zippers, etc
Fat Quarters for Quilters
Sewing Patterns
Quilting Patterns
Submersible LED floralites
Modge Podge
Adult Stocking Stuffers That are Ridiculously Practical
Adult Stocking Stuffers That Might Support Vices
Wine Journal
Cigars
Flask
Flask Funnel
Lotto Tickets
Mini Liquor Bottles
Shot Glasses
Beer Cozy
Single Serve Champagne
Bingo Blotter
Scratch Lotto tickets (+ Change to scratch with!)
Liquor Bottle Spouts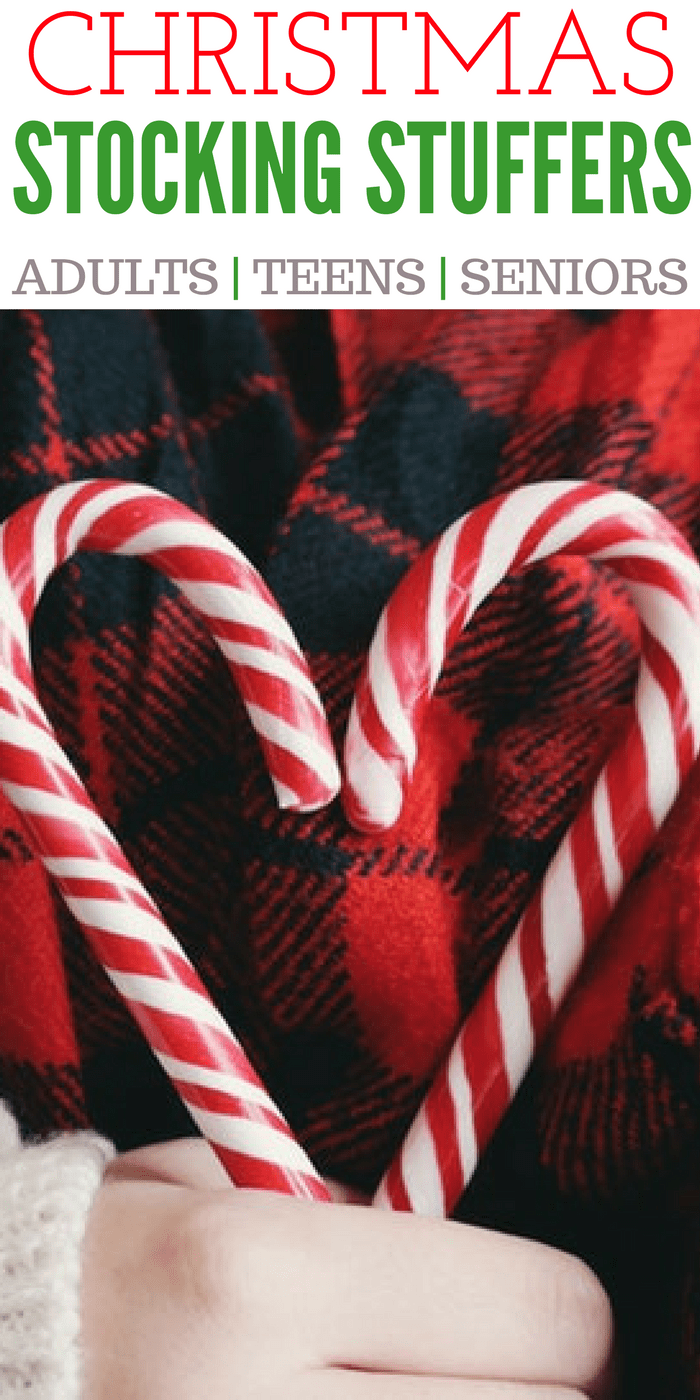 Adult Stocking Stuffers to Make That House a Home
Adult Stocking Stuffers for the Garage
Adult Stocking Stuffers for Fur Lovers
Catnip
Dog collar – for your pet or for you??
Dog treats/bones/toys
Pet Nametags
Adult Stocking Stuffers that are Unique
While you are in the mood to shop, you see these lists of tremendous stocking stuffers too:
What are your reasonably priced stocking stuffer ideas? Let's grow this list!