Being sick is a pain. No matter the illness or procedure that's got them down, there's a wonderful get well gifts for the woman in your life who's feeling under the weather. Earn some brownie points by bringing them a small care package they can use right away. Big or small, they'll certainly remember that you thought of them when they weren't feeling quite their best.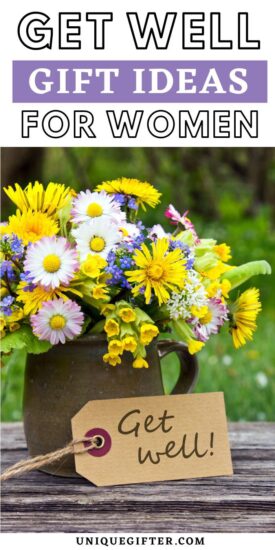 Get Well Gift Ideas Women Will Love
These gift ideas will not only say "get well soon" but will also make them feel special because you took the effort to find them something unique and valuable while they're healing or under the weather.
If you need more gift ideas to help women get well, try these Must-Haves for Overnight Hospital Stays and 20 Gift Ideas For A New Mom Who Had a C-Section.
Gifts from friends and family can go a long way towards making someone's rest and recovery more pleasant. Presents of any kind, whether it's something to occupy their thoughts, a token of affection, or even a card to let them know you care, may make a tremendous difference!
That's why it's important to give the women in your life get well gifts when they're feeling down, sick, or recovering. Sometimes that's just the ticket to help her feel better!