Disclosure of Material Connection: Some of the links in this post may be "affiliate links." This means if you click on the link and purchase an item, I will receive an affiliate commission. Disclosure in accordance with the Federal Trade Commission's 16 CFR, Part 255. This site is a participant in the Amazon Services LLC Associates Program, an affiliate advertising program designed to provide a means for sites to earn advertising fees by advertising and linking to Amazon.
What is Santa going to put into Dad's stocking this year?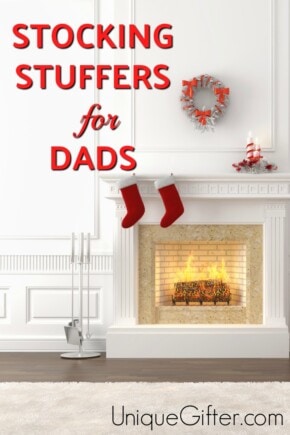 If you'll be helping Santa out, you'll need some fun dad gifts to fill his stocking to the top. We've compiled a list of the best stocking stuffers for Dad, whether Dad is a gamer, an outdoorsman or acquired his dad-bod from a cubicle. These gift ideas will bring a smile to his face!
Please visit our list of the Most Incredible Stocking Stuffer ideas for literally everyone on your list, if you don't find what you need here!
Fun Stocking Stuffers for Dads
Movie tickets make a great stocking stuffer for Dad because it's the perfect opportunity for him to spend time with someone – a date night, a kid date night, or some bro time with his buddies.
These fun beer coasters make an excellent addition to a stocking.
Always practical, a mix pack of zip ties fits nicely into a sock.
Is Dad the grill master? Keep his barbecue game on point with a new lighter. Bonus: it can be used for lighting candles during the Christmas season.
Wallets definitely wear out – give Dad a new wallet and it might turn into one of his favorite stocking stuffers yet.
These waterproof notepads are great for shower thoughts, kayaking, canoeing, fishing, and backyard projects.
Does Dad love his mountain bike? What about his road bike, or his commuter bike? Keep him on the trails with a spare bike tube.
Capture the family moments with a new selfie stick.
Socks wear out – it may be an age-old joke, but they make a great gift.
Razor blades are expensive – which makes them an awesome gift.
These are handy for keeping devices charged on the run, especially as a backup for cell phones, or a camera battery.
Barbecue sauce, or really any condiment, is an excellent treat.
Curl up for a movie later in the week with some of Dad's popcorn.
Tech toys take batteries – rechargeable batteries are the way to go.
Delicious mints!
Gum is another great consumable to fit in there. Don't hint that his breath is bad, though!
Is Dad an athlete? Restock him with his favorite energy gels.
I absolutely love Nuun electrolyte tabs – they have all the good parts of gatorade, are excellent for recovery, but are not full of sugar.
Bike gloves wear out, making them awesome new gift.
Work gloves wear out too – keep Dad's fingers safe for his next DIY project.
This set comes with a sharpener, specifically designed for the strange shape of carpenter's pencils.
Whether it's running to the hot tub or escaping to the beach, a new pair of flip flops is a welcome addition to a stocking.
Solar flashlights/lamps are amazing – no batteries! Perfect for reading stories at night, power outages and camping.
A Steripen is a perfect gift for a traveler or an outdoorsman – it treats water to kill bacteria, simply by stirring it in a glass or bottle of water.
The king of multitools, everyone needs to own a leatherman.
Is Dad keen to stay on top of his fitness and his sleep? A fitbit is the perfect way to do so.
Keep the simplicity and freshness of a single cup of coffee, while ditching the plastic waste of k-cups.
Delicious jerky is a great snack, there are tons of choices these days, too.
I fully admit that I own multiple bottles of this stuff. When red wine spills on a white shirt, or the carpet, or anywhere it shouldn't be, wine away gets it out!
Ready to hit the slopes this winter? Hand warmer hot packs are an awesome stocking stuffer idea.
Keep Dad looking classy with a new set of cufflinks, or a tie clip.
Pocket squares come in oh-so-many colours and patterns, they're a wonderful way to add flare to a suit.
What's the latest video game that Dad wishes he owned? A stocking stuffer is the perfect way to give it to him.
Update your father's tech with a new wireless mouse.
Keep Dad entertained all year long with a funny desk calendar!
Magnetic poetry comes in all sorts of themes – perfect for the fridge, or at the office!
This is a classic throwback that will be great for a laugh.
Get the gardener dreaming of summer with a selection of garden seeds.
These neat multitools are handy to have ready at hand, whether it's to open a can of beans at the office, or fix a loose screw during the day.
Sunglasses are seasonal and an awesome fashion accessory, no matter his style.
Christmas is for toys! A mini nerf gun will lead to tons of fun on Christmas morning. They're even more fun if several people get one!
Watches come in a huge variety of price points and fit just perfectly into a Christmas stocking.
Light my Fire flints are an awesome way to start a fire, they also work wonderfully for camp stoves and barbecues. They make a good addition to an emergency kit or car safety kit.
A classic, a fisherman can always use more lures!
Have you ever heard of a razor pit before? Help Dad's frugal tendencies by gifting him this razor blade sharpener that's ridiculously easy to use.
A shaving soap and brush set lasts for a long, long time, it will be the gift that keeps on giving.
Keep him looking his finest with some beard oil.
Nail clippers are one of those things that seem to disappear, just like socks in the laundry.
Paracord is incredibly useful – get your father some this year.
Prepper in the family? Avid outdoorsman? Solar chargers are getting more and more efficient and more and more compact. They make for an excellent stocking stuffer idea!
You should see some of this other fantastic stocking stuffer ideas: