Disclosure of Material Connection: Some of the links in this post may be "affiliate links." This means if you click on the link and purchase an item, I will receive an affiliate commission. Disclosure in accordance with the Federal Trade Commission's 16 CFR, Part 255. This site is a participant in the Amazon Services LLC Associates Program, an affiliate advertising program designed to provide a means for sites to earn advertising fees by advertising and linking to Amazon.
Good news, everyone! We've discovered a plethora of gifts for the Futurama fan in your life! For a show with such a massive fan base, there is no way that there isn't going to be countless amounts of merchandise available. When it comes to a situation like that, it's going to be tough to nail down that perfect gift! We completely understand and that's where we've come to save the day.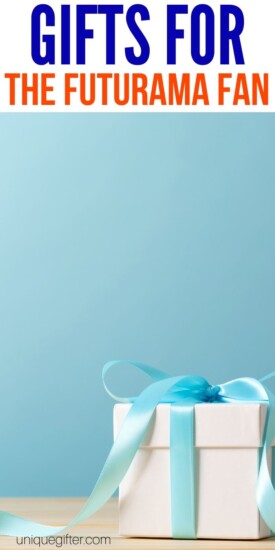 See also: Know some fans of a different type of sci-fi? Hook them up with something from another galaxy with this Star Trek gift guide!
Fantastic Gift Ideas for the Futurama Fan
While we weren't hopping from planet to planet to find these gifts, it doesn't make them any less stellar. We've scoured the internet and come up with presents to please the most die-hard fan of the series and we're certain that there's one or two here that is going to be absolutely perfect for the Futurama fan in your life, so relax and join us on this list of 40 fantastic Futurama gifts!
Planet Express Ship
Flying right out of July of 2016's loot crate, this replica would look awesome sitting on a collector's shelf. Coming in at 5.5 inches and including its own display base, it's a pretty rad gift!
Futurama Stickers
With Brannigan's Law, punk Zoidberg, and Bender as Negan from The Walking Dead, we're scratching our heads and wondering what this 74 piece sticker pack doesn't include. There is something here for everyone and there are 74 somethings there for a Futurama fan!
Editor's Choice Gifts for the Futurama Fan
Futurama "All Hail" Hypnotoad Medium Figure
True Futurama fans will recognize this little fellow on the spot! Give them the gift from their favorite episode with this Hypnotoad figurine!
Bender Buddha
While we can't really agree that Bender is the most Zen personality that we've ever come across, we'll fully admit that this is one of the most unique pieces we've seen. It's a Bender Buddha statue!
Farnsworth Coffee Cup
Waking up to Professor Farnsworth's catchphrase is bound to please any fan of the hit animated series so this coffee cup is definitely no slouch in the gift department!
Planet Express Starry Night Print
It seems as if the crew has flown right into a piece of classic art! This awesome rendering of Van Gogh's "Starry Night" includes the all too familiar green spaceship!
Planet Express T-Shirt
What can you really say about this shirt? It's a minimalist way of being awesome. Featuring the Planet Express logo, it's a very stylish way of expressing love for the show!
Editor's Choice Gift Ideas for the Futurama Fan
If you want to turn some heads at the next cosplay convention, this Fry costume is a good choice! Costumes like this let Futurama fans show their pride for their favorite characters and show.
Leela Plush
Everyone's favorite mutant cyclops gets a plushy makeover! Fresh from Funko, this 4.5-inch adorable version of Leela is guaranteed to get a smile out of any Futurama lover!
Calculon Figure
The most famous soap opera actor in the cartoon universe has arrived in action figure form! Calculon is going to look amazing quoting cheesy lines and being super melodramatic on your friend or family's shelf!
Futurama Complete Series (DVD)
Does that fan in your life own the complete series? If not, you've got them covered with this phenomenal gift here! The entire Emmy winning series wrapped in an awesome looking box!
Slurm Pint Glass
A glass commemorating the most addictive drink in the Futurama universe! Available in clear or frosted, what fan wouldn't crave such a cool gift?
Bender Mousepad
Bender is always cool but we'll admit that on this mousepad, he looks slightly ominous. Can't say that it's not par for the course with his character sometimes though! Perfect for that fan that spends hours at their desk or home computer.
Zoidberg Plush
A Funko plush makeover? Why not Zoidberg?! Every fan's favorite crustacean doctor gets his very own plush model and anyone who loves the show will definitely love this little guy!
Morbo Keychain
When Morbo isn't busy reporting the news, he's hard at work being an awesome looking keychain for the pathetic human species!
Why Not Zoidberg Coffee Cup
One of the most memorable and repeated catchphrases from the show on a stylish caffeine receptacle! Owning a very cool coffee cup? Why not your futurama fan?
Futurama Fleece Blanket
Featuring Fry, Bender, and Leela, this cozy fleece blanket is definitely going to be a fan favorite. Made by Cafepress and highly reviewed, you can't go wrong with this gift for the Futurama fan!
Purple Wig
Know a Futurama fan that wants to dress up like Leela? Know a Futurama fan that wants their significant other to dress up like Leela? No worries! You'll have them covered with this purple wig!
Futurama Game
With a different member of the crew adorning each individual die and a dice cup that is shaped like Bender's head, who wouldn't be proud to own this game?? If the gift recipient doesn't own this particular game, you should definitely fix that for them!
Planet Express Patch
If you've got a friend that's a fan of the series and wants to give their wardrobe some cartoon pizazz, look no further! This Planet Express patch is guaranteed to look nifty on jackets or any piece of clothing they decide to apply it to.
Planet Express Baby Bodysuit
You mean your gift recipient's baby isn't into the show?! Well, you've obviously gotta change that! This onesie features that famous logo and is a stylish way to turn their baby into a living advertisement for the show.
Fry Funko Pop
A Funko Pop version of Fry? Shut up and take my money! A very cute and cool version of fry, this Funko Pop is gonna look great on your fan's shelf in all of its bobblehead glory!
Zoidberg Tote Bag
We need a president. Why not Zoidberg? The fan in your life can announce where their vote goes with this snazzy tote bag!
Futurama Typography And Quote Art Print
There is no shortage of quotable lines from Futurama and this print showcases the best of the best! The frame may not be included but the laughs and the cool factor definitely are!
Crossover Crisis (Hardcover)
The Simpsons and Futurama come together in this comic crossover! Any fan of Futurama is likely a fan of The Simpsons. Considering they're from the same creator, they're likely to be overjoyed to receive this gift!
Good News Everyone Cross stitch
If you've got that Futurama lover that has a thing for the homey look, this cross stitch, this gift is for them! Featuring Professor Farnsworth's memorable catchphrase, it's a fantastic handmade present!
Fry/Legend Of Zelda Wallet
The most ambitious crossover ever? Maybe. Fry as Link from The Legend Of Zelda! Shut up and take my rupees!
Editor's Choice Gifts for the Futurama Fan
This Slurm can koozie will keep your drink cold, and your hand from becoming too frosty! Do your favorite drink justice with the coolest koozie in the universe! When it comes to gifts for the Futurama fan, it's all about the references!

Planet Express Cookie Cutter
You don't have to have the cooking skills of Elzar to make Planet Express cookies anymore! Help the Futurama lover in your life make fantastic snacks that are sure to fly right off the plate with this awesome cookie cutter.
Futurama PS4 Controller
This one is sure to delight the fan that doubles down as a gamer! A fully customized Playstation 4 controller that features Planet Express on one side with Fry, Bender, and Leela on the opposite side. Truly a beautiful collector's piece!
Futurama/Simpsons Embroidery Art
Handmade and with a real down-home feel, this embroidered pattern is definitely unique and neat! Featuring Homer Simpson and Bender having a beer, it's a very cool tribute to Matt Groening.
Fry And Leela Wedding Cake Toppers
Got a special couple in your life that is tying the knot but also in love with the show? We've got you covered on that front as well! Made with an adorable chubby art style, Fry and Leela are also accompanied by two cats and ready to get hitched!
Futurama Comic Gift Bags
We've covered a ton of gifts here and there's no doubt that you're going to want to present them in a fitting fashion and we've even got you covered on that front! These handmade gift bags are made from recycled Futurama comic pages and let the gift recipient know exactly what they're in for!
We don't work for Planet Express but we're pretty certain that we've managed to deliver the best of the best when it comes to great gift ideas. Did you find anything that you plan on snagging up for that Futurama lover in your life? Maybe you found something that you might enjoy owning yourself? Feel free to let us know or even if you want to just let us know that we nailed it with this list! Hit us up on Twitter (@ugifter) or Instagram (@uniquegifter) and thanks for checking out 40 Fantastic Futurama Gifts!