Disclosure of Material Connection: Some of the links in this post may be "affiliate links." This means if you click on the link and purchase an item, I will receive an affiliate commission. Disclosure in accordance with the Federal Trade Commission's 16 CFR, Part 255. This site is a participant in the Amazon Services LLC Associates Program, an affiliate advertising program designed to provide a means for sites to earn advertising fees by advertising and linking to Amazon.
Puppy Dog Pals Party Theme & Ideas
Throwing a Puppy Dog Pals birthday party? These are my favorite finds to throw the best party! Also, find some of the best Puppy Dog Pals party ideas! See my post for some free printable decor HERE: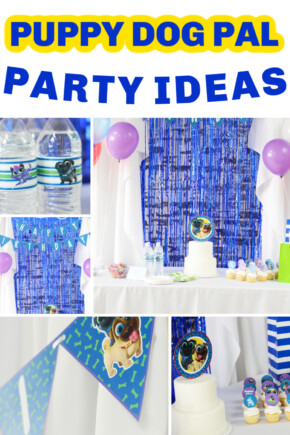 See also: Want some tips on frugal gifting, too? Check out our guide to gift giving, the frugal way!
Paw Print Birthday Party Favor Bundle Pack Animal Lover
This set has a little bit of everything! It's adorable and you will see lots of cute puppy paws all over these party favors.
Puppy Party Photo Props
When you host a puppy party you for sure need some photo props! Everyone will get a kick out of how much fun they are and will have some memories of such a cool party.
Round Black Bear Paw Print Stickers
Everyone needs some puppy paw stickers when they come or go to this terrific party. They will go perfectly with your theme.
Doc McStuffins Color and Play 128-Page Coloring and Activity Books
Coloring and activity books are always a great idea to give to the kiddos. They will love having a memenot to take home with them to enjoy after the party has ended.
Dog Cookie Cutter Set
Make the treats extra special by shaping them like puppies and bones. Everyone will be happy to eat these scrumptious cookies.
Personalized Puppy Dog Pals Inspired Party Stickers
These party stickers are lovely for personalizing gifts. You can hand out little bags and put a sticker on each one. Then the kids can take their treats home.
Puppy Paw Print Dog Bone Pinata
A pinata is always great for taking out your frustrations and getting candy. Kids always go wild when they know there is a pinata involved.
Puppy Dog Pals Party Shirt
Why Not get the entire family involved by having shirts made. It's such a cute and fun idea that everyone will enjoy seeing.
Puppy Dog Pals Birthday Shirt
Here is another version of t-shirts that the entire family can wear. They are easy to personalize and they ship pretty quickly too.
Happy Birthday Bone Pinata
This bone pinata is adorable and can be filled with all your favorite candies and prizes. Put in some trinkets too.
Disney Puppy Dog Pals Fillers Set
This set has a little bit of everything for the party packs. Figurines, stickers and more.
Dog Themed Cookie Cutter Set with Recipe Booklet
These cookie cutters come with a booklet to help guide you on how to make your cookies. Make several shapes of cookies for your party.
Puppy Dog Pals Imagine Ink Magic Ink Pictures
There are 24 pages of entertainment in each booklet. The children will have a blast playing with them.
Multicolor Dog Bone Pinata Puppy Theme Party Favor
Here is another fun pinata with bright colors. Blue, purple, and green are fantastic for a themed puppy dog party.
Puppy Dog Pals Stickers
Stickers can bring a smile to any child face. They are great for wearing or decorating notebooks and other items.
Puppy Dog Pals 32-Page Activity Book with Stickers
This book has 32 pages to color and do activities on. Great for girls or boys. They can show off their artistic talents too.
R&M Cookie Cutter
Imagine how adorable your party will be when you have a huge platter of dog bone cookies. They are sure to be a huge highlight at the party.
Puppy Dog Pals Giant Coloring and Activity Book
What's better than a fun dog themed coloring book? This has lots of pages to keep the kids entertained even after the party is over.
PAW PRINT Gusset Cello Bag Favor Gift
Fill the bag up with candy, puppy chow, or a cookie that is puppy themed. Everyone will go wild for their puppy themed treats.
Puppy Dog Pal Theme Printable Birthday Pack