Disclosure of Material Connection: Some of the links in this post may be "affiliate links." This means if you click on the link and purchase an item, I will receive an affiliate commission. Disclosure in accordance with the Federal Trade Commission's 16 CFR, Part 255. This site is a participant in the Amazon Services LLC Associates Program, an affiliate advertising program designed to provide a means for sites to earn advertising fees by advertising and linking to Amazon.
Hitting the arcades in 1987 with its first game was only the beginning for this monster of a franchise! Since its initial release, it's spawned a slew of additional games, animated films, and even a full-length feature film. Along with all of these releases and popularity, there is no doubt that there is going to be a massive amount of merchandise to go along with everything and we are quite certain that there is someone in your life that's a fan of this beloved series! These are the best street fighter fan gifts.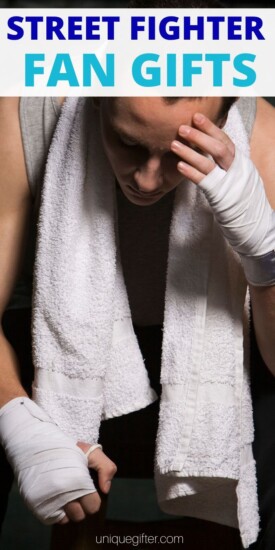 The Very Best Street Fighter Fan Gifts
When you have someone that is a fan of such a popular thing, we get that it's likely a bit daunting to go shopping for that perfect present and that's where we come in! We've hit the mean streets of the internet and battled our way to the greatest gifts that have been created in service to this awesome game series and we've compiled them all here for you! Relax and take solace in the fact that we've got you covered when it comes to that certain someone with these 40 stunning Street Fighter gifts!
See also: Craving some more Capcom gift ideas? Check out our gift guide for Capcom fans here!
Street Fighter 25th Anniversary Chess Set
Starting this list out with a bang, this Chess set is truly a fitting tribute to the game series and would be a wonderful gift for any fan! Featuring M. Bison and Ryu as kings with various other characters as the other pieces, this work of art even includes a certificate of authenticity!
Street Fighter II Arcade Machine
For anyone that's looking to add a retro feel to their gaming room, this arcade cabinet has them covered! Fans of the fighting series will be undoubtedly overjoyed to receive this fantastic gaming treasure!
Editor's Choice Gifts for Street Fighter Fans
Ryu is back with a vengeance in this awesome collectible action figure with plenty of poseable parts!
Monopoly: Street Fighter Collector's Edition
Everyone knows and loves the classic game of Monopoly and fans of the Street Fighter series are definitely going to enjoy this! With 6 collectable playing tokens and familiar places from the fighting games, the creators have managed to truly give Monopoly a Street Fighter makeover!
Street Fighter V Snapback Cap
Every fan of the series knows that iconic word in its memorable font that flashes across the screen before every match: Fight! This minimalistic yet stylish cap has that same word adorning its front and is perfect for everyday wear.
Street Fighter Sushi Set
One of the more unique gifts on our list, this sushi set is what happens when gaming invades eating habits! Including a plate, dipping dish, and a set of chopsticks, any fan that is a fan of sushi will go nuts over this present!
Akuma T-Shirt
At first glance, this seems like just a regular black tee, but on the backside, it features the recognizable kanji symbol representing the popular character Akuma! A very nifty shirt that any fan is going to cherish!
Street Fighter Bowl
Perhaps you felt like you'd want a bit more to go along with the sushi set that we introduced earlier? Look no further! This cool bowl sports one of the most undoubtedly popular characters that the game has to offer: Ryu!
Street Fighter II Turbo Refrigerator Magnet
This is the game that really set off a lot of fans' love for the series. Pictured in its classic SNES box art, this magnet is a very awesome nod to the game and is sure to look great on any Street Fighter lover's fridge!
Street Fighter II Tin Sign
This arcade cabinet marquee is another awesome addition to a fan's game room! Created with a retro look in mind and fashioned out of tin, it would go along perfectly with the arcade cabinet featured earlier!
Chun-Li Action Figure
Easily one of the most popular and recognizable figures in the series, Chun-Li is transformed into an awesome action figure with this piece. Including two expression parts, three different sets of hands and even a "lightning kick" effect, this action figure is a guaranteed hit!
Ryu Plush
Everyone knows this guy here. He's the face of the franchise: Ryu himself! This cute and collectible plush is officially licensed from Great Eastern Entertainment and looking for a shelf or bed to laze around on!
Ken Vs Ryu Ugly Christmas Sweater
Ugly Christmas sweaters became the cool thing to wear around the holiday season and when they're made like this, we can absolutely see the appeal. Featuring Ken and Ryu in their iconic ki-shooting poses, this sweater is ugly with awesome style!
Street Fighter X Tekken Coin Bank
Combining two of the greatest fighting games created was a wise choice on the creators' parts! This piggy bank commemorates that and gives fans a chance to save their cash with the coolest and nerdy way!
Ryu Statue
There are few ways to bring realism to animated characters but the creators of this statue have really nailed it down! Highly detailed and realistic, this is a must-have for any fan or collector of Street Fighter!
Hadouken Plush
Anyone who has ever played the games has undoubtedly wished that they could toss out fireballs like Ryu or Ken. Hundreds of fans have yelled "Hadouken!" while imitating the pose from the games. Gift the gift of throwing a Hadouken…..kind of!
Street Fighter: Extreme Edition
We won't sit here and pretend as if the Street Fighter movie was a cinematic masterpiece but it has definitely gained a cult following since its release. An interesting take on the Street Fighter universe brought to film, it's a must-have in a fan's DVD collection and a film that any action fan should enjoy!
Chun-Li Costume
Chun-Li is one of the most popular cosplays when it comes to conventions and events and if you've got a fan that enjoys that particular hobby in life, we've got you covered! This Chun-Li costume is officially licensed by Leg Avenue, has great detail and is sure to thrill the recipient!
Vega Mask And Claw
Another fan favorite in the series, Vega is known best for his unique mask and vicious claw, which he is more than willing to rip into you with if given the chance. Whether it's for cosplay or collection pieces, this mask and claw set is absolute art!
Editor's Choice Gift Ideas for Street Fighter Fans
Grab a hold of this Ryu cosplay to unleash your inner Hadouken! At the next cosplay convention.
Guile Flash Kick Decal
There are more than a few players that prefer the blonde soldier as their primary character and one of the most famous moves in his arsenal is the "Flash Kick". This decal serves as a reminder of the power of the move and as an advertisement of their love for the game!
Blanka Painting
An original painting and quite a work of art in our opinion! This painting features the familiar green mutant as he generates electricity as he does with one of his more popular moves from the game.
Akuma Kanji Decal
From laptops to vehicles and everything in between, this decal is perfect for any Street Fighter lover! The decal is the kanji symbol for "Ten" that's come to be known to Street Fighter fans as a symbol for Akuma.
Akuma Prayer Bead Necklace
Another thing that the character Akuma is famous for is the prayer bead necklace that he's always sporting. Anyone wanting to imitate the fashion or maybe even use it in a cosplay would be thrilled to own this wooden and handmade replica!
Sleep Fighter Baby Onesie
Some fans have their own little Street Fighter roaming around their house and perhaps they'd like to get them started loving the game early! This onesie features the words "Sleep Fighter" in the familiar Street Fighter font and is a must-have for the fan with a tiny fan!
Street Fighter Coasters
Even gamers worry about unsightly water stains on their furniture! These awesome coasters come in a set of four and feature art from both the original Street Fighter and Street Fighter II Games!
Street Fighter Dog Collar And Leash
We're positive that there are quite a few fans out there that have pets and we're even more sure that there are lovers of the game that wouldn't mind decorating their fur babies with some Street Fighter accessories. This awesome looking collar features three of the most popular characters in the series in action poses and even has a leash included!
Hadouken/Sonic Boom Pin Pack
There is no shortage of famous moves in the game series but we're pretty certain that these are two of the most popular ones! These pins featuring the "Hadouken" and "Sonic Boom" moves are perfect for that Street Fighter lover that's looking to show off their fandom in a subtle way!
Ryu And Ken MacBook Skin
Needing a gift for someone who loves Apple products and Street Fighter? Look no further! This sleek MacBook skin is eye-catching and stylish. Perfect for the fan who loves both!
Ryu Costume
A simple yet very recognizable costume! Whether you've got a fan that wants to cosplay or maybe just put it on and practice karate in the garage, we've found the perfect gift!
Balrog Lego Minifigure
Perfect for anyone looking to set up a Lego Street Fighter scene! This custom made Minifigure is an awesome Lego style depiction of the deadly boxer.
Ken Silhouette Paper Art
A very subtle and minimalistic approach to Street Fighter art, this handmade black silhouette of Ken is a cool and low-key way of showing fandom while not being overwhelming!
Editor's Choice Street Fighter Fan Gift Ideas
What better way to show off your love for this Capcom series than an awesome pair of Chun Li socks! Wear them to the office, or as a good luck charm while watching your favorite EVO competitor!
Cammy White Wig
Even if she came into the series a little later than the original roster, Cammy has more than her fair share of admirers! Another fan favorite when it comes to cosplay, this wig is perfect for that fan that's getting ready to hit a convention!
Zangief's Gym T-Shirt
What better way to portray the big Russian brawler than with a gym? This custom made t-shirt is available in different colors and has a cool retro style to it!
From retro to the newer Street Fighter style, we've covered a multitude of cool and unique gifts here and we're quite certain that there's something here for everyone! Have you snagged something from this list that a fan that you know absolutely adored? Did you find something that you yourself couldn't quite live without? Let us know on Twitter (@ugifter) or Instagram (@uniquegifter) and thanks for checking out 40 Stunning Street Fighter Gifts!