Disclosure of Material Connection: Some of the links in this post may be "affiliate links." This means if you click on the link and purchase an item, I will receive an affiliate commission. Disclosure in accordance with the Federal Trade Commission's 16 CFR, Part 255. This site is a participant in the Amazon Services LLC Associates Program, an affiliate advertising program designed to provide a means for sites to earn advertising fees by advertising and linking to Amazon.
Spring and Easter are right around the corner! It won't be long, and it will be pastel-colored for everything. I personally can't get enough of these adorable Rice Krispie Easter Egg Nests, and I have a feeling you are going to feel the same. They are not just festive and cute; they taste good too. I will never grow tired of making holiday-themed food no matter what the occasion is because it's so much fun.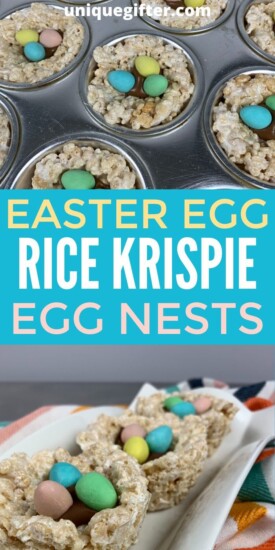 Easy & Creative Rice Krispie Easter Egg Nests
Each recipe for these Rice Krispie Easter egg nests makes around 18 nests. This is wonderful if you are hosting a party or event. If you are looking for something for a classroom treat, they would be a great option for that too. If you need to make them for a larger group, you may want to double or even triple the batch, but they do go along ways. 
Ingredients Needed To Make Rice Krispie Easter Egg Nests
Can you believe you only need 5 super simple ingredients to make these Easter treats? I love recipes that don't' take tons of ingredients or lots of time. This Easter dessert is the best of both worlds. 
How To Make Easter Egg Nests
Don't worry, these Easter egg nests are so simple to make, and they don't take very long either. Honestly, the hardest part is not eating all the candy while you are making them. :) Okay, maybe that's just me! 
First Step: Preheat oven to 200F (95C)
Second Step: Grease an 18 muffin tray and set aside.
Third Step: Place the marshmallows in a large microwave-safe bowl and heat for 25-30 seconds. Stir well, and repeat heating as needed.
Fourth Step: Add the rice krispies and mix until all of the cereal is incorporated.
Fifth Step: Scoop approximately 1/4 cup of rice krispie mixture into each muffin cups.
Sixth Step: Grease your hands with some butter and press the rice krispies into a nest shape.
Seventh Step: Unwrap your kisses and place one in each nest.
Eighth Step: Put your nests in the oven to melt the kisses (approximately 10 minutes, keep an eye on them.)
Ninth Step: Once chocolate kisses have started to melt, remove from oven and let cool 2 minutes.
Tenth Step: Place 3 mini eggs per nest (or more if you desire)
Eleventh Step: When the nests have had a chance to set and harden, pop them out of the muffin tray using a butter knife.
That's it! After they have set up, they are ready to devour, and everyone will be so happy to dig in. 
Can I Make These Easter Egg Nests For Other Occasions?
Yes, they are lovely for other occasions too. If you are having a wedding or baby shower that is themed with birds or nests, they would be fabulous. Or you can simply switch out the candy in the center. Instead of eggs, you could opt for any other candy you like. Then they wouldn't necessarily be nests, but just Rice Krispie treats instead. Try out all sorts of ideas because the way they taste, you are going to want them more than once a year. 
How Do You Store Rice Krispie Treats?
I find that the best way to store Rice Krispie treats is by keeping them in individual servings. Place one nest per ziplock bag or storage container. Another option would be to separate them with wax paper to prevent sticking. They will last up to 3 days at room temperature. 
Keep in mind that you should never store them where they will get hit with heat. Sunlight, your oven, and even the dishwasher could cause them to melt or become overly moist. If that happens, they won't last long and will need to be thrown out much sooner than normal. 
Can You Freeze Rice Krispie Easter Egg Nest Treats?
Yes, you actually can freeze these rice Krispie treats. Typically, marshmallows, in general, do not freeze well and result in a super hard and unedible piece of food. However, when it comes to rice Krispie treats, they do freeze okay. Wrap each one individual to prevent sticking, and they will keep for 1 month in the freezer. To serve them, you just need to allow them to thaw on the counter for a little bit. The texture won't be as perfect as it was the day you initially made them, but they still taste fantastic. 
Looking For More Easter Ideas? Check these out for inspiration: