Disclosure of Material Connection: Some of the links in this post may be "affiliate links." This means if you click on the link and purchase an item, I will receive an affiliate commission. Disclosure in accordance with the Federal Trade Commission's 16 CFR, Part 255. This site is a participant in the Amazon Services LLC Associates Program, an affiliate advertising program designed to provide a means for sites to earn advertising fees by advertising and linking to Amazon.
Maybe it's the end of the semester and you want to give that professor that went over and above a little something. Or maybe there's someone you're friends with who also happens to be a professor.

Gift Ideas for a Professor
Check out these gifts that definitely make the grade. Who knows? Maybe they'll feel appreciated enough to overlook that unexcused absence…
If I'm Talking T-Shirt
Maybe not the classic professor attire but it certainly gets the point across.
Thank You Frame
Tears Mug
I always knew that's what my professors were drinking. At least it's honest!
Magnetic Desk Toy

Buy Now
Liven up their desk and give them a way to destress with a desktop toy. This one lets your professor build their very own magnetic sculptures which will hopefully make those late assignments seem a little less stressful.
Desk Organizer
Organization is important but it should also look good, right?
Trust Me Bumper Sticker
Stop arguing and just trust them, they're a professor after all! What's better than advertising that to the world on the back of their car?
Personalized Stamp
What's better than having a tiny version of yourself primed and ready to compliment assignments on your behalf?
WTF Notes
For the professor who's tired of it all – these WTF notes are a great way to get the message across.
Professor Mom
There's nothing that toughens you up like raising your kids… Except, maybe, teaching someone else's.
Perpetual Calendar
"What's the date today?" "Look at the wooden blocks on my desk!"
Briefcase
What is more professor-ly than a briefcase?
The Professor is Sign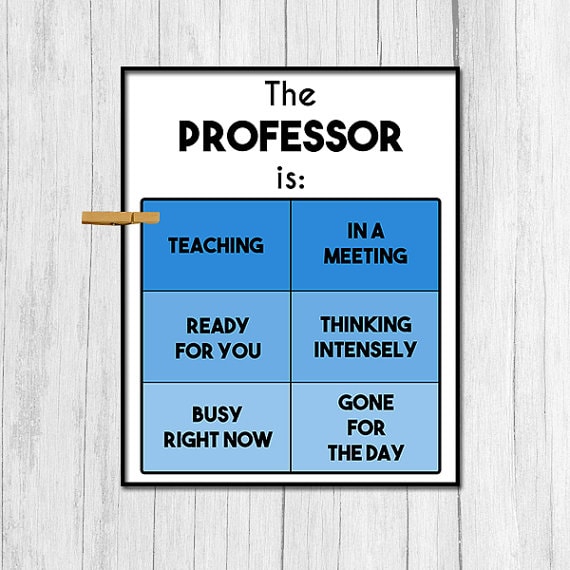 What's the professor up to? This handy sign will get the point across.
Custom Name Plate
Make their desk a little bit more personalized with a custom name plate.
Memo Pads
You can customize these memo pads to your professor always knows how amazing they are, even when jotting down something trivial.
It's in the Syllabus Poster
Professors work hard at writing an informative syllabus so stop asking questions and just read the damn thing.
Wooden Chalk Holder
For those classrooms that are still using blackboards this wooden chalk holder can be customized. Practical and thoughtful!
Plagiarists Die Alone Sticker
The arch nemesis of any academic professional, the plagiarist must be stopped at all costs. Hopefully this sticker will help.
Dad Shirt
Sometimes parents have to wear a few different hats but this one shows where his priorities lie.
Indoor Temperature Monitor
This nifty device monitors temperature, humidity, and has a built in calendar. The best part? Now they know how comfortable their students are!
I Didn't Grade Your Test Mug
The struggle is real.
Now go on, buy your professor a appreciation gift and show them you care. Who knows, maybe it will score some favouritism too. Can't hurt.