Disclosure of Material Connection: Some of the links in this post may be "affiliate links." This means if you click on the link and purchase an item, I will receive an affiliate commission. Disclosure in accordance with the Federal Trade Commission's 16 CFR, Part 255. This site is a participant in the Amazon Services LLC Associates Program, an affiliate advertising program designed to provide a means for sites to earn advertising fees by advertising and linking to Amazon.
Do you have a huge Doc McStuffin fan in your home? Well, I have got a terrific list of Doc McStuffins Gift Ideas you are going to want to see. I'm sure you've probably seen a few episodes of Doc McStuffins and you can see why the kids like it. The tune is catchy and she has such a good heart. It's a great show for the kids to watch to learn about compassion, kindness and life lessons.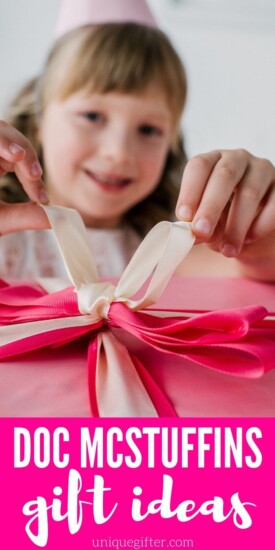 20 Awesome Doc McStuffins Gift Ideas
Have a peek at these awesome Doc McStuffins gift ideas and you will impress even the most difficult child.
Doc McStuffins Baby Nursery Toy
Let your little one practice his or her own doctor skills with this terrific nursery. It has everything you need and is great for hours of entertainment.
Doc McStuffins Hospital Bag Set
Your child will be able to check the patient's temperature, ears, reflexes and listen to their heart with this gift idea. So much fun!
Doc McStuffins Costume
It's even more fun to play when you are dressed for the part. This costume is adorable and will please your child.
Doc McStuffins Pet Rescue
Caring for pets is exactly what Doc McStuffins does best. Your child will love helping these pets too.
Doc McStuffins Pet Carrier
It will be a blast to carry around your toy pets in this carrier. It's easy to use and the kids love it.
Doc McStuffins Underwear
Kids love new underwear with fun characters on them. These are great for encouraging toddlers who are potty training too.
Doc McStuffins Baby Cece
This baby Cece doll comes will a lot of fun accessories and is a blast to play with. Your child will love taking care of his or her new baby.
Water Magic Activities Book
This set comes with gourmet scented Grape and Banana pens. The pen is easy to grip and great for little hands.
Doc McStuffins 2-Way Radio
Oh, the hours and hours of fun that will be had with these radios! It's impossible not to have a blast when you're playing with them.
Doc McStuffins Doll
You can't have all sorts of Doc McStuffins stuff without one of these cool dolls. You will get some happy smiles from giving this gift.
Doc McStuffins Talk & Trace Clipboard
Your child will feel like a real doctor when she is carrying around this clipboard. It's interactive so your child will be learning too.
Lambie Plush
I'm pretty sure Lambie is the favorite character for many. This plush toy is so soft and cuddly that it's perfect for bedtime.
Doc McStuffin's Bath Set
Bathtime just got way more fun when you toss in these Doc McStuffin's bath toys. The kids will love them.
Doc McStuffins Little Golden Book Library
If your child is a bookworm, these books are sure to be a hit. You can never go wrong with gifting books to kids.
Doc McStuffins Playset
This playset has a little bit of everything. There is an elevator, light-up x-ray table, and so much more.
Doc McStuffins Backpack Set
If there is an accident your kiddo is going to need this first responders backpack set. It has everything you need to help diagnose the problem.
Doc McStuffins Bean Bag Plush Set
It comes with Lambie, Chilly, Hallie Hippo and Stuffy. This will be a hit will any Doc McStuffins fan.
18 Doc McStuffins Care Clinic
This care clinic is a blast and even comes with a slipper slide for the other toys to slide down. So fun!
Doc McStuffins Wooden Magnet Set
This set comes with 25 different clothing and accessory options. There will be endless amounts of play with this gift.
Doc McStuffins Bed Set
Decorate your child's room with this comfortable and warm bedroom set. It's brightly colored and a perfect asset to your kiddo's bedroom.
You can't go wrong with any of these terrific Doc McStuffins gift ideas. They are all fun and will make your child so happy!