Disclosure of Material Connection: Some of the links in this post may be "affiliate links." This means if you click on the link and purchase an item, I will receive an affiliate commission. Disclosure in accordance with the Federal Trade Commission's 16 CFR, Part 255. This site is a participant in the Amazon Services LLC Associates Program, an affiliate advertising program designed to provide a means for sites to earn advertising fees by advertising and linking to Amazon.
Although the red rose is the most popular flower for Valentine's Day, it is not February's birth month flower. Instead, the violet and primrose are tied to February. Check out our list of birth month flower gift ideas for February below! 
What is the Birth Flower for February?
Violet and primrose are the birth flowers for February. The violet has been associated with innocence, remembrance, faithfulness, and love. Primrose is thought to provide safety and protection from evil spirits and signify youth and renewal. 
Botanical Background of the Violet and Primrose
Violets: Usually found in Europe and Asia, the violet is indigenous to temperate regions in the Northern Hemisphere. From the genus of the Violaceae, there are over 400 species of violets in the genus. This plant is one of the earliest flowering plants in the spring. Its flowers vary in color – sometimes found in blue, yellow, cream, or white!
Primrose: The primrose is a member of the genus Primula, with over 500 species. This flower is one of the first to bloom in the spring. During the spring, creamy yellow flowers appear in clusters on an upright stem. They then turn into white or pink blooms. Primrose blossoms have a sweet, slightly tangy scent.
Gift Ideas for February Birth Flowers
February Primrose Bookmark
This stainless steel bookmark is a treat for book lovers! The bookmark could easily be used in a book they're reading or as a marker for a journal or planner.
Primrose Flower Pendant 
This silver necklace pendant primrose flower necklace is romantic and darling. February birthdays will love having this stylish piece to show off. 
Primrose + Teakwood Travel Tin Candle
A unique spin on a February birth flower gift! The herbaceous floral scent of primrose, mixed with amber and wood, topped with a bit of spice and jasmine.
Primrose Snap Pouch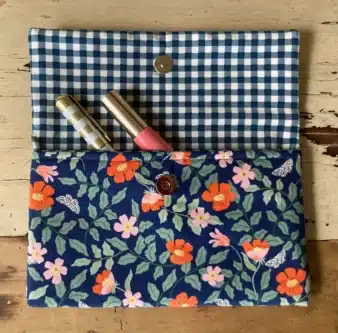 These pouches are great for carrying pens or pencils, sunglasses, chargers, makeup, and more! Plus, they're handmade for a special touch. 
Primrose 16 Month Calendar
If they love actual primroses, they'll enjoy the bright colors in this U.S.-based calendar. Complete with full-color pages with mini-cutouts for a desk calendar.
Primrose Sticker Pack
Simple, hand-drawn floral stickers that would look beautiful on a laptop or water bottle. Any primrose lover or February birthday will love these. 
Violets Wall Art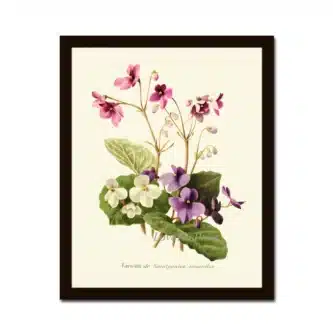 This beautiful wall art of February birth flower – Violets, is perfect for any wall space. 
Pink Primrose Stationery Set
This simple pastel set would be ideal for someone who loves to write letters and cards. It might also make an excellent gift for a child learning to write!
Violet Silver Ring
If jewelry is something they love, you can't go wrong with this engraved February birth flower ring. 
Beaded Violet Hair Clip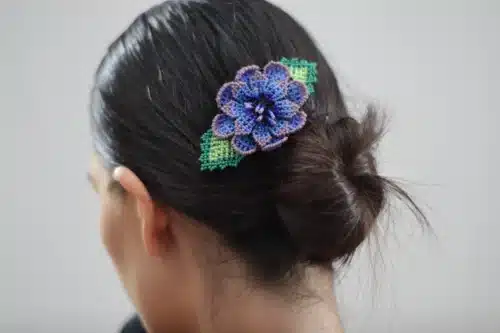 This beaded violet hair clip would be great for a child's birthday or Valentine's Day gift in February.
Violet Essential Oil 
Let the sweet smell of violets feel the room! Use with any diffuser to help unwind after a long day. 
Violet Solid Perfume
Made of organic jojoba oil, beeswax, and fragrance oil, the sweet smell of violet is packaged into a small tin.
VIOLET – Birth month flower notebook
This simple notebook highlights the significance of the violet but could also be a journal, address book, or used at work or school.
Sweet Violet Soy Candle
This natural soy wax candle is free of harmful chemicals and uses a natural cotton wick. Enjoy the combination of violets, berries, and other floral notes for about 15-20 hours.
Violet Flower Pop Socket
For a subtle touch of violet, this is a perfect item for when someone is using their phone. Works as a stand or an extra grip to ensure they don't drop their smartphone.
Gourmet Violet Marshmallows
Violet flavored marshmallows – These last for about four weeks from the date they're ordered.
Personalized Flat Note Cards
Personalized gifts are always popular. These would make excellent think you notes or just a simple way to send a message to someone they love.
Organic Violet Tea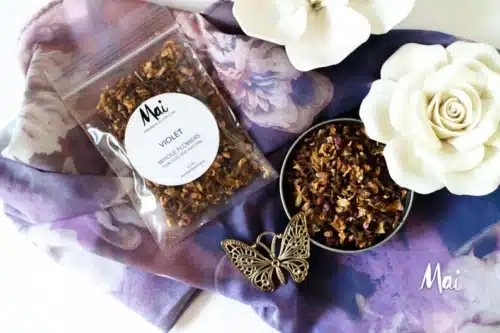 This loose leaf tea is colorful and fragrant. It can be brewed to drink hot or cold.
Violet Flower Headband
A simple floral headband for children. Great for photos or for them to wear for a dressed-up experience.
The pinks and purples of primrose and violets are delightful for the month of February. Symbolizing youth and renewal, these flowers are the perfect first spring blooms. Thank you for reading our list of Best Birth Month Flower Gift Ideas for February.