Disclosure of Material Connection: Some of the links in this post may be "affiliate links." This means if you click on the link and purchase an item, I will receive an affiliate commission. Disclosure in accordance with the Federal Trade Commission's 16 CFR, Part 255. This site is a participant in the Amazon Services LLC Associates Program, an affiliate advertising program designed to provide a means for sites to earn advertising fees by advertising and linking to Amazon.
It seems like Easter grows bigger and bigger each year. Instead of it being just another holiday to add more clutter and toys that will inevitably be toss aside in a week's time opt for some non-toy gifts instead.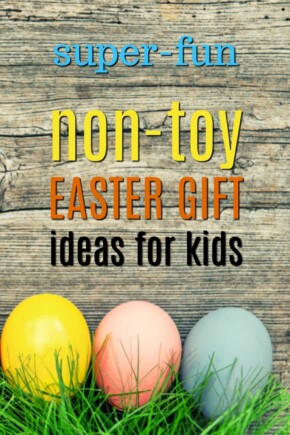 Don't worry though, just because they're not toys they're still going to delight kids of any age.
Non-Toy Easter Gift Ideas for Kids
Kid's Umbrella
Easter is in spring and spring means rainstorms. A kid-sized umbrella is the perfect way to stay dry.
Spring Cookie Cutters
Cookie cutters are a great gift for kids. They can obviously use them for cookies but they're also fun for things like play dough or cutting lunch snacks into shapes.
Binoculars
Perfect for spring and summer bird watching or just setting those little explorers out into the world.
Headphones
Kids are forever needing or losing or breaking or for some reason just not having their headphones, so you can never have too many pairs.
Craft Supplies
It's a hard fact that kids can never have too many craft supplies. Gift them a pack like this so they can create anything their imagination comes up with.
Puzzles
Puzzles are the perfect relaxing activity for kids of any age. Just pick something that suits their skill level and interest.
Walkie Talkies
Kids love walkie-talkies and this would make the perfect join present for siblings or twins.
Stick-On Stars
These glow in the dark stars may be inexpensive but kids love them. Sleeping under the stars has never been easier.
Gardening Set
Easter is always just before planting season so get them something they can use outside. A set like this comes with everything they need to help out in the garden.
Kite
Take advantage of the spring wind by gifting your favourite kid a kite. They'll be delighted watching it fly.
Blanket
Blankets are always a hit with kids but something like this is even better. They'll be delighted getting swallowed up whole by this toasty warm shark.
Pencil Case
Pencil cases are a great place for kids to keep all sorts of small trinkets.
Mad Libs
Mad libs are a kid favourite. These are a great "anywhere" activity that's certain to cause eruptions of giggles. This one happens to be Easter themed, too.
Electric Toothbrush
You might be thinking a toothbrush is a pretty lame gift to give a kid but, as a parent of 5, I can tell you that it's not. Electric toothbrushes are especially fun.
Easter Nail Art
You don't need any special skills to do fancy nails with these stickers. Kids will love getting all fancy with the little easter bunnies and flowers. If those aren't their style there's lots of different kids nail stickers out there to choose from.
Book
Books are always a safe gift with kids. Aim for something age appropriate like a picture book for younger kids or novel for the older ones. Bonus points for something Easter themed.
Flashlight
I'm not really sure what it is about kids and flashlights but they seem to love it. They're great secretly reading in the dark, finding their way to the bathroom, flashlight games, or even to take on their upcoming summer camping trips.
Subscriptions
Something like a magazine subscription or subscription box is always a good hit with kids. It's not only exciting to get something in the mail, it keeps coming again and again so your gift lasts a lot longer.
Travel Mug
A lot of people pass up travel mugs as a gift idea for kids. You don't just have to take coffee in them; they're a perfect way to bring some hot chocolate or tea on the go.
Magic Kit
This one is perfectly magical! I have yet to meet a kid who doesn't love magic so why not have them practice their own. A beginner kit is the perfect way to get started.
Easter doesn't have to be about the toys but it's a great excuse to get the kids in your life a practical, non toy gift that they'll love. (Just don't forget the chocolate!