Easter can still be a lot of fun with teen girls. They probably like cute or pastely things, which is basically what Easter is all about. Just don't treat her like a kid with your Easter shopping and instead check out these gift ideas teen girls will love.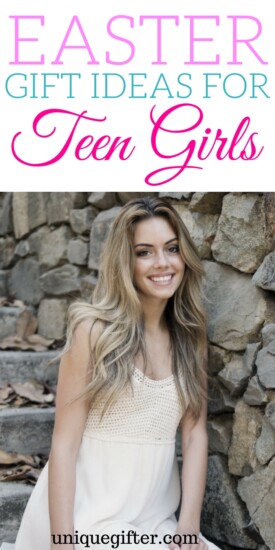 Easter Gift Ideas for Teen Girls
As as parent of a teen girl myself, I know they can be difficult to shop for sometimes. Especially if you have the type of teenage daughter who doesn't like traditional "girly" go-tos like makeup or nail polish. Here's some easter themed gifts I find resonate with teen girls. They're perfect for gifts or easter basket fillers!
If you need more ideas for your son or tomboy daughter, try these Easter Gift Ideas for Teen Boys. Younger teen girls may also like these Easter Gift Ideas for Tween Girls too.
These easter gift ideas are a great alternative to just loading your teen girls up with chocolate, too. As a parent, I'm a big fan of giving gifts that teenagers can use all year round for holidays like Easter… While still keeping on theme. Hopefully these gifts do just that!