Disclosure of Material Connection: Some of the links in this post may be "affiliate links." This means if you click on the link and purchase an item, I will receive an affiliate commission. Disclosure in accordance with the Federal Trade Commission's 16 CFR, Part 255. This site is a participant in the Amazon Services LLC Associates Program, an affiliate advertising program designed to provide a means for sites to earn advertising fees by advertising and linking to Amazon.
It's an awkward time being a tween girl and an even harder time to shop for. They're almost teenagers but still kind of kids. Get her something she'll love this Easter with these gift ideas for tween girls.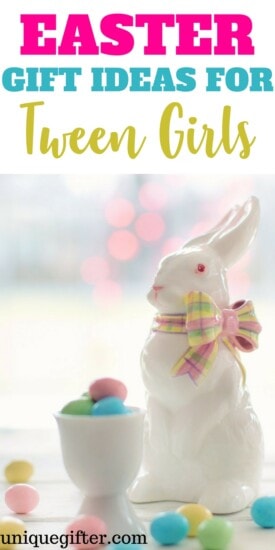 Unicorn Mug
Unicorns are the hot thing right now and this unicorn mug makes a perfect Easter gift for tween girls.
Lego Egg Painting Set
Lego is a great toy for tweens because it's still fun to play with but not exactly a toy. Get her a cute Easter themed set to build.
Quality Chocolate
Tween have graduated from the cheap milk chocolate to something a little more sophisticated. Get her some good quality chocolate like this Lindt carrot that is still cute and Easter themed.
Fingerless Gloves
In most places it's still a little chilly come Easter time. Fingerless gloves are great for keeping hands warm in cool weather while keeping fingers free for important tween things, like texting.
DIY Decorating Kit
Craft kits always make great Easter gifts, but tween need something a little bit more grown up. Something like this is the perfect idea for a girl who likes to DIY.
Bunny Gel Pens
These adorable gel pens make a fantastic Easter gift. They come in a set of 4 different pastel colors.
Sidewalk Chalk Mandalas
Where I come from sidewalk chalk is a great Easter gift. Tween usually still want to play, even if they won't admit it, so get them something a little more fancy to decorate the neighborhood with.
Emoji Lip Balm
Emojis are the greatest and so is lip balm. If you give her the entire set it will help compensate for the fact that tweens always seem to be losing their lip gloss.
Art For Their Room
Another one I would probably believe. Just leave this can anywhere people wouldn't want a drink spilled for the perfect practical joke.
Cookie Cutters
Tweens are old enough to make their own cookies, so get them some Easter themed cookie cutters. Maybe include some decorating supplies for a cute basket idea.
Board Game
But not just any board game, get her something that's perfectly tween friendly. Scmoovie is a great choice because it can be played among kids or as a family and my 10 year old absolutely loves it.
Peep Necklace
The classic Easter treat gets a twist with this Peeps inspired pink bunny necklace.
Anything Cute
I don't know why this is a thing but among tween girls it seems like as long as you get something cute, or "kawaii", they're going to love it.
Bunny Ring Holder
It's a more grown-up bunny gift but still cute and not too grown up.
Gift Basket
Just because she's a tween doesn't mean she's too old for gift baskets, especially with characters that she likes on them.
Stress Relief Bunny
A big girl version of the classic stuffed bunny. These cute little toys contain dried lavender for a calming effect.
Movie Tickets
A perfect "not stuff" gift, movie tickets are always a hit with tweens, especially going into summer blockbuster season.
Bunny Shirt
Girls and clothes. Even if they're not super girly, they still love getting something new. How about a cute Easter shirt?
Bunny Ring
The ring is adjustable so it can fit on her fingers, but as she grows she can still wear it.
Outdoor Toys
For most of us, Easter means spring and spring means playing outside again. Get her some tween-friendly outdoor toys like a scooter.
Even if they don't believe in the Easter bunny, this holiday can still be a lot of fun for your tween. Arrange a big kid egg hunt and have fun!