Disclosure of Material Connection: Some of the links in this post may be "affiliate links." This means if you click on the link and purchase an item, I will receive an affiliate commission. Disclosure in accordance with the Federal Trade Commission's 16 CFR, Part 255. This site is a participant in the Amazon Services LLC Associates Program, an affiliate advertising program designed to provide a means for sites to earn advertising fees by advertising and linking to Amazon.
As a former librarian I absolutely love reading any kind of books, including fiction. These gift ideas for the fiction lover would be perfect for someone like me who loves to read fiction of all kinds.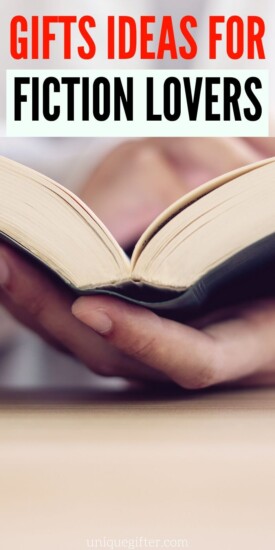 Gift Ideas for the Fiction Lover
Whether they live in a world of a fantasy, explore the future through science fiction, or love some other kinds of stories fiction lovers are passionate about the books they read. Help them show off that passion with these unique fiction inspired gift ideas.
Book Lovers Mug
This cool book themed mug features the spines of 30 classic novels that will delight every fiction lover. It's also fun inspiration for them to catch up on any they haven't read!
Literature of the World Map
This cool print showcases some of the most notably literature that was produced around the world Countries are filled in with parts of classic book covers so you get an amazing visual of where those classics works originated from.
Book Was Better Pop Socket
Well… It was. Fiction lovers will definitely relate to this statement. Plus it's a handy holder and stand for their smartphone!
Fictional Characters T-Shirt
Anyone who loves fiction knows that sometimes you get a little bit too attached to the characters in a book. If you know a fiction lover who's like this then this shirt would make a funny gift idea for their birthday or a holiday.
Personalized Bookmark
Bookmarks are pretty common gift ideas for the fiction lover but this one does something a little different. Not only is it made of stylish metal, you can order it with custom engraving for a thoughtful and personal gift idea.
Book Lover Colouring Book
Inside the pages of this relaxing adult colouring book are 20 pages of bookish sayings for the fiction lover to colour in. Give it as a gift with a nice set of pencil crayons.
Bookmarks are for Quitters Shirt
What do you mean 'stop reading'? Only quitters need to save their page. True fiction lovers keep going until the book is done (even if it means staying up all night).
Home Library Bookplates
If you know someone who has a large fiction collection or home library then this might be both a thoughtful and practical gift idea. The cards can be attached to the inside of books so that when they're loaned out to friends it's clear where they've come from. What's more, the cards have lovely art and famous literary quotes on them.
1,000 Books to Read Before You Die
Although some of the books on here aren't fiction, this is a great gift idea for book lovers of all kinds. Not only does it tell you what books to read, but it also has a bit about each one.
Just One More Chapter Pillow
This throw pillow would be a great addition to the fiction lover's bedroom or favourite reading chair. Let's be honest – we've all been there when it comes to reading.
Thousand Lives Pendant for Fiction Lovers
That's the thing about reading; it transports us to different worlds and lets us experience the lives of others. This pendant helps capture that feeling and says 'I have lived a thousand lives.'
Clip on Book Light
This is a perfect gift idea for a bookworm who's always leaving the light on to read. Now they can finish that chapter before bed!
Book Lovers Fridge Magnets
For when you have to make your own stories on the fridge! This magnetic poetry kit comes with over 200 book themed magnets that fiction lovers will appreciate.
Pass me my Book Socks
These socks are super popular right now so don't leave the fiction lover in your life out of the fun. Just make sure you're ready to follow the instructions!
Canvas Tote Bag
This beautiful canvas tote bag is just what the book lover in your life needs to transport their library books or other belongings. The spines feature classic book titles but done in a modern style.
Fiction Lover Mini Sign
You can order this little sign in different sizes and wood styles. It would make a lovely, stylish addition to a fiction lover's home.
Book Themed Shoes
If you must leave the house it should at least be in style. Fiction lovers will rock these cute book themed shoes every time they head out to the bookstore or library.
Book Hangover Hoodie
Being warm and cozy is a must when you're reading. Help fiction lovers warm up with a cozy hoodie that also reflects their personality. This one talks about book hangovers. You know, the feeling you get when a great book is finished.
100 Books Bucket List
This art print does more than just decorate a fiction lover's space. There's 100 books to scratch off as they're read – a perfect way to combine art and showing off what books you've read!
Kindle or e-Reader
Not all book lovers are against digital reading. Even if they only turn to eBooks sometimes, a kindle or eReader would make a great gift for a fiction lover. Especially if you include a gift card to get something new to read on it.
These gift ideas for the fiction lover will delight anyone who loves to read. Hopefully they'll help inspire you to give amazing birthday, Christmas, or holiday gifts to all the bookworms in your life!