Disclosure of Material Connection: Some of the links in this post may be "affiliate links." This means if you click on the link and purchase an item, I will receive an affiliate commission. Disclosure in accordance with the Federal Trade Commission's 16 CFR, Part 255. This site is a participant in the Amazon Services LLC Associates Program, an affiliate advertising program designed to provide a means for sites to earn advertising fees by advertising and linking to Amazon.
Have you ever wondered what the unspoken gift-giving etiquette in Brazil is? If so, take a look at my guide to help you along the way. In Brazil, gift giving helps reinforce or cultivate relationships on both a personal and professional level. There are essential dos and don'ts to know when giving gifts to someone in Brazil. They tend to have a passion for life, as they are creative, dynamic, energetic, and friendly people. One thing that you should know is that families are usually large there. That is important, as giving gifts to the children of the home is important as well and you want to make sure to bring enough for each child. It is also important to note that their large families include extended family members as well.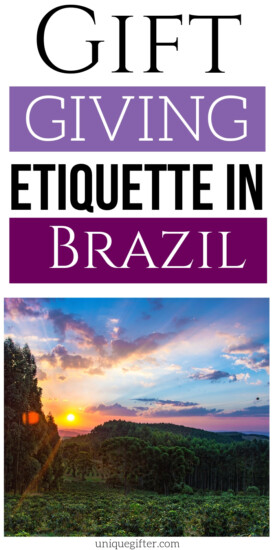 Read more in our gift giving etiquette series:
Gift Giving Etiquette In Brazil You Should Know
If you are moving to or visiting Brazil, you learn these tips before you give out any presents.
Brazil Gift Giving Customs
When invited into a Brazilian's home, bring gifts of candy, fine wine, champagne, or scotch. Also, bring gifts for the children in the home, such as items from your country that children can enjoy.

Make sure to give the gifts when you arrive at the home.

Gifts will be opened when received and in front of the giver.

You can send flowers before having dinner at their home, or afterward.
Giving Gifts to Brazilians
It is not necessary to give gifts when you first meet someone. You should get to know them and what they like first.
Business Gift Giving Customs & Etiquette in Brazil
If you are giving a gift to a business colleague, make sure to provide it in a social setting rather than a business setting.

Avoid pricey gifts, as they can be seen as bribery or cause embarrassment for the person receiving the gift.

If you want to give thank you gifts to office staff, small and less expensive gifts are best. Also, if they are a woman and you are a man, then say it is from your wife or girlfriend.
Gift Giving Occasions in Brazil
Housewarming

Birthdays

Christmas

Anniversaries

Feast of the Three Kings

Baptisms
Gift Giving Tips in Brazil
Use relaxed social settings to give gifts.

Small electronic gadgets can be much appreciated, such as portable CD players, cameras, or a digital address book device.

Wrap gifts in colorful paper, especially the colors of the Brazil flag.

If you are a man giving a gift to a woman, say it is from your wife or girlfriend. Otherwise, your intentions may be misunderstood.
Gift Giving Don'ts in Brazil
Avoid giving obviously pricey gifts. It can be misconstrued as a bribe or make them feel embarrassed.

Avoid giving gifts associated with mourning or funerals: black or purple gifts, as well as handkerchiefs.

Cutting objects such as knives and scissors represent the end of a close bond or friendship.

Gifts that are practical in nature, such as perfume or hats, may be seen as too personal.

13 is an unlucky number in Brazil.

Avoid leather gifts.