Disclosure of Material Connection: Some of the links in this post may be "affiliate links." This means if you click on the link and purchase an item, I will receive an affiliate commission. Disclosure in accordance with the Federal Trade Commission's 16 CFR, Part 255. This site is a participant in the Amazon Services LLC Associates Program, an affiliate advertising program designed to provide a means for sites to earn advertising fees by advertising and linking to Amazon.
Judges may not be the easiest bunch to impress. They preside over tons of cases and mostly leave the courtrooms with frowned faces. Their careers demand that they prosecute or punish lawbreakers, and we all know, sometimes that can be frustrating.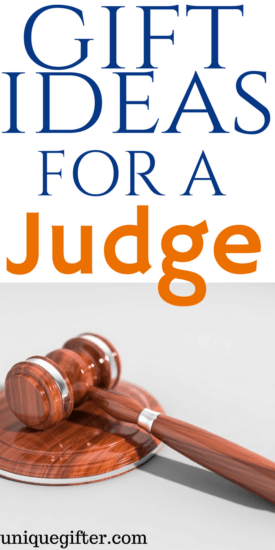 Get them gifts with legal themes. In fact, personalized judge gifts are better because they show your effort and commitment in rewarding them. Check out this list of 20 great gift ideas for judges:
Gift Ideas for a Judge
Custom Judge Hanger
A personalized hanger will make a wonderful gift, especially for the new judge who has just been admitted to the bar. Judges need hangers for their robes, and they would love a hanger that has their name.
Scales of Justice Necktie
Show your love for the judge with this scales of justice necktie. The tie is law-inclined and will reveal point blank that its wearer is in the law profession. Sometimes, they need people to know this.
Gavel pen
Yes, the judge works in the courthouse and would love a pen that resembles a gavel.
A Set of Scale of Justice Law Cufflinks and Tie Clip
Some judges love the law and are fascinated by the scales of justice. This gift is for those type of judges.
Handmade Walnut Wood Pen Holder
It is handmade and finished in satin poly. This gift looks great when placed on the office table. It will reduce any cluttering when it's time to get some work done.
Leather briefcase
This is a pricey gift for that deserving judge who has presided over several cases and has a wealth of knowledge about the law. Almost every judge needs a briefcase to ferry papers and court reports. The case has a laptop padding to house a laptop and other devices like tablets. It is made by professional artisans, and its remarkable craftsmanship is clearly visible.
Custom Maple Desk Wedge
The desk wedge is made out of natural hardwood and is about 8 inches long. This custom gift will make any judge feel appreciated and honored.
Vintage Milk Glass Scales of Justice Decorative
This is a décor item that can be placed in the office or at home. The pans can be adjusted as one wishes.
Lady Justice Wine Bottle Holder
This holder is crafted by European artisans who deal with metals to create original works of art. Since it is handmade, it has more value and brings a new twist to wine gifting.
Personalized Outstanding Judge Print
Show that judge in your life how you feel about him or her with this distinguished judge print. Judges endure difficult cases and emerge victorious, and sometimes, they need this kind of motivation to keep them going.
Initial Bookends (Wooden)
This profession requires regular reading and getting a customized bookend like this means you understand that fact. This piece is a great addition to a room or office. If you like, it can be designed to coordinate with the colors of the judge's office. For example, the color of the walls.
Gavel Keychain
Keychains are great gifts for everybody, and they are better if they are themed with the likes, preferences, or the career of their recipients. Whether the judge is a man or woman, a gavel keychain will be appreciated.
Book: The Search for Justice: A Defense Attorney's Brief on the O.J. Simpson Case
This will be a great addition to their ever-expanding shelf of literature; mainly because it is devoted to the Simpson trial. In this piece, the man responsible for OJ Simpson's defense answers various questions about the trial. He brings to light various details about one of the biggest trials in America. Who wouldn't want to read this?
Wooden Chess Set – Vintage Chess Board
Judges like to stretch their mental abilities, and they would love to do so with a game of chess. Chess is one of the most exciting and engaging games; it is a perfect gift for that judge who wants to have fun while thinking. This chess set can also be beautifully displayed on the judge's table because it is in good vintage condition.
Scales of Justice from 1885 print
An attractive display for the office or home. It is a way of putting the judge's interest and hobbies on display.
Personalized judge pillow
There are days when the judge will need to relax on a swinging chair in the office, or in bed, and reflect on the pending court cases. This customized pillow will be a perfect comfort buddy during those days. Its customized message should be reasonable and worthy.
Judge Judy inspired T-shirt
Everyone loves Judge Judy and expressing that love with a humorous t-shirt is beautiful.
Personalized Engraved Wood Gavel with Sound Block Gift Keepsake
A beautiful personalized wood gavel is an excellent addition to the judge's memorabilia. These items will look great when displayed in the judge's office.
Leather folder
The folder has three exterior pockets where the judge can stash all the papers, receipts, and court reports. The folder will provide an economical way to file documents, and its material does not require special care.
Funny judge mug
The fact that judges are expected to restore order in court does not mean they are limited in expressing their humor.
For even more lawyer gifts, take a look at our gift ideas for lawyers.