PhD students – how long have they been at school? Too long to count. During those final formative years, PhD students basically live and breathe their dissertation. It's a long slog and when they're finally done – they deserve a celebration! That's why we put together this list for gift ideas for a phd graduation. Celebrate their hard work in style with a gift that says congrats.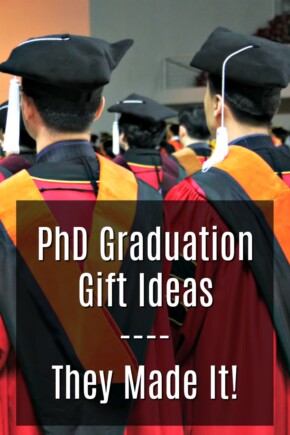 Gifts Fit For a PhD Grad
Not just anything will do, this person is a doctor now! Going through a PhD program is a huge endeavor, and definitely an occasion that should be celebrated. These gifts for a PhD graduate are perfect pick-me-ups after stressful school days and dissertation writing and perfect accessories to help them get started in their new career, whatever that will be. 
Hopefully you found the perfect gift ideas for the next PhD graduation you go to! Whether you're shopping for a friend or family member there are so many fun ways to celebrate this amazing achievement in someone's life. Don't forget to address all cards to "Dr. Name" to acknowledge this new chapter (and title) in their life.