Disclosure of Material Connection: Some of the links in this post may be "affiliate links." This means if you click on the link and purchase an item, I will receive an affiliate commission. Disclosure in accordance with the Federal Trade Commission's 16 CFR, Part 255. This site is a participant in the Amazon Services LLC Associates Program, an affiliate advertising program designed to provide a means for sites to earn advertising fees by advertising and linking to Amazon.
When you trying to find that perfect gift for the man in your life, the choices are endless. But getting the perfect gift for a diehard fan of everything 3D is nearly impossible.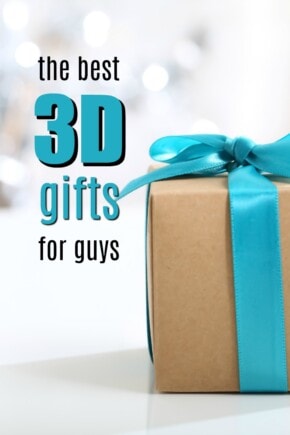 It wasn't easy to compile this list as there are way too many options. We wanted some of them for ourselves too.
Family Guys – 8GB Flash
Get that special guy in your life this flash drive. He doesn't need to be a computer geek to use this friendly device.
U45 Drone with camera
This cool gadget will keep him and his friends out of your hair, while you get to spend time with the ladies.
3D VR headset for Drones
Add this to his Drone for a extra special virtual experience. – you've just made it high up on his list of favorite people.
3D Printing pen
Guess he'll be drawing your love notes in 3D. How awesome is that?
NFL 3D Helmet – Puzzle set
He'll be the envy of all his friends come game night!
Men's 3D Wolf Eagle – Underwear
Who wouldn't appreciate some howling every now and then?
Funny Unicorn mug
Turtle shaped mouse
If your guy is not easily confused, this mouse, no wait turtle, WAIT… What is this really? Who cares, it's awesome!
Super Mario 3D Wall Decal
If your guy is a fan of the little Italian plumber, then this will just get him worked up, in a good way!
Animal Head mask
If he is serial prankster, this gift is a winner.
3D Printing
He'd appreciate anything you have brought to life for him.
Super Mario Star
This will go well with the wall decal. Hmmm, next step.. get the costume and he can pretend he is the plumber.
3D Printed pokemons
Your man can turn into Ash!
Darth Vader – LED Lamps
Music necklace
This necklace will have him chained to you forever.
Optical illusion shirt
This will have him saying "What the Shirt!"
Minion Hat Pin
Give him a Minion to help him remember what the Minionizer could do to him.
Family Guy – Model kit
And if you're looking for something to help you send a hint.
Batman framed cutout
And if he fantasises about being Bruce Wayne. This would be an awesome gift, with some therapy on the side.
3D Grenade Cufflinks
And if GI Joe is the man in your life, these grenades will do the trick.