Disclosure of Material Connection: Some of the links in this post may be "affiliate links." This means if you click on the link and purchase an item, I will receive an affiliate commission. Disclosure in accordance with the Federal Trade Commission's 16 CFR, Part 255. This site is a participant in the Amazon Services LLC Associates Program, an affiliate advertising program designed to provide a means for sites to earn advertising fees by advertising and linking to Amazon.
Whether you're buying for your office social media manager or someone in your life who's all about the tweets and the posts. These gifts make the days spent arguing with people online and fielding their stupid questions just a little bit easier.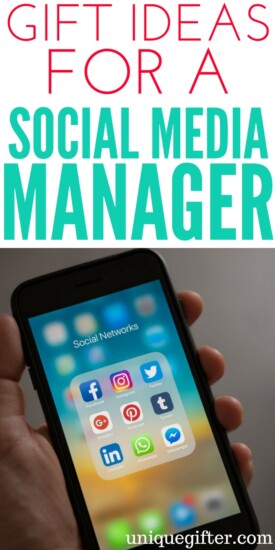 Gift Ideas for a Social Media Manager
Personalized Mousepad
Having something personalized at the office can really make your day brighter. A fun mousepad is always welcomed, but something with their name on it takes things to a whole new level.
Funny Business Card Holder
If they have a sense of humor (and anyone who spends that much time on the internet needs one) and need a place to display business cards, this is the best gift choice.
@YourName Decal
Get the social media manager decals of their social media account handles so they can encourage people to follow them. These are great for laptops and even vehicles.
Instagram Photo Prop
Something fun to keep in their office, maybe, or a great thing to (ironically?) post on social media. What's cool is you can customize all the info on it.
Smart Social Media
Who wouldn't want to move up in their career? This book has advice for a social media manager to improve and earn a higher income. It's great for freelancers, too!
Keep Calm Shirt
It's a great conversation piece and message. Instead of worrying about your social media presence, hire a social media manager! You know, like the person wearing this shirt.
Let's Be Social Art
If you're spending hours every day in your office it makes a huge difference to dress it up and make things more personal. Wall art is a great way to do that.
Internet Famous Mug
Maybe the person you're shopping for manages a really important social media account, or maybe they just want to use this mug ironically. Either way, it's funny.
When in Doubt, Don't Press Send
It's probably the best advice you can give someone who spends a lot of time on social media, especially someone who's entire career depends on making a good impression.
Crystal USB Drive
Practical items that people use everyday make great gifts because you know you can't go wrong. Instead of getting a plain USB stick, though, opt for something more fitting of their personality like this pretty choice.
Positive Resolutions From Social Media
Who says you can't learn anything, or inspire anyone, using social media. This calendar has positive resolutions collected from social media.
Computer Desk Pad
It's practical but also minimalistic. This desk pad comes in multiple colors and is great for setting your laptop on or using as a mousepad/writing area.
Tweet Memos
Not every message can be delivered via a Tweet but that doesn't mean you can't try! It will be obvious who put up these sticky notes.
Social Buzz Tape
There's so many ways washi tape can be used. Use it as regular tape, or add it to other things for a splash of color. This pattern has some popular social media logos on it.
Life is Too Short Shirt
It may be too short but sometimes it's really, really tempting. Just say no to wasting your life arguing with strangers on the internet!
Pen Holder
Offices can be so clinical and boring. This reclaimed wood pen holder brings some of the outdoors in with a place to plant a succulent.
# Paper Weight
Sometimes you need a #paperweight on your desk. So why not make it a paperweight shaped like a social media's favorite trade secret: the hashtag?
Social Media Planning Stickers
In order to be an effective social media manager you have to be organized. These cool social media stickers are a great way to plan your posts in your paper planner or calendar. Or you can just stick them around for fun!
Social Media Cookie Cutters
Bake up a nice batch of social media themed cookies for the social media planner you have in mind. Or just give them the cookie cutters and a pack of cookie dough for a fun gift.
Twitter Necklace
For someone who loves their job as a social media manager! This solid gold engraved Twitter bird is a beautiful, elegant gift.
Social media managing isn't as easy as it sounds like so recognizing someone's profession is a great way to show that you care about them. Now don't forget to follow us on social media for more unique gift ideas!