Disclosure of Material Connection: Some of the links in this post may be "affiliate links." This means if you click on the link and purchase an item, I will receive an affiliate commission. Disclosure in accordance with the Federal Trade Commission's 16 CFR, Part 255. This site is a participant in the Amazon Services LLC Associates Program, an affiliate advertising program designed to provide a means for sites to earn advertising fees by advertising and linking to Amazon.
English was always my favourite subject in school which is probably why I write for a living/work in a library now that I'm an adult. These literary and English language themed gifts are something for your English teacher to write home about.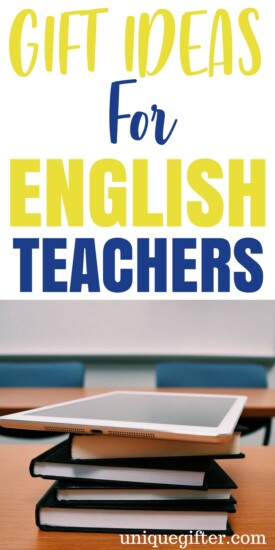 Gift Ideas for English Teachers
Jane Austen Coasters
Book covers, especially old ones, can be gorgeous. Your English teacher is going to love bringing these Jane Austen covers into her home to show off their literary tastes.
English Teacher Tote
This colourful tote can be personalized with your English teacher's favourite colour on the bottom. It's covered in funny phrases that will make a language lover chuckle.
Punctuation Shirt
Help the English teacher you're shopping for scare their class full of children with this important lesson in grammar.
Edit or Regret It Art Print
This would look great hanging in an English's teacher's office or the classroom. It's simple, yet effectively gets the point across.
"Writer's Block"
A fun gift for English teachers. These blocks are designed to help overcome "writer's block" in a funny way.
Shakespeare Pencils
To be, or not to be, that is the question. Now it becomes the question of which pencil your English teacher will pick up as well.
Bookmark Set
You'd be hard pressed to find an English teacher that doesn't love to read. These bookmarks are crafted with perfect literary puns and come printed on cardstock for a budget-friendly gift idea.
Books Art Print
Another one that's great for home or classroom. It says "Books are our passport to travel the world of knowledge". Add a great frame for a wonderful gift.
Biography of the English Language
An interesting history of the English language written in biographical style. It covers the development of English and major linguistic shifts through the ages.
Comma Sign
Is your English teacher on team Oxford comma? Do they recognize the life-saving power of the comma? This sign is for them.
Mini Book Quote
This is an opportunity to get something really special for an English teacher. Get their favourite quote printed inside this mini book.
Dick Party Game
Probably not a great idea to send to school with your kids but if you know an English teacher with a sense of humour this would make a great gift. Moby Dick fans will love reliving their favourite moments of the story in this hilarious Cards Against Humanity style party game.
Grammar Police Pin
It's funny, but kind of not at the same time because proper grammar is important. Learn the difference between your and you're, and while you're at it brush up on there, their, and they're. It will make your English teacher happy.
Punctuation Poster
Perfect for elementary or middle school English teachers. This can be hung in the classroom to remind students how to use punctuation properly.
Word Lovers Lanyard
Teachers have all kinds of things they need lanyards for: ID badges, keys, or to use around the classroom. It's comfortable to wear and looks great!
Spell Check Block
Ha! The reason spell check is no substitute for proper proofreading is written all over this funny wooden block. Your English teacher will get a laugh.
Famous Book Art Print
With a few options to choose from, these art prints are as unique as your English teacher's personality. The first few thousand words of their favourite book are written on these unique prints.
Bananagrams
Teachers are always looking for new resources and fun games to play in the classroom so an English-language improving one like Bananagrams can be a-pealing.
Found Word Buttons
These handmade pins are a really interesting find for English lovers everywhere. Made from the pages of discarded novels, on the keywords are visible and everything else is crossed out in fun colours.
Book Purse
For the English teacher who carries a purse! It uses an actual book that's been repurposed as a purse to hold all their important things. Lots of choices available no matter their interests!
Now that you've learned an English teacher's gift giving language it's time to venture out into the world and pick up that perfect "thank you" for teaching you enough to keep from looking like a fool on the internet.