Disclosure of Material Connection: Some of the links in this post may be "affiliate links." This means if you click on the link and purchase an item, I will receive an affiliate commission. Disclosure in accordance with the Federal Trade Commission's 16 CFR, Part 255. This site is a participant in the Amazon Services LLC Associates Program, an affiliate advertising program designed to provide a means for sites to earn advertising fees by advertising and linking to Amazon.
Everyone knows that the school secretary is the unofficial boss of every school. The savvy teacher knows to get the school secretary on their side. So do the parents. If it's her birthday or any day, check out our list of gift ideas for the school secretary. Any of these will be sure to put you on her good side!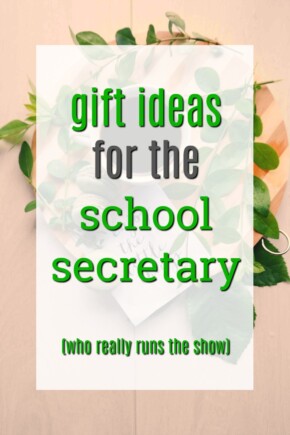 And, if they are genuinely nice-spoil them rotten for all of the great work that they do.
So what do you get the fairest of all? 
Any of these goodies will do! 
Amazon E-gift Card
Give the gift of an digital gift card. This will take the pressure out of trying to figure out what you should buy.
You May Speak Now Mug
To assert authority sometimes you have to make a bold statement. This mug does the trick!
Moody Cards
Is your favorite school secretary too busy to talk? Help them communicate their needs with these great cards. The "I'm freezing one is a favorite!"
Coffee Warmer
Sometimes it's hard to step away from the front office. This coffee (or tea) warmer keeps your favorite pick me up from getting cold.
Capless Gel Ink Pen
There's always someone making off with the cheap pins. Buy the school secretary the nicest pen in the school and secure it to their desk!
Calm the F#ck Down, An Adult Coloring Book
It can sometimes feel like you're constantly dealing with people who are freaking out about something. This coloring book is an homage to all of the thoughts that run through a school secretary's mind but they can't say out loud. And, clearly, this coloring book is for after hours only.
Memos to Shitty People (Adult Coloring Book)
Every person who works has had to deal with shitty people. This coloring book helps you work through the stress of dealing with them.
Gloves
Give the gift of gloves because they are the least offensive gift you can give to someone.
Red Swingline Stapler
Even though many resources are now digitally based. Sometimes it's nice to have a sturdy stapler for those projects that the secretary seems to always be working on.
Secretary T-Shirt
Sometimes the school staff just needs to share how much they love and respect the school secretary. This t-shirt does the trick!
Stainless Steel Mug
Your school secretary brought up that he would like to save money on his coffee expenses. With this mug, he can brew up a great pot of coffee at home and bring it everyday-piping hot!
I Love My Job-Ha Ha Just Kidding Socks
There are days when you don't love you job. Wear these socks when that happens.
Kitten Socks
Own your crazy cat lady love by wearing these socks!
If You Can Read This, Bring Me A Glass of Wine Socks
These comfy socks will communicate your needs as you rest your feet and relax on the coach after a long day at work.
Apple Ipad
Bring your school secretary into the 21st century with an Ipad.
Chromebook
Give the gift of a Chromebook so that your school secretary can write their life story with ease.
Monitor
Most of the gifts on this list are for making your favorite secretary's life easier away from work. This monitor will make her job easier.
Fitbit
We've all been there, sitting for way too many hours each day. Giving the gift of a FitBit will help your favorite secretary stay healthy.
Kindle
Giving the gift of a Kindle will help your school secretary manage their reading obsession. They will no longer need to carry every book that they are reading.
Bumble Bee Bobby Pins
The staff will often joke that "she is as busy as a bee." These lovely pins will drive that point home.
The school secretary is a vital part of every school community. Always remember to treat them with kindness and respect so that they will keep your schedule free.