Admit it, the barista at your local coffee shop is basically a life saver.  When you're in a rush, if you've had a bad morning, even when the weather is terrible, your favourite barista always delivers your drink with a smile.  Take a turn brightening up their day with a unique token of appreciation and try one of these 20 ways to thank your barista.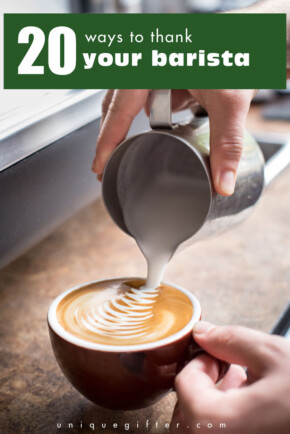 Heroes Barista Tank
A stylish tank top which boasts the quote "some heroes wear capes, some heroes make your coffee", will certainly get your point across as to how awesome they are.
Coffee Bean Cufflinks

The gentleman barista will love these classy cufflinks to pin to their shirts.
Caffeine Molecule Necklace

Any barista who loves to accessorise will adore this unique caffeine molecule necklace.
Coffee Bean Keyring

This coffee bean keyring is a small token of appreciation with a practical use.
"Coffee… Wait for it… Wait for it… Poop" Mug

This novelty mug is a great gift for your barista with a strong sense of humour.
Espresso Machine Ornament

Christmas is just around the corner and this unique ornament will add personal flair to their tree.
Coffee Ice Cube Tray

The coffee bean ice tray can be used to freeze coffee into little cubes for added flavour or for fun shaped water cubes.
Starbarks Dog Toy

Is your barista an animal lover?  Are they constantly telling you about the cool trick Fifi did?  Show you've been listening with a special toy for their pooch.
Coffee Stencil Set

Make sure your barista adds decoration to your morning coffee with a collection of coffee stencils.
Hiroshi's Latte Art and Barista Style

This latte art book is sure to inspire creativity in the beginner coffee artist.
"Barista by day, Ninja by night" Apron

The "Barista by day, Ninja by night" apron will keep their shirts clean and them looking spunky.
Lego Movie Larry the Barista Figurine

Show that you care with this cute lego representation of your favourite barista.
Coffee Candy

For the barista with a sweet tooth this coffee candy is perfect if you think they don't get enough coffee flavours at their job.
Evil Barista Novelty Notebook

The novelty notebook makes for a fun journal, if only it were a real book they'd be set.
Coffee Mixology Magnets

A great addition to a staff fridge, the coffee mixology magnets feature a drink and its proper proportions.
Coffee Essential Oil

It smells just like a pot of coffee and this essential oil is a great antioxidant.
Barista Tote Bag

Encourage the use of reusable bags and let the world know that they are the "best barista ever."
"Worlds Greatest Barista" License Plate Frame

This license plate frame is a wonderful addition to any baristas awesome car.
Chocolate Liqueurs

A delicious way for the team to get into the Christmas spirits.
Greeting Card Pack

Go the extra mile and thank all the staff at your local cafe with this pack of greeting cards.  Any barista will appreciate a personal card with perhaps an extra tip slipped inside.