Disclosure of Material Connection: Some of the links in this post may be "affiliate links." This means if you click on the link and purchase an item, I will receive an affiliate commission. Disclosure in accordance with the Federal Trade Commission's 16 CFR, Part 255. This site is a participant in the Amazon Services LLC Associates Program, an affiliate advertising program designed to provide a means for sites to earn advertising fees by advertising and linking to Amazon.
OK, let's be honest. I'm a writer and this list may or may not actually just be a personal wish list. Ahem. Anyway, here's 20 gift ideas a writer is definitely going to love. Trust me.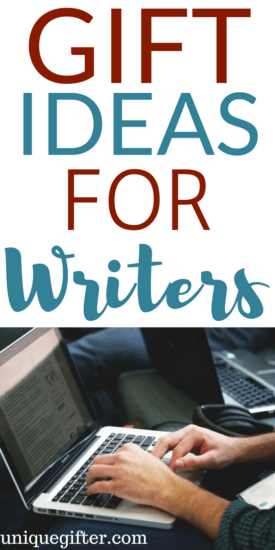 Writer Emergency Pack
Writing is hard, ok? Make sure they have this emergency pack on hand so they're always ready, just in case.
Quote Pen
Having a good pen is super important. Having a pen engraved with a writer's favourite quote? Even more important.
Waterproof Shower Notepad
The best ideas always seem to come in the shower, but too often are they forgotten the moment you step out. Whoever receives this gift will never suffer such terrible fate again.
Write Right Book
This handy guide is perfect for even experienced writers. Just because we can write doesn't mean that everything we do is mechanically sound. Having a reference guide like this would be extremely handy.
Writer's Block Journal
Get it? It's a block of wood… Writer's block… Just gift it.
The Awkward Storyteller Board Game
Get some friends together and write hilarious stories. The writer in the room will be delighted for a chance to show off, but they'll also be surprised at how talented their friends are.
I'm a Writer Mug
This mug is perfect for a writer with a sense of humour. Be nice to them or you might just end up as a very dead character in an upcoming novel.
Voice to Text Device
Something like the Amazon Echo is a perfect gift for busy writers. They can use it to dictate their story. If they're not Google fans, though, any small voice to text device would make an excellent gift.
Novel Planner
Help them get their novel organzied with this planner designed specifically for writers.
First Lines Mug
Help them wake up to a cup of inspiration with this unique mug. It's covered in famous opening lines from novels, a perfect "wake up call' for a writer to start writing. If they happen to love fun fonts, check out this guide for Helvetica junkies.
The Emotion Thesaurus
Another super handy gift for someone who loves to write. Sometimes it's really challenging to find the right words, something like this makes that a little easier.
Punctuation Print
Give a little bit of decoration to your writer friend or family member with one of these typographic prints. Make sure to choose their favourite (you do know it, right?) punctuation symbol.
Future Writer
If writer-on-your-gift-list has a baby, this is the perfect gift to get the two of them. Sometimes shoes are hard to fill but that doesn't mean we shouldn't discourage the little ones from being who we hope they become.
Novel-Teas
Tea is the quintessential drink for writers and this pack makes the perfect gift. Each teabag has a famous literary quote printed on it.
The Writer's Toolbox
Sometimes creative people lack, well, creativity. This toolbox will help writers practice those skills and hopefully come up with some new ideas.
Care Package
Writers have deadlines and, more often than not, seem to get close to them with a certain need to crunch at the very end. This is where you come in, making that struggle just a little more bearable with a surprise care package.
NaNoWriMo Tracking Stickers
Speaking of binge writing, if you know someone who participates in NaNoWriMo these stickers make the perfect gift to help keep them on track.
642 Things to Write About
Full disclosure: I actually own the adult version of this book. It has tonnes of interesting writing prompts to help jump start creativity and even comes in junior version of you know a young person who loves to write.
Badges
Although these technically are for NaNoWriMo most of the badges here represent things authors can relate to, like coffee.
A Typewriter
It's every writer's dream to own a real, working typewriter. There's something so satisfying about typing up your novel on real paper instead of a screen.
Don't forget to tuck a gift card to their favourite coffee shop inside the card for extra bonus points.