Disclosure of Material Connection: Some of the links in this post may be "affiliate links." This means if you click on the link and purchase an item, I will receive an affiliate commission. Disclosure in accordance with the Federal Trade Commission's 16 CFR, Part 255. This site is a participant in the Amazon Services LLC Associates Program, an affiliate advertising program designed to provide a means for sites to earn advertising fees by advertising and linking to Amazon.
While some people may find ants annoying and creepy, there are many people who love the little creatures. They enjoy watching them, holding them, and taking care of them. If you know anyone like that, you might want to get them an ant-themed gift, such as one of these…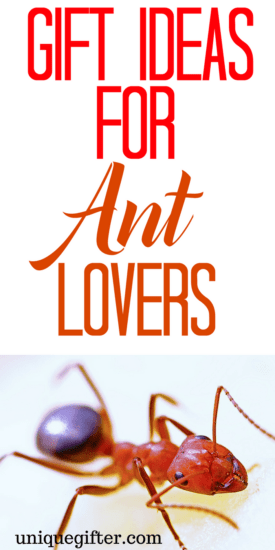 Know someone else who loves another animal? We've got them all! Take a look at our A to Z List of Animal Lover Gift Guides.
Gift Ideas for Ant Lovers
Ant Pouch
A place to put their pencils or pens, whether they're in school or simply enjoy writing or creating art, will come in handy and be stylish at the same time.
"I ant got time for that" Coffee Mug
Your ant loving friend "ant" got time for that, so get the word out with this coffee mug to drink her coffee from.
"Ant Dr." Street Sign
This sign could certainly be taken two separate ways, either standing for Ant Drive, or Ant Doctor. Either way, if your friend loves ants, they will enjoy this street sign to put up on the wall inside their house or use for outdoor decoration.
Pillowcase for Insect Lover
This insect pillowcase is thankfully not covered in insects over every inch, only on the ends. For that person who loves not only ants, but other insects as well, give them this pillowcase to put on their pillow for a good night's rest.
Ant Food Picks
Help your ant loving friend have a rocking party with these ant food picks for serving food or allowing their guests to grab their own choice of food.
Ant Crossing Sign
Does your friend know exactly where all the ants are in their yard? To help protect the little buggers, give them this sign to put up in the places the ants frequent.
Uncle Milton's Ant Farm Game
What's better than having a game about something you love and are passionate about? Your ant loving friend will enjoy playing this game with other ant lovers!
Backyard Safari Cargo Vest
For the kiddo that loves ants to no end, give them the proper gear to go backyard ant hunting with a backyard safari cargo vest. It will make carrying all their tools and supplies a whole lot easier.
Live Blue Gel Ant Habitat
I, for one, hadn't heard of blue gel ant habitats, but it sure does look like a cool place to live and fun to look at!
Ant Ornament
If it's getting close to Christmas, your ant loving friend will enjoy putting this ant Christmas ornament on their tree to show off their love for the little insect.
Silver Metal Ant Figurine with Metal Clip Antennae
Give the ant lover in your life this silver metal ant figurine where they can display pictures, cards, or business cards on the clips on the antennae. It will make such a nice addition to their decorations!
Copper Ant Cookie Cutter
They need the tools to make ant cookies! Think of all the fun they'll have to decorate and serve these delectable cookies.
"Do you want ants? Because that's how you get ants" Coffee Mug
While they love ants, they may still not want them in their house or on their picnic blanket at the park. Give them the gift of this snarky response on their coffee mug!
Cartoon Ant Apron
This adorably cute cartoon ant apron will come in handy when they're cooking something that splatters or is messy, while dressed in style!
The Ant Bully Movie
The Ant Bully movie is a fun movie to watch for kids and adults alike as the main character becomes friends with many ants.
"All I Care About Is Fire Ants And Like Maybe 3 People" T-Shirt
For that ant lover who doesn't care much for other people, this "All I Care About Is Fire Ants And Like Maybe 3 People" t-shirt is the perfect fit for them.
SimAnt PC/Mac Game
Help your ant loving friend create an ant world on this Sim game, just imagine how much fun that would be for them!
Ants Crawling Up a Coffee Mug
In reality, they may not want ants crawling up their coffee mug, it does look pretty cool as long as you know they aren't real.
The Complete Illustrated World Encyclopedia of Insects by Martin Walters
This world encyclopedia of insects will be an interesting read for both adults and children, and a good way for them to teach others about the wonders of ants.
World's Best Ant Shirt
Your aunt or your child's aunt is certainly the "World's Best Ant" and would be proud to wear this shirt everywhere she goes.
It's truly amazing all the options for gifts for ant lovers, and you are sure to find one that will fit the ant enthusiast in your life. Try some of these listed here on for size and see where they lead you!