Disclosure of Material Connection: Some of the links in this post may be "affiliate links." This means if you click on the link and purchase an item, I will receive an affiliate commission. Disclosure in accordance with the Federal Trade Commission's 16 CFR, Part 255. This site is a participant in the Amazon Services LLC Associates Program, an affiliate advertising program designed to provide a means for sites to earn advertising fees by advertising and linking to Amazon.
Cat clocks, can't live with them, can't live without them. Actually, you 100% need a cat clock (and so does your cat obsessed bestie), so peruse this list for some cat-tastic clocks. There's a perfect cat clock for everyone, did you think there might not be?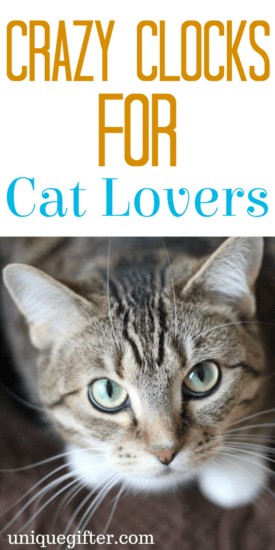 Looking for more cat loving gift ideas? Here's our A to Z Guide to Animal Lover Gifts for Every Stripe and Tail
Crazy Clocks for Cat Lovers
Classic Black Cat Clock
We have to start with the standard classic, the black cat clock. With a moving tail and eyes, this is the purrrrfect gift!
Fishbowl Cat Clock
What's cuter than a cat playing with live fish? A fake cat playing with fake fish – on a clock! Save the fish with this cute clock.
Wire Tabletop Cat Clock
This kitty fits on any desk or mantel previously bereft of cat love. It's so a-meow-zing!
Meowing Cat Wall Clock
That's right, this clock meows every hour. With 12 labeled breeds at every hour on the clock, you'll never run out of cat-spiration.
Peep Cat Clock
For a more modern look, try this sophisticated clock. Watch out for the peeping cat!
Wall Climbing Cat Clock
This clock gives the lovely illusion that a cat is climbing your wall. Place it next to your curtains for added realism.
I Heart Cats Clock
For the cat lover who is truly unashamed. This clock features 7 cats, which is heading into crazy cat lady territory, but cute nonetheless.
Pink Felix the Cat Clock
This clock helps fund breast cancer research and is cute as a button. The moving eyes and tail are sure to please any fan of Felix.
Cat with Fish Pendulum Clock
This feline cutie has already caught her dinner. She has crazy eyes and a tail that moves, what more could you want?
Orange Cat Face Clock
Do you enjoy being stared at continuously by a judgy cat? Then this is the clock for you! Look into his piercing eyes and be grateful that cats let us take care of them.
Cat in the Hat Clock
Although he can't tip his hat, this clock can smile at you all day. When you're stuck in the house on a rainy day, this clock will take away your dismay!
El Gato Cat Clock
This macabre cat still manages to be cute, and his heart functions as a pendulum. Dia de los muertos? More like dia de los meow-tos!
Coo Cat Clock
Have you ever wanted a cuckoo cat clock? Of course you have! This clock house a cat named "Tommy Tango" who meows every hour.
Chat Noir Clock
Oh la la, this clock is magnifique! For your faux Frenchie feline lover friend.
Mercat Clock
Mercats are special breed of cat mixed with a mermaid, and should be revered. Celebrate the mercat in your life with this clock, along with the star pendulum.
Recylcled Cat Clock
This clock is recycled, fairtrade, and was raised on a free range farm. Okay, so the last bit was an exaggeration, but this clock is as eco-friendly as it comes, while still remaining cute and cats-y.
Black and White Cat Clock
This surprised kitty comes with a fish on a pendulum. Feline-tastic!
Cat Folk Art Clock
I call this clock the cat in a bowl clock, because nothing's cuter than a cat in a bowl! The perfect clock for a cat AND art lover.
Wooden Cat Clock
It's true that time spent with a cat is certainly not wasted – and this clock proclaims that message. This hand cut clock is a rustic and charming gift!
Four Cats Wall Clock
Rounding out the list is this classy square wall clock. Obviously this is for a cat lover of a certain pedigree.