Disclosure of Material Connection: Some of the links in this post may be "affiliate links." This means if you click on the link and purchase an item, I will receive an affiliate commission. Disclosure in accordance with the Federal Trade Commission's 16 CFR, Part 255. This site is a participant in the Amazon Services LLC Associates Program, an affiliate advertising program designed to provide a means for sites to earn advertising fees by advertising and linking to Amazon.
Geese aren't usually the animal that people love a lot, they can be noisy and annoying. However, they can be truly fascinating if you take the time to observe them, and chances are you know someone who has geese figurines in their yard or home. If someone you know loves geese, they will absolutely love one of the gifts listed below: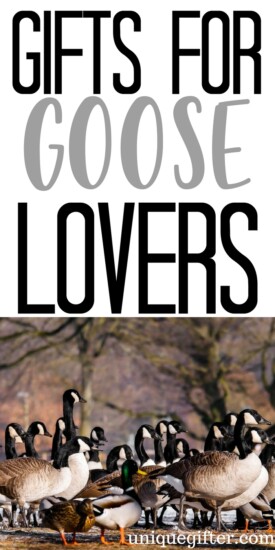 Winged animals not the only love in your life? Take a look at our epic animal lover gift guides.
Gift Ideas for Goose Lovers
Goose Earring Set
The special lady in your life who loves geese will love this goose earring set!
Happy Everything Goose Coffee Mug
Happy Thanksgiving, Easter, Halloween, Christmas, and more, all in one coffee mug! An excellent gift choice for the holiday season!
Handmade Goose Coasters
These handmade goose coasters will look nice on their tables, while still being functional too.
Goose Phone Case
This goose phone case is so pretty! The goose lover in your life will truly enjoy keeping their phone safe with this special case.
Wooden Goose Puzzle Decor
Their new wooden goose puzzle decor will look absolutely lovely in their house!
Love Geese Decal
The love geese on this decal will look adorable on a married couple's car or window!
Personalized Goose Keychain with Birthstone and Initial
Personalize this goose keychain with their birthstone and initial, and it will quickly become a treasured keepsake.
Goose Magnet
Everyone needs magnets, and chances are, they don't have enough geese magnets on their fridge. Add to their collection with this lifelike goose magnet.
Wall Mounted Bottle Opener with Goose
If they are a big fan of bottled drinks, whether alcoholic or not, they need this masterpiece to hang on their wall and assist in opening the bottles!
Goose Photo Transfer Natural Stone Coaster
A beautiful and sturdy stone coaster with a nice picture of a goose on it will look nice as either an actual coaster, or as a piece of decor on a bookshelf or counter.
Geese Flying Printable
You can frame this nice printable with flying geese on it, maybe even write them a loving note on it, and they will cherish it with their whole heart.
"I still play duck duck goose" Long Sleeve Shirt
Do they love geese and still play duck duck goose, then they really need this shirt. It's whimsical and shows off their love of geese at the same time.
Goose Stud Earrings
Earrings, again, you might say… However, these have a more classy look which makes them perfect for church or other nicer functions.
Flying Geese Sketchbook/Jotter
If your goose loving friend is a sketch artist, or loves jotting down notes pretty often, they will find this flying geese sketchbook handy.
Gertrude the Motion Sensor Statue
Gertrude the goose will help keep an eye out for movement on their porch or other part of their property, and be inconspicuous at the same time.
Flying Geese Tote Bag
Everyone needs a tote bag with their favorite animal on it, and your goose loving friend will love how cute and handy this tote bag is in their daily life.
"Momma Goose" Shirt
She is the momma goose to her family and loved ones!
"Silly goose" Coffee Mug
If you think your goose loving friend is a little "silly," this coffee mug is the perfect gift for them!
Goose Necklace
Your goose loving friend needs a goose necklace to go with one of the pairs of goose earrings in this list. Give them together so she is all set!
"Sorry I can't… I have plans with my goose" Shirt
If your goose loving friend is an introvert, this shirt will fit their personality just perfectly! They would rather hang out with a goose than be out and about with people sometimes.
There you have it, so many lovely gifts to choose from for that special person in your life who loves geese. They will love whatever you choose because it comes from your heart!