Disclosure of Material Connection: Some of the links in this post may be "affiliate links." This means if you click on the link and purchase an item, I will receive an affiliate commission. Disclosure in accordance with the Federal Trade Commission's 16 CFR, Part 255. This site is a participant in the Amazon Services LLC Associates Program, an affiliate advertising program designed to provide a means for sites to earn advertising fees by advertising and linking to Amazon.
Shakespeare is arguably the most influential and celebrated writers who ever lived, so it's no wonder he still has a huge number of fans to this day. If you've got a friend who is one of those fans, it's only fitting you get them a present to match. This list of gift ideas for Shakespeare lovers is sure to help you find a gift that even Willy Shakes himself would love.

To gift or not to gift…
that is the question!
Gift Ideas for Shakespeare Lovers
Custom Shakespeare Flower Bouquet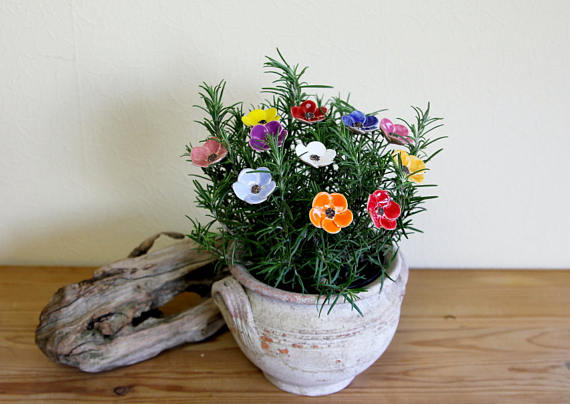 Upstage the other Romeos and get your Juliet (or perhaps your Mercutio) a bouquet made from their favourite Shakespeare novel. All flowers are handmade and come in a variety of different colours and sizes.
Bards Dispense Profanity: A Shakespeare Party Game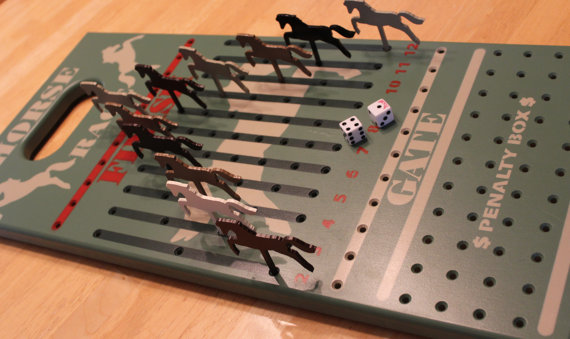 If your friend likes spouting profanities almost as much as they like Shakespeare, Bards Dispense Profanity is the gift for them. It's basically the smutty lovechild of Cards Against Humanity and William Shakespeare – what more could you want? If your friends are big Cards Against Humanity we have perfect gift guide for you.
Set of 7 Engraved Shakespeare Pencils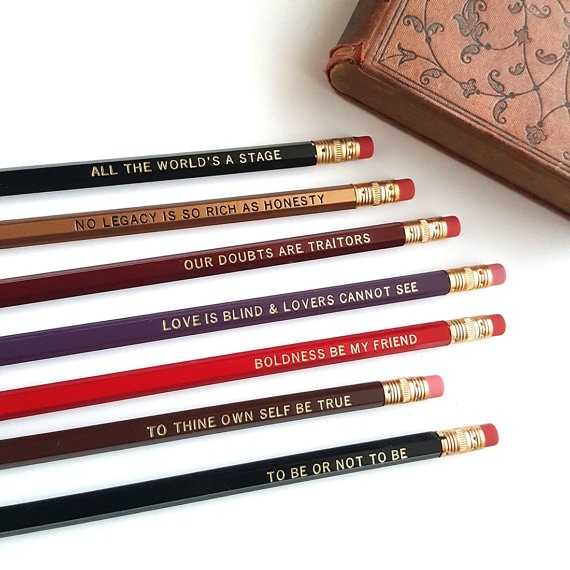 Think you've found the next Shakespeare? Give them a gift that will not only inspire them but also constantly remind them of their literary hero. Printed with luxe shimmery foil, these pencils will be the envy of every Shakespeare fan.
Exit, Pursued by a Bear Framed Print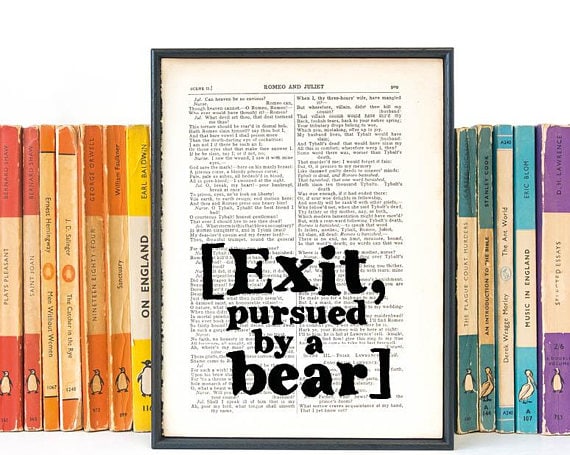 Arguably the most loved stage direction in history, now your Shakespeare lover can have it framed on their wall! Each totally unique print is made with a page from Shakespeare's Complete Works and will make the perfect addition to any literary home.
The Five Cats of Shakespeare Mug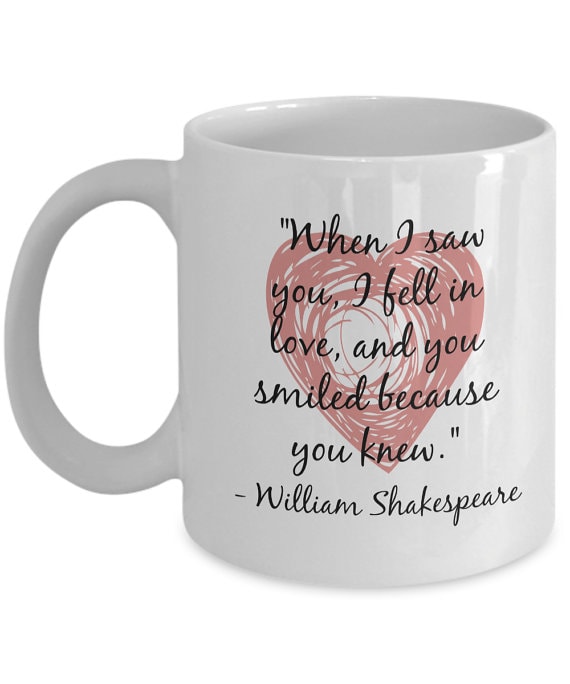 If your friend is known for their love of a certain wordsmith, puns, cats, is slightly dyslexic or all of the above, they are sure to appreciate this mug. Celebrating Shakespeare's famous Five Cat Structure – I mean, Five Act Structure, this glorious mug delivers on all fronts.
Macbeth Sew-On Patch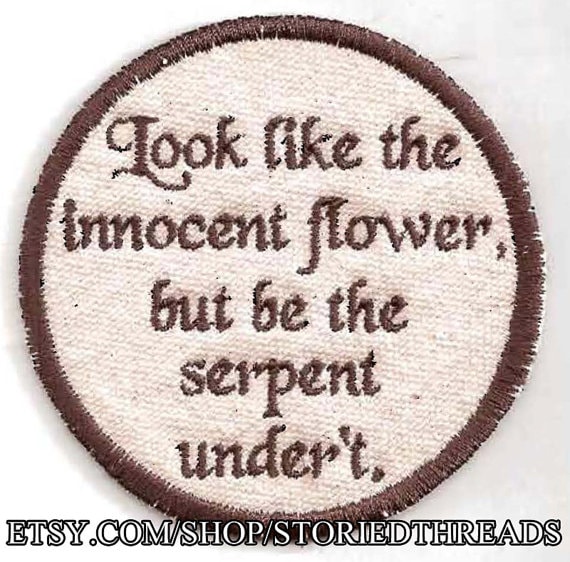 Encourage your friend to channel their inner Lady Macbeth (minus the whole "out damned spot" fiasco) with this fabulous sew-on patch. Velcro can be added to the back so they can wear it with any and all outfits!
To Thine Own Self Be True Silver Cuff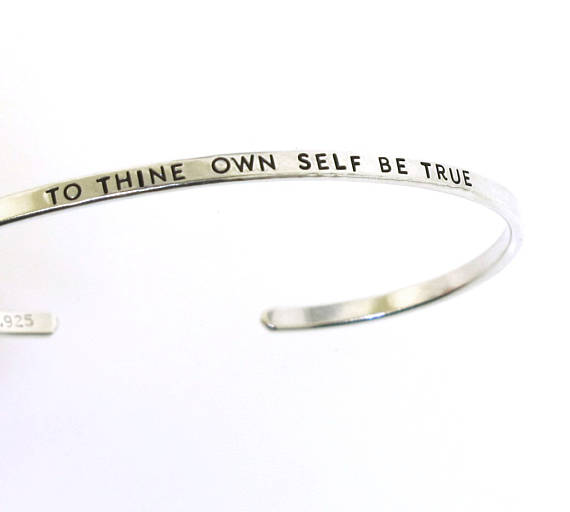 For the Shakespeare fan that appreciates all things delicate and chic, this sterling silver cuff is a beautifully subtle way to pay homage to that special literary genius. In case silver isn't quite their thing, it's also available in copper, brass and nickel.
Doubt the Stars Framed Quote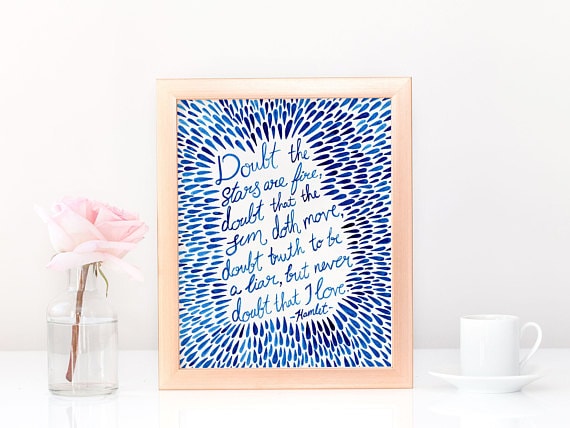 Whether you give this gorgeous print as an anniversary present for a Shakespearian couple, or as a gift for your own literary lover, this watercolour Hamlet quote will compliment any home. The hardest part will be not keeping it for yourself!
William Shakespeare Cookie Cutter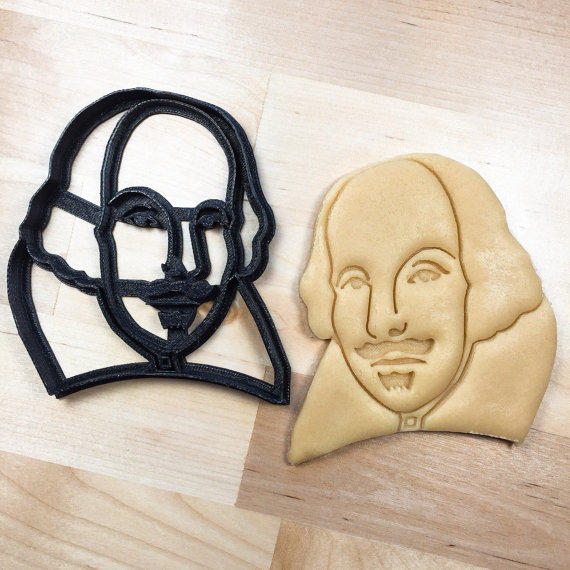 This gift comes with a couple of options – either you give the rad cookie cutter itself as a gift, or you make a big batch of themed cookies to give instead and keep the cutter for yourself. It's a win-win!
To Sleep, Perchance to Dream Pillow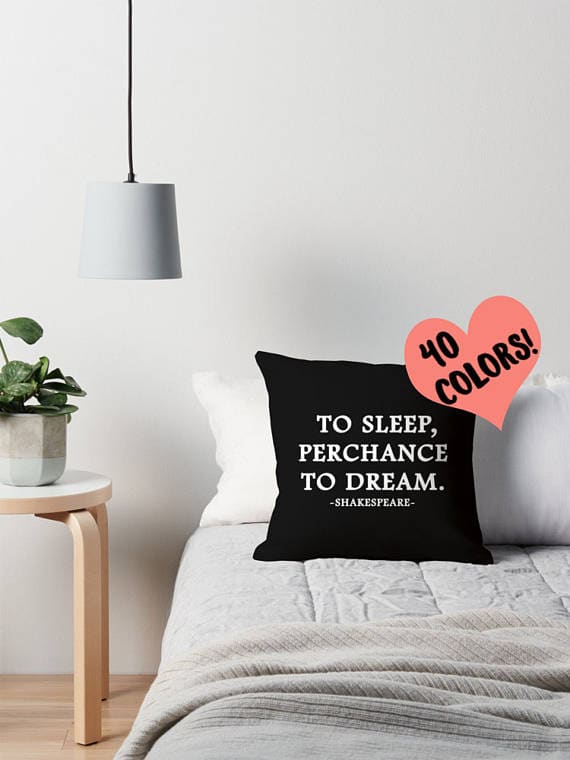 Give a gift that will make snuggling up on the couch for a Netflix binge of Shakespearian classics even more cozy! This throw pillow is available in a huge range of different colours and sizes, and would make a truly personal gift for that special someone.
Words, Words, Words Badge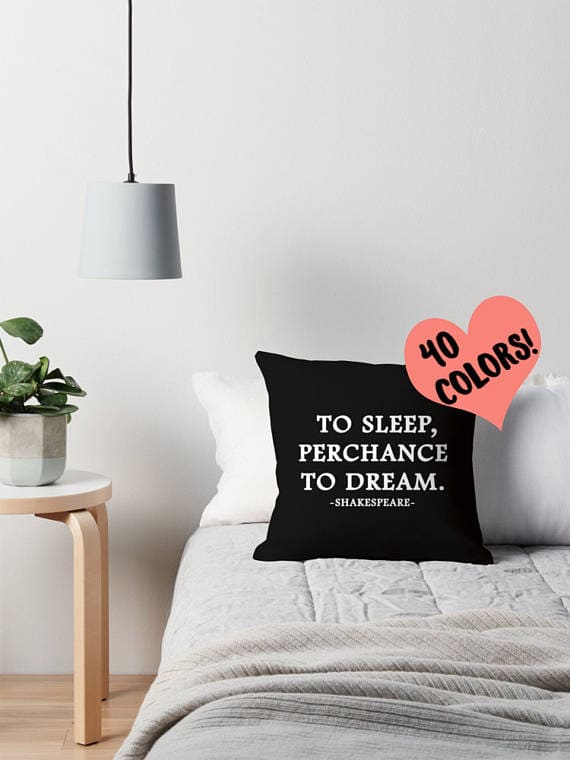 Let your friend take the words of their favourite playwright everywhere with this wearable excerpt from Hamlet. This badge can also be made into a magnet, in case they want to spruce up their fridge, or if badges aren't their thing.
Clean/Dirty Dishwasher Magnet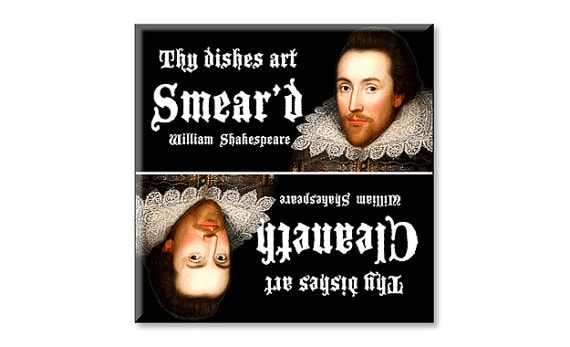 Speaking of magnets, this one will make sure your friend never forgets whether the dishes are cleaneth or smear'd. After all, what kitchen couldn't use a bit of 17th century humour?
Shakespeare Handkerchief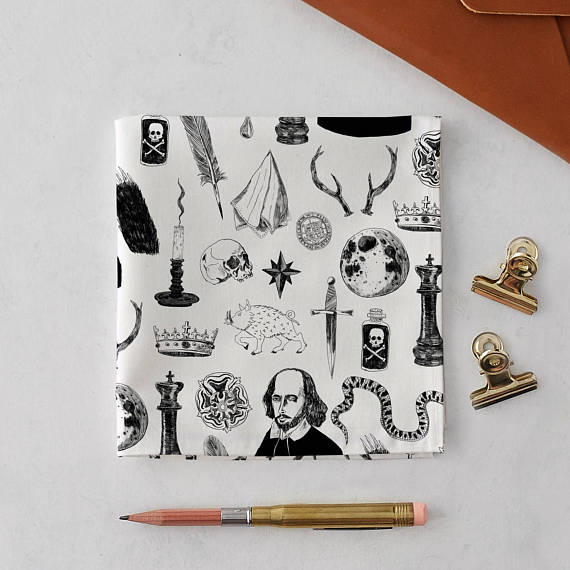 Leading Shakespeare can get emotional. The insanity of Ophelia, the death of Mercutio, Caesar's betrayal by his best friend – all can bring on the waterworks. Thankfully, this dapper handkerchief will be there to help.
Shakespeare Infant One Piece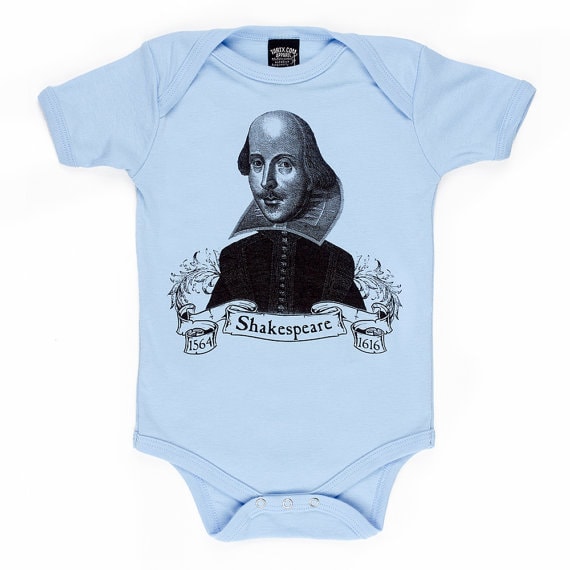 You're never too young to become a Shakespeare fan. Give the newest fan club member his or her first piece of official clothing, and start working on teaching them their first words – "to be or not to be?"
Shakespeare Phone Case
Shakespeare was known for his sassiness ("Away, you three-inch fool" anyone?) so what better way to pay tribute to Willy Shakes but with an equally sassy phone case? The bard himself would be proud.
Romeo and Juliet Book Scarf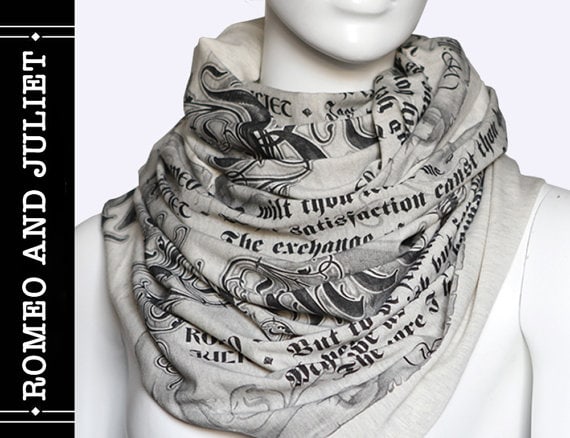 This infinity scarf covered in the words spoken by two of the world's most famous lovers is sure to melt even the coldest of hearts. Perfect for chilly winters and reading on public transport. If your friend is a real bibliophile, we have a gift guide for them here.
Hamlet Necktie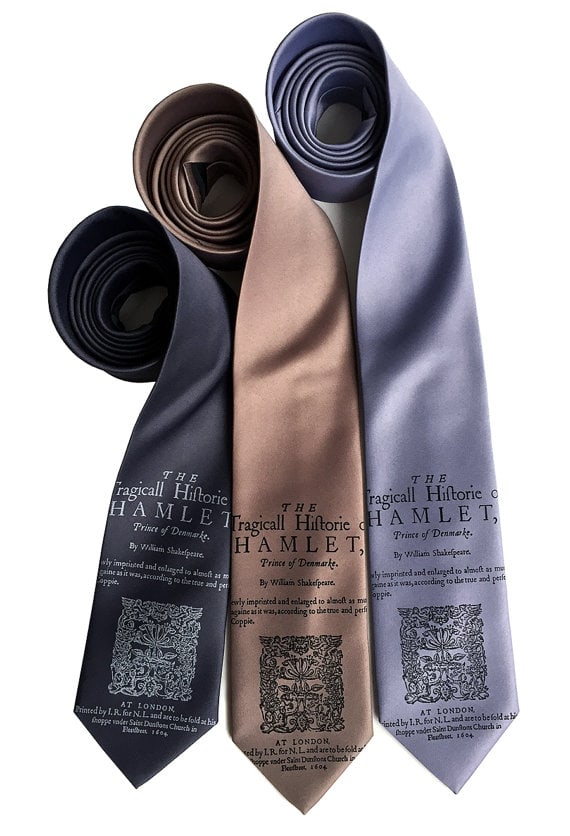 For some neckwear that's slightly more masculine, any Shakespearian male is sure to love these silky, microfibre ties. Available in standard or narrow and in several colour combos, they will compliment the outfit of any dapper gent.
Where There's a Will There's a Play T-Shirt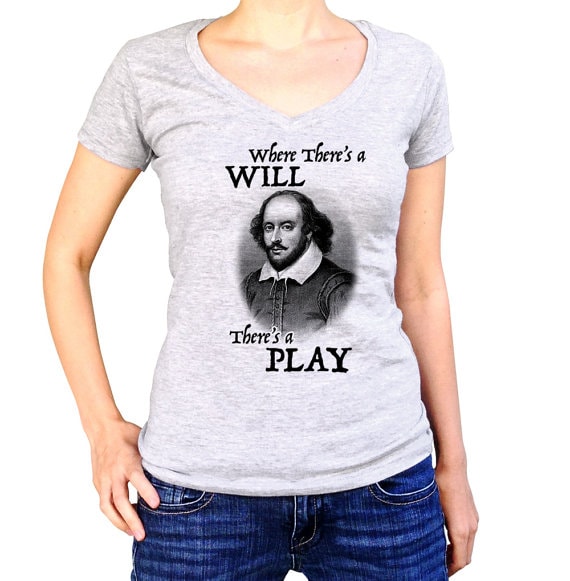 Oh, for the love of puns! With this t-shirt your friend can not only express their love for Shakespeare, but also look darn good doing it. This shirt is sure to fit them to a tee! (Sorry.)
Sonnet 116 Leather Pencil Case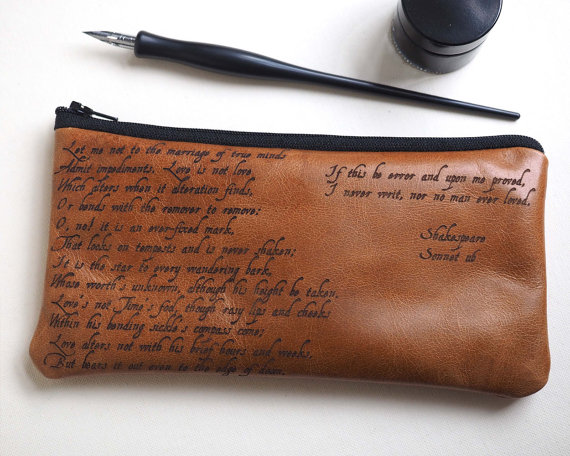 Sonnet 116, or The Wedding Sonnet, is inscribed on this genuine leather pencil case that would make a perfect gift for an engagement, anniversary or, of course, wedding. Custom names and dates can also be added to make it truly personal.
Shakespeare Book Soap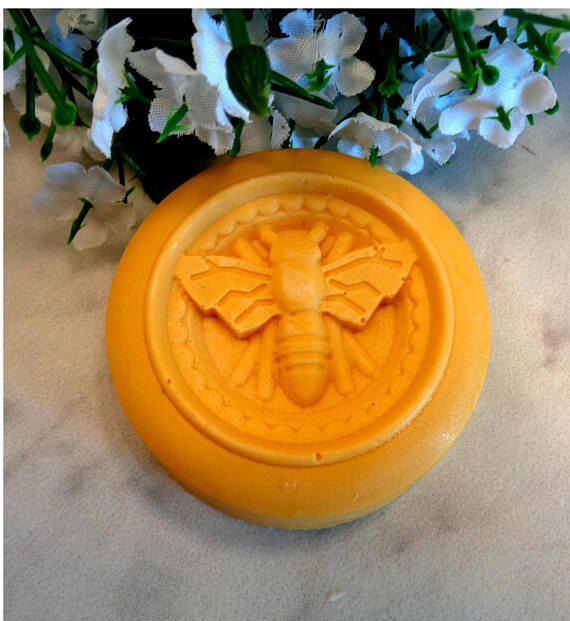 If your friend needs some help getting out their damned spot, this vegan soap scented with bergamot and white tea is sure to do the trick. It comes packaged in a box that looks like a vintage Shakespeare book, complete with faded pages.
Are you full of gift-giving inspiration? Is your mind aflutter with Shakespeare-themed presents? Let us know which ideas are your favourites in the comments below. Don't forget to share your Shakespeare gifts with us at @ugifter on Twitter and @uniquegifter on Instagram!