Disclosure of Material Connection: Some of the links in this post may be "affiliate links." This means if you click on the link and purchase an item, I will receive an affiliate commission. Disclosure in accordance with the Federal Trade Commission's 16 CFR, Part 255. This site is a participant in the Amazon Services LLC Associates Program, an affiliate advertising program designed to provide a means for sites to earn advertising fees by advertising and linking to Amazon.
If you've ever given birth – and I suspect you have done so recently or are preparing for it – you'll know what hard work it can be to support a labouring Mom. Yes, you, the Mother, do 99% of the work, but the other 1% credit goes to those who support you as you labour.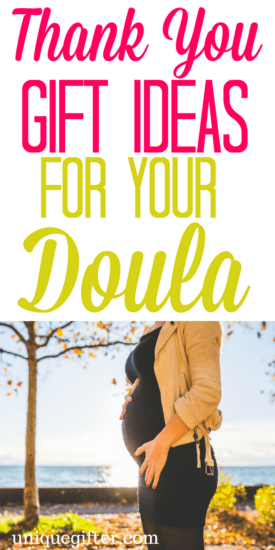 I know I put my husband in headlocks and made him run for water and damp towels during the five labour and deliveries I survived. And as a good labour coach, he also learned the best techniques required to naturally reduce my pain levels.
If you were fortunate to have the experienced help of a doula, you know there is no way to adequately repay them for their help. But I know you want to try. So I have compiled a list of things you might want to consider giving the person who saw you at your worst – and hopefully, at your best too, when the hardest part was said and done.
Thank You Gift Ideas for Doulas
Energy Snacks!
If you're in the preparation stages of childbirth, I highly recommend you supply your doula with a supply of snacks that nurture the body and soul before your labour begins. You never know when she'll get a break! Make sure it's something that doesn't turn your stomach.
And Healthy Snacks too.
This one goes nicely with the above. Slightly healthier but equally as sweet!
Breath Mints
Knowing that your doula might go hours after eating without having the chance to brush her teeth, perhaps a thoughtful gift of mints would be appreciated. As long as you don't think she'd find it insulting.
Travel Pillow
I love the idea of this travel pillow. And I'd be willing to bet that your doula will appreciate the thoughtfulness that will let her sleep sitting up, wherever she may be.
Toiletry Bag
Knowing that your doula will spend more than one night away from the comforts of her home, it would be nice to help her out with the clever gift of a hanging toiletry bag.
Massage Balls
If you've received a massage during labour, you can attest to it's benefits. Not only will your doula be able to use this massage tool on her clients, but she can also benefit from it herself!
Waterproof Socks!
You never know what's going to get wet or dirty, and I'm sure your doula has seen it all. But it never hurts to help her be just a little bit more prepared than she already is.
Personalized Tote
Make her smile with this cute bag.
Portable Charger
Not being at home for hours on end can be exhausting but your doula still needs to keep in touch with the outside world. Should her phone battery die, you've got her covered with a portable charger.
Heating Pad
Another win-win gift that can benefit both you and her is a microwaveable heating pad that gently curves to your body without the hassle of a cord.
Birth Perfect t-shirt
This t-shirt is soft, comfortable, and has a message that she will love.
Travel Mug
Of course you don't need to get your doula a travel mug that advertises her skills. But why not express your admiration with this plain and simple message of admiration?
Diffuser Necklace
Add a drop of your favourite essential oil to this beautiful necklace.
Crystal Stone Bracelet
This beautiful bracelet can be worn as is or it can be used as a diffuser bracelet.
Relaxing Smelling Salts
She deserves it – almost as much as you do!
Magnesium Oil Spray
This spray contains ingredients that aids in relaxation and reducing muscle aches and pains. It also contains the soothing scents of peppermint and lavender.
Coffee Candle
This beautiful candle combines the best of two things – the smell of coffee with the calming presence of a candle. Note the nut allergy warning.
Portable Diffuser
If your doula likes essential oils (who doesn't?!) she'll love this portable diffuser that she can take with her wherever she goes.
Linen Slippers
These handcrafted beauties boast comfort and are perfect for your doula to take with her to all her calls.
Sleep Mask
The lavender scent says relaxation, the sleep mask says, "I hope you sleep well!" Perfect for the hardworking doula who is up all night and will go home to sleep during daylight hours.
Whether your baby has arrived yet or not, today is always a good time to thank your doula. No matter where you are in your motherhood journey, I wish you all the best as you prepare – or recover – from childbirth. Take care of yourself and appreciate all the people around you who supported you in your motherhood journey.