Disclosure of Material Connection: Some of the links in this post may be "affiliate links." This means if you click on the link and purchase an item, I will receive an affiliate commission. Disclosure in accordance with the Federal Trade Commission's 16 CFR, Part 255. This site is a participant in the Amazon Services LLC Associates Program, an affiliate advertising program designed to provide a means for sites to earn advertising fees by advertising and linking to Amazon.
With travel restrictions constantly changing and evolving, some folks are quickly getting their travel plans back on track. With the holidays rapidly approaching, we've compiled a list of great stocking stuffers for the travelers in your life. We've got a list of great ideas for both domestic and international travelers.
Stocking Stuffers for Travelers…for Any Occasion!
For the travelers in your life, these stocking stuffers make travel a little more fun, a little more efficient, and hopefully more exciting!
Multi-Purpose Travel Passport Wallet
This multi-use item slides right into a stocking! Small, but holds all the essential documents – tickets, passports, cards. And it comes in a variety of colors.
Universal Airplane in Flight Phone Mount
If your traveling friends love to watch a movie or show on their phone while they travel, this is a great tool to help put their phone at eye level. Clip the phone into this mount, attach it to the seat in front of them, and they're set to watch whatever they'd like without straining their necks.
Luggage Scale with Carry Pouch
Making sure they don't go over the approved luggage weight is super simple with this handheld scale. It's easy to attach the bag to the hook and weigh bags quickly.
Traveler Keychain with Engraved Country/State Rings
Slip this keychain with the engraved travel rings into a stocking! This commemorative keychain is a great way to display some of their favorite destinations they've traveled in one place!
Cell Phone Lanyard
This is an excellent way for travelers to keep their phone handy…but not actually in their hands. They simply slide their phone into the lanyard and wear it around their necks, keeping hands-free for other important things.
Collapsible Water Bottle
Collapsible water bottles are ideal for packing. Plus, this set is made with BPA-free food-grade organic silicone, so none of the PVC or plastic-like smell. Not only will this fit in any luggage when traveling but it will also fit perfectly into a stocking!
Travel Electronics Organizer Bag
Every traveler knows it can be challenging to keep chargers, cords, and batteries tidy. This wallet will fit perfectly into any stocking.
Combination Eye Mask and Headphones
Most frequent travelers already have an eye mask and headphones. So why not combine two of the most frequently used travel items. These could also be good for shift workers who sleep during the day since they block out light.
Toiletry Travel Containers
Ever had your toiletries explode in your bags? Shampoo or soap gets everywhere, and it puts a damper on the fun of travel. These skins go over the tops of bottles to make sure they stay secure inside of luggage and will fit into any size stocking.
Portable Folding Clothes Hangers
Compact enough to tuck into luggage or stockings, these little hangers work for children or adult-sized clothing. Also useful for hanging clothes up to dry after laundry.
Packing List Notepad
Being prepared for a trip usually starts with making a packing list! Make their trip planning a little more smooth with this list as a starting point.
Luggage Travel Cup Holder/Caddy
Anyone who travels, especially through airports, knows the struggle of too many things in your hands AND trying to hold a drink simultaneously. This caddy fits different brands of suitcases – simply secured around luggage handles.
Travel Blanket/Pillow
Use it as a pillow or unfold it to use as a blanket! Perfect for both uses and easy to stash in a bag.
Anywhere Travel Guide Cards
A set of cards for travelers as inspiration to explore, try new things, and learn about themselves in the process.
Scratch Reveal Ticket
Surprising someone with an actual trip? Put this scratch-off ticket in a stocking and see their eyes light up when they figure out where they're going next!
Travel Bank
For the traveler who is always saving for their next adventure, give them something to see their savings accrue! Also an excellent idea for kids learning to save money for things they love.
Infinity Scarf with Hidden Pockets
Any traveler can wear this scarf that doubles as a blanket or wrap during chilly travel days. Plus, it has pockets for storing a phone, money, or a passport.
Personalized Travel Journal
Travel journals are unique to each person, but some travelers like to write it all down so that they can recall all the little details years down the road. A simple, personalized travel journal is an easy gift and stocking stuffer for a traveler.
Vinyl City Travel Stickers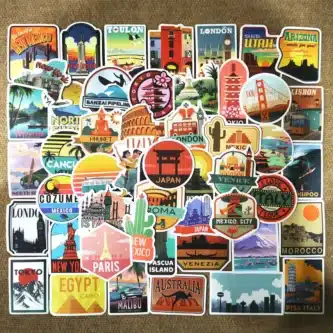 A pack of vinyl stickers is a hit for travelers who like to decorate laptops, water bottles, skateboards, and more!
Microfiber Quick Drying Towel
These towels come in handy for a variety of needs while traveling! Spills, swimming, camping, hiking, picnics – you name it! They fold up to a tiny size, and they dry faster than any other type of towel!
Whether you like to travel and are looking for some new items to add to your list or gift someone you love, this list has plenty of ideas for you to consider as you shop this holiday season! What are some of your favorite travel items to give or receive as a gift?