Disclosure of Material Connection: Some of the links in this post may be "affiliate links." This means if you click on the link and purchase an item, I will receive an affiliate commission. Disclosure in accordance with the Federal Trade Commission's 16 CFR, Part 255. This site is a participant in the Amazon Services LLC Associates Program, an affiliate advertising program designed to provide a means for sites to earn advertising fees by advertising and linking to Amazon.
Once the fall frenzy of pumpkin carving and Halloween have passed us by, we find ourselves in the crisp air of November, The cozy sweaters are out, and leaves are falling. We're making soups and bundling up for afternoons in a corn maze. It's the early start for the holiday season, with just a few final days of autumn weather before the hustle and bustle of Christmas. Check out our birth month flower gift ideas for November below!
"Autumn is a second spring when every leaf is a flower." – Albert Camus
Birth Flower for November
November offers us two birth flowers – the chrysanthemum and the peony. In some parts of the world, chrysanthemums represent joy and optimism, or in European countries, they are used to honor the dead. Peonies are traditionally given for special occasions and are symbolic of love, honor, and happiness.
Botanical Background of Chrysanthemums and Peonies
Chrysanthemum: Chrysanthemums are perennial plants with a thick root system. It has large flower heads of white, yellow, or pink and deeply lobed leaves. Chrysanthemums are of the family Asteraceae.
Peonies: Part of the family Paeoniaceae, and known for their large, showy blossoms, they are native to Asia and Europe. Peonies are often explicitly grown for the floral industry.
Check out these perfect November flower gift ideas below! 
Best Birth Month Flower Gift Ideas for November
Real Dried Peony Necklace
A statement piece made out of peonies for a person born in November? Beautiful and straightforward gift option!
Peony Lunch Tote
Lovers of peonies and those born in November would love this simple lunch tote. Roomy enough for cans, meals, and more. Plus, it's leakproof!
Peony Flowers Peel and Stick Wall Decals
If you're decorating a room for someone born in November, perhaps even a nursery, these peel & stick decals make an excellent addition to any room. 
Peonies Magnet Set
A simple stocking stuffer or gift basket add-on, these magnets are a beautiful gift idea for anyone who loves peonies and those born in November.
Peony November Birth Flower
This handmade pendant with an intricate peony design is an excellent option for a jewelry gift. Plus, you can order in silver or gold.
Vintage Peonies 3D Wax Stamp
Peony lovers and those born in November who love the classic wax stamp would enjoy this brass die for letters, scrapbooking, or gift-giving.
Peony Soap Bouquet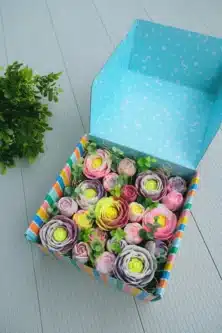 Rather than giving regular flowers that will eventually wilt and die, how about these peonies made of soap to look like an actual bouquet? They can be used like regular soap or kept for decoration.
French Peony Candle

Enjoy the sweet floral scent of peonies – without the actual flowers. Plus, this one gets around 33 hours of burn time.
Peony Panel Art
These three large panels would be perfect for an office, bedroom, library, or anywhere else someone needs large wall art.
Peony Perfume 
A signature peony perfume with a fresh and flirty scent – perfect for everyday wear! 
Chrysanthemum Crystal
The Chrysanthemum stone is another excellent representation of this popular flower. White/Silver flowers stand out against the black stone for a beautiful piece of stone décor.
Chrysanthemum Tea
Did you know that chrysanthemums also make a great hot or iced tea? The full chrysanthemum flower makes a fragrant tea full of vitamins and amino acids. 
BOOK: Chrysanthemum
This would make a perfect gift for a child who loves to read. This beautifully illustrated book touches on kindness and tolerance.
Chrysanthemum Fall Floral Scented Candle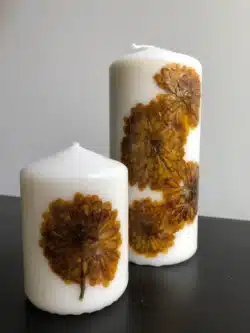 This candle has real Chrysanthemum flowers pressed into the wax! Unscented, which is a great gift idea for people that have allergies but enjoy having flowers around. 
Chrysanthemum Journal
Symbolizing loyalty, honesty, and longevity, a chrysanthemum journal is perfect for writing down all of their goals and wishes for their new year.
Chrysanthemum Kimono
Ideal for lounging at home and perfect for day or night! Lightweight, luxurious, and soft charmeuse make this a sweet gift to unwrap. 
Chrysanthemum Sealing Wax Stamp
Create a signature way to seal notes and correspondence with this wax stamp! Small, like a tube of lipstick, making it a perfect add-on gift idea. See the peony wax stamp above!
Chrysanthemum Coasters
 These chrysanthemum coaster will add style and beauty in any home or office. 
Cotton Oven Gloves 
These oven gloves are great for bakers or anyone who loves spending time in the kitchen. 
The peony and chrysanthemum are delightful fall blooms that are a perfect fit for the month of November. These fragrant blooms are rich, colorful, and brighten up any room or garden! 
Thanks for checking out our birth month flower gift ideas for November!