Disclosure of Material Connection: Some of the links in this post may be "affiliate links." This means if you click on the link and purchase an item, I will receive an affiliate commission. Disclosure in accordance with the Federal Trade Commission's 16 CFR, Part 255. This site is a participant in the Amazon Services LLC Associates Program, an affiliate advertising program designed to provide a means for sites to earn advertising fees by advertising and linking to Amazon.
These horse gifts for girls are fantastic! Many young girls love horses and sooner or later the question will come… "Mommy, can I have a pony?" Most of the time that's just not realistic. Let them down gently with these horse related alternatives, so they can still show their love for horses!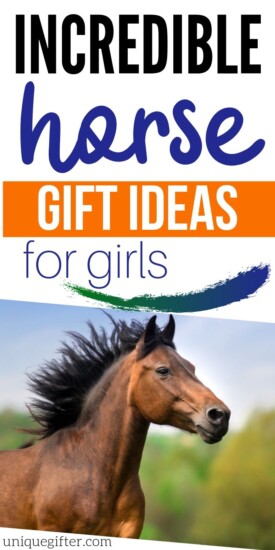 Amazing Horse Gifts For Girls
1. Pendant Necklace
Horsey girls will adore this elegant and stylish horse necklace for everyday wear.
Buy Now
2. Horse Musical Jewellery Box
The enchanted musical box features a horse figurine and is perfect for delicate jewellery.
3. Wild Horse Lock and Key Diary
Girls will love recording their thoughts in this special written journal protected by a wild horse.

Buy Now
4. Ultimate Sticker Book
Each book contains over 60 full-colour stickers as well as intermittent horse facts.

Buy Now
5. Paint Your Own Horse Activity Kit
This activity kit will keep girls entertained for hours while they paint and decorate their own model horses.

6. Soft Fleece Throw Blanket
This beautiful blanket adds to the decor while keeping your girls warm on cold winter nights.

Buy Now
7. Horse Dreams Lunch Box
Girls will love the bright colours and useful compartments in this handy lunchbox.

Buy Now
8. Stable Set and Horse Figurines
This play barn features a working stall and doors to ignite imagination during playtime with cute little horse figurines.

Buy Now
9. Horse Crazy! Fact and Activity Book
An activity book with 1,001 facts, craft projects, games, and activities will keep girls entertained for hours.

Buy Now
10. Horse PJ's
Girls will WANT to stick to their bedtime when they get to wear these gorgeous horse pajamas.

11. Equestrian Socks
These cute equestrian socks are moisture wicking and offer arch support for an extremely comfortable fit.

Buy Now
12. Fiber Optic Horse Light Show
The whole family will love to watch this fascinating rainbow horse light show.

13. Horse Plush Toy
This soft and cuddly horse plush will make a wonderful addition to the soft toy collection.

Buy Now
14. Colouring Book
Girls will love colouring these realistic horse illustrations with informative captions on each image.

15. Horseshoe Picture Frame
Help display precious horse memories with this creative horseshoe picture frame.

16. Travel Neck Pillow
A soft and cuddly horse pillow is great for flights, car trips, or simply relaxing at home.

Buy Now
17. Wild Horses Wall Decals
Transform their room into a magical horse kingdom with these easy to use wall decals.

Buy Now
18. Horse Jigsaw Puzzle
Puzzle lovers will love this stunning horse photography puzzle. Suitable for ages 10 and up.

19. Pink Horse Drawstring Bag
Girls will adore and cherish this cute drawstring bag perfect for school books.

20. Horse Page-A-Day 2016 Calendar
This page-a-day calendar features a new horse for appreciation each day of the New Year.

21. If I Ran A Horse Show Book
For the horse-loving girl in your life that can't get enough books to read, this is a must-have! Check it out.
22. Horse Hair Ties
This pack comes with a variety of colors and each one is filled with galloping horses. They are so adorable!
23. Scrapbooking Craft
Perfect for girls ages 5-10 years old! Now she can scrapbook all about her favorite animal…horses! She is going to love this idea!
24. Willow Tree Memory Box
This lovely memory box is so meaningful. She can store all her trinkets and small items in this beautiful box.
25. Flower Horse Backpack
It's impossible not to love this horse with flowers! She is going to be so proud to sport her new backpack that features a beautiful horse on it.
26. Horse Infinity Bracelet
These bracelets are perfect for any horse-lover no matter how old she is. There are several colors to choose from.
27. Plushcraft Pony Pillow
If she loves to be creative, she will get a kick out of this pony pillow project. This is for kids over the age of 5.
28. Great Horse Stories For Girls
You will find inspirational stories that is perfect for kids ages 8-12. This book is heartwarming and great for girls entering their teenage years.
29. Draw 50 Horses
This is packed with step-by-step instructions showing you how to draw 50 different horses. Any horse-lover is going to be thrilled over this gift.
30. Just A Girl Who Loves Horses T-Shirt
Watch her eyes light up with delight when she opens this terrific t-shirt. There are several colors to choose from too.
31. Barn Hair Don't Care Trucker Hat
Ideal for those days when you don't want to do anything with your hair! Just slap it on, head to the barn and tend to the horses.
32. Horse-Opoly
What is better than Monopoly? Horse-Opoly of course! This is geared towards kids that are 8 all the way to adults.
33. Horses Keep Me Stable Tumbler
This is intended for coffee or wine, but it would also be great for water or juice. Plus, it looks fantastic!
34. Horse Lover Candle
Horse sweat and leather is the fragrance you get with this awesome candle. This is a wonderful gift idea!
35. Personalized Horse Print
Order a customizable horse print and she will love it to pieces! This horse print is adorable too.
36. Personalized Horse Brushes
If she spends a lot of time brushing her horse, then this is a wonderful gift idea for her! She would like it even better if you got her another horse to go with it. :)
37. Horse Bookmark
Any avid horse-lover and reader needs one or two of these horse bookmarks. It's great quality and so cute.
38. Horse Earrings
These earrings are dainty and shaped like a horses. They are sterling silver and go with every outfit!
39. Personalized Saddle Pad
There are many colors to choose from and you can add a name to the saddle pad. How awesome is that?
40. Christmas Ornament
You can have her name put on this adorable Christmas ornament. Then year after year she can enjoy hanging it on the tree.