Disclosure of Material Connection: Some of the links in this post may be "affiliate links." This means if you click on the link and purchase an item, I will receive an affiliate commission. Disclosure in accordance with the Federal Trade Commission's 16 CFR, Part 255. This site is a participant in the Amazon Services LLC Associates Program, an affiliate advertising program designed to provide a means for sites to earn advertising fees by advertising and linking to Amazon.
These are just about the most exhilarating adrenaline junkie experience gifts in Southern Florida you can find! Get your fill of some of the region's most authentic and heart-pounding activities, not for the faint of heart. From the Everglades on down to the Florida Keys, these thrilling activities will really get you going. These experiences make truly great gifts, and this is our guide to some of the best extreme experiences in Southern Florida!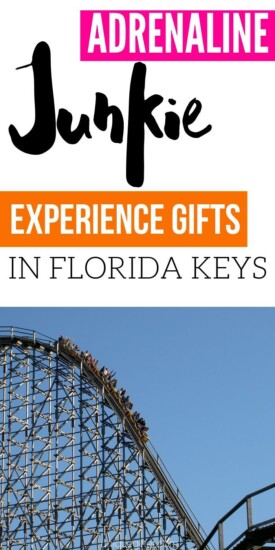 Top Adrenaline Junkie Experience Gifts in Southern Florida
This is where Floridians go to get their thrills on! Adventurers and adrenaline junkies wanted! These are some of the downright most exciting thrill-seeker experiences Southern Florida has to offer. If you're looking for some unique thrill seeker experience gifts, this is the guide for you. If jetpacks, alligators, wakesurf boards and speedboats get your heart pumping you'll want to see what we've got to offer. Locals look no further for some great adrenaline experience gift ideas right here in your backyard!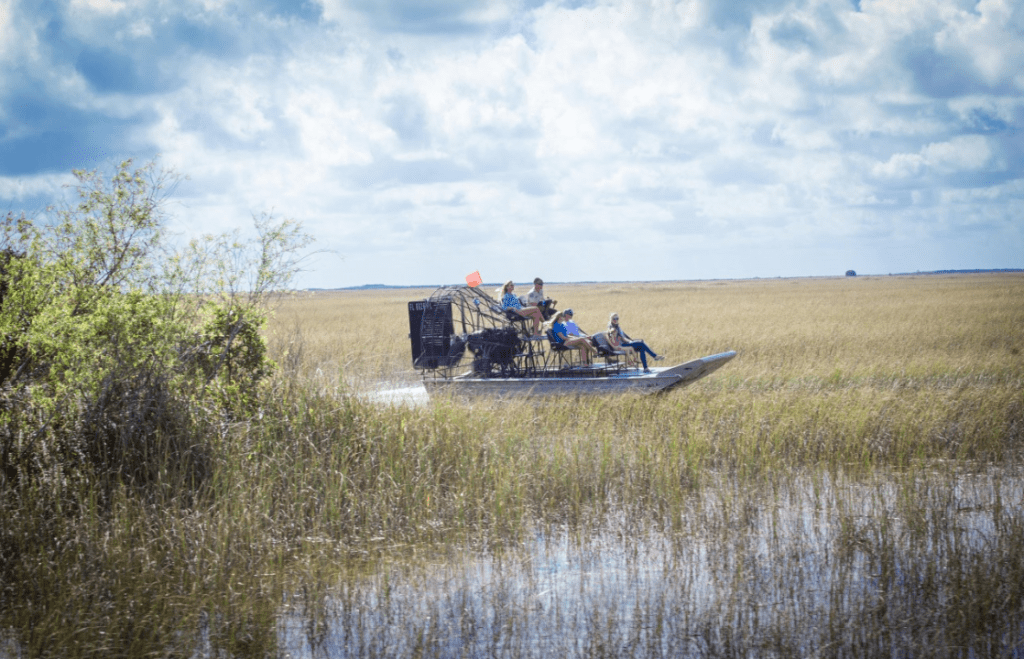 What's more 'Florida' than an authentic airboat ride across the glorious Everglades? Airboat Rides Miami gives you an up-close and personal experience that makes for some great memories that will last a lifetime! Gators, rare birds, softshell turtles, and the elusive Florida Panther! Grab your binoculars, and get ready for this incredible once in a lifetime thrill seeker's experience gift!
Need to know: The Everglades is one of the most dynamic environments in the United States. This once in a lifetime extreme tour makes for a great gift package. Thrill-seekers will revel in the chance to see Florida alligators, among a wide variety of flora and fauna.
Where is it: Right in the heart of Everglades National Park of course! Transportation can be arranged directly through their website, with pick up available all throughout Miami.
The adrenaline experience: If the wildlife isn't enough to draw you in, consider gliding along the vast scenic 'sea of grass'. Truly a once in a lifetime experience gift that will get your blood pumping, these tours are a great way to experience the Everglades up close and personal. Large gators and whirling airboats are waiting for eager adventure seekers!
Click for more details: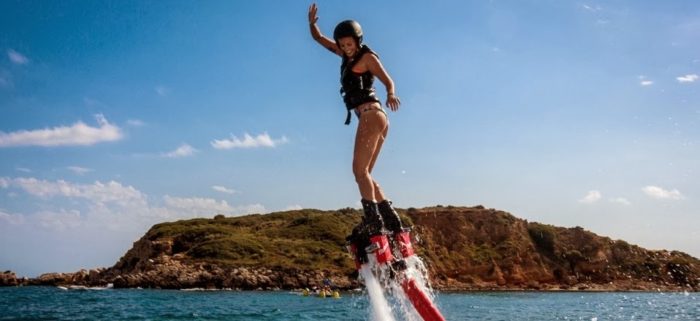 Soar to new heights in one of the most extreme water sport activities out there! This experience makes a great adrenaline junkie gift for the thrill-seekers in your life! Strap onto a fly board for your own high flying thrill ride! Experience Miami and the glorious Florida Keys like never before, at the helm of a 33-foot high flying jetpack! Look no further for an unforgettable experience that will make some great memories for you and your group!
Need to know: Reservations are required for this thrill ride, and booking one for your next Florida summer vacation makes a great gift experience! Certified instructions guide the entire experience, meaning beginners need not fear!
Where is it: Tiki Jet is run out of an idyllic getaway, Postcard Inn at Holiday Isle in the Florida Keys.
The adrenaline experience: This thrill ride of a lifetime is a great way to get your feet wet in the East coast watersports scene! Soar over the waves and experience the thrill of a water-propelled jetpack with some of your favorite adrenaline junkies!
Click for more details: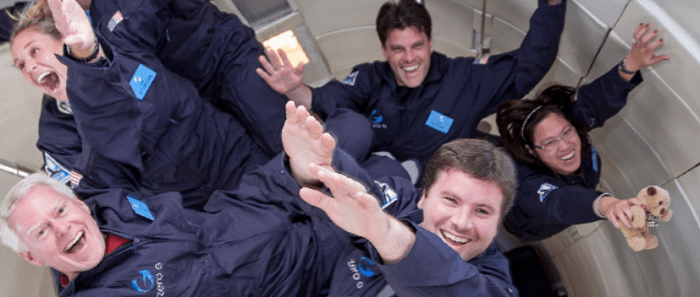 Experience life like an astronaut in this incredible weightless flight! Zero G takes your adrenaline experience to new heights with a truly a once in a lifetime memory that you're not soon to forget. Their specially designed aircraft give chartered flights to visitors hoping to feel the thrill of weightlessness in a zero G environment!
Need to know: Reservations are required, they'll get you a seat on G-Force One, where you can get the opportunity to do what few have done before! Striving to give thrill-seekers some of the most unique experiences imaginable, they even offer 'weightless weddings' in zero gravity!
Where is it: G-Force One departs from Fort Lauderdale-Hollywood International Airport, reservations will get you a seat on this reduced gravity flight!
The adrenaline experience: Few things are as exhilarating as taking part in a reduced gravity flight! Bouncing around weightless and experiencing life as the astronauts do, could you think of a better gift for a thrill seeker?
Click for more details: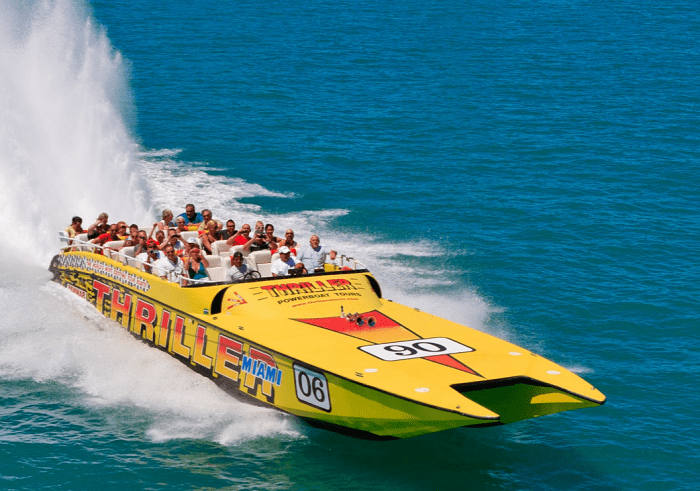 You can tour Miami by helicopter, foot, or on the streets but I bet you didn't know tearing through the coastline on a speedboat was an option. If you're looking for a Miami adrenaline experience gift that will make memories and take 'tour' to a whole new level look no further! Thriller Miami Speedboat Adventures takes guests on a 45 minute 'ultimate sightseeing experience'.
Need to know: Tours are run on a daily basis, and you can book seats on either their Miami or Hurricane vessels which both provide a thrilling and unique speedboat experience. Rates include Child and Adult admission, making this a great adrenaline rush for the whole family!
Where is it: Their dock is easily accessible from Downtown Miami, making this an easy addition to your Miami vacation!
The adrenaline experience: It right in the name! These speedboat rides are absolutely thrilling! Dubbed the world's most exciting speedboat, Thriller Miami speedboat adventures wants to take your Miami tour and kick it up to 11! The rush of the waves and the breeze in your hair, this speedboat tour is exactly the adrenaline kick you've been looking for.
Click for more details: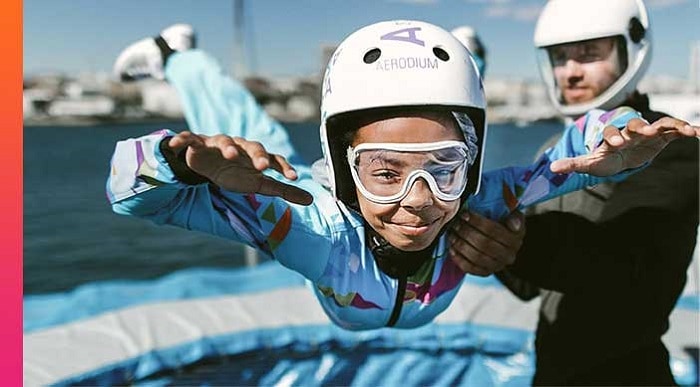 SuperFlight isn't the only reason to visit Jungle Island, but it might be one of the most thrilling! Surprise your favorite adrenaline junkie with a flight package gift because they'll never forget. Jungle Island makes it easy to experience free flight in an Aerodium wind tunnel. All of the thrill of a parachute jump, with all of the convenience only this type of experience can offer!
Need to know: Visitors can join in on SuperFlight's ultimate free flight experience as young as 4, with 120 Mph winds creating an unforgettable memory that will last a lifetime! Flight packages are offered for a variety of groups and flights, making this an easy gift idea for those looking for the ultimate thrill!
Where is it: Nestled between downtown Miami and Miami Beach, this excursion fits easily into anyone's Miami thrill vacation! Make it a part of your day on Jungle Island, or a break from the beach!
The adrenaline experience: Experience free fall in this exhilarating thrill ride of an experience! Feel the incredible rush of a 120 Mph wind tunnel under your belly. Wow, your closest adrenaline junkie with a flight package gift experience to make the most unforgettable Miami excursion around!
Click for more details:
Thanks for checking out our guide to some of the most exciting adrenaline junkie experience gifts in Southern Florida! These thrill-seeker experiences were hand-picked for the unique adrenaline experience they provide, therefore making them perfect for an extreme gift package! Let us know what kind of activities you've done in Southern Florida, any must-try thrill junkie experiences we missed?
Find More Experience Gift Near Me