Disclosure of Material Connection: Some of the links in this post may be "affiliate links." This means if you click on the link and purchase an item, I will receive an affiliate commission. Disclosure in accordance with the Federal Trade Commission's 16 CFR, Part 255. This site is a participant in the Amazon Services LLC Associates Program, an affiliate advertising program designed to provide a means for sites to earn advertising fees by advertising and linking to Amazon.
Working as a server or a bartender definitely has some great perks – great food, tasty drinks, and lots of fun people and experiences. It's a great chance to be active at work and have some flexibility in scheduling your life. While there are some great pros, there are also some cons to working in the service industry – crazy guests, long shifts, or bad tips. Show the servers & bartenders in your life how much you appreciate them with one of these gift ideas for restaurant servers and bartenders!

Gifts For The One You Love
You know, your bartender. 
Vincent Bartender's Hand Salve
With all of the glass and hand washing that servers and bartenders do, this stuff can be a lifesaver. It's easy to toss into an apron for each shift, too!
Engraved Wine Key & Bottle Opener
Servers and bartenders are always looking for a good bottle opener & wine key! An engraved one has a nice personal touch. And if they like wine, we had this entire list of wine items they are sure to love. 
Black Server Apron with Multiple Pockets
Depending on your server's establishment, a multi-pocket apron could be extremely helpful.
Mr Boston Official Bartenders And Party Guide Recipe Book Guide 2000
It's pretty likely that your bartender knows a lot of recipes already, however, this fun guide is also an excellent resource.
Black Monogram Waitress Apron
Help your favorite server dress up their standard black apron with a sparkly monogram!
Magic Wallets
Servers always have a wad of cash, so why not give them a Magic Wallet for a little bit of fun with it? Available in different patterns and colors!
"Waitressing Is My Cardio" T-Shirt, Hoodie, or Tank Top
A fun idea for your favorite waitress!
Book: Waiter Rant: Thanks for the Tip–Confessions of a Cynical Waiter
This book shares funny and witty tales of a NYC server's experience. It's a fairly short read that any server or bartender can relate to.
Vibes Hi-Fidelity Earplugs
Buy Now
These earplugs are perfect for bartenders and servers in loud establishments like bars, clubs and music venues. They're nearly invisible and are designed to filter out background noise but let you hear the voices that are close. Plus, they're comfy and come with changeable ear cushions.
Pack of Note Pads
Every server needs note pads to take orders with! Help your server stock up with these!
Ultimate Pampered Feet Bath Gift Set
Any server or bartender can tell you all about how their feet hurt at the end of a long shift. Give them this gift set for a little pampering. 
DVD: Waiting…
Most servers have seen this movie and can relate to hijinks that occur in this restaurant. It's guaranteed to make the server in your life laugh a bit!
"Servers Rock" Iron-On Patch
This fun patch could be attached to your server's apron or favorite bag!
DVD: Hey Bartender
A cool documentary about the rise of craft cocktails and mixology told through the eyes of two NYC bartenders!
Gift of Dry Cleaning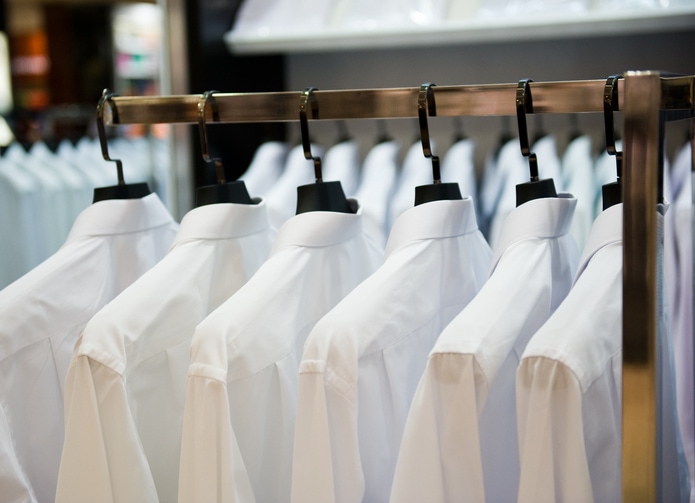 If your server has to wear a lot of starched and dry cleaned button down shirts, this is a gift that they'll definitely appreciate.
Lewis Bag with Loop
If your bartender is supers serious about craft cocktails, this is a great option! This helps create a 'dry' ice for certain kinds of cocktails.
Customized Bartender Cartoon
This is a lighthearted gift that can be customized for your particular bartender. A nice piece for framing at home or work!
Wine Away Red Wine Stain Remover
Almost every server and bartender has had some red wine spilled on them at one time or another! Help them save their cloths from stains with this stain remover.
St. Martha – Patron Saint of Waiters & Waitresses
Give your favorite server a this gag gift! Who knew there was a Patron Saint for waitstaff?
Waiter Wallet
This functional gift is can be customized to a server's own preferences. It has multiple pockets and comes in different sizes.
Custom Made Glass Tip Jar
These glass tip jars are great custom additions to a bar top! Individual bartenders can have their own tip jars, which can be extremely helpful during busy shifts!
Whether you have a server or bartender in your family, or if you're buying a gift for the bartender or server at your local watering hole, these gifts are sure to be enjoyed and used!