Disclosure of Material Connection: Some of the links in this post may be "affiliate links." This means if you click on the link and purchase an item, I will receive an affiliate commission. Disclosure in accordance with the Federal Trade Commission's 16 CFR, Part 255. This site is a participant in the Amazon Services LLC Associates Program, an affiliate advertising program designed to provide a means for sites to earn advertising fees by advertising and linking to Amazon.
Hey, I'm a library worker! We have a day? If you're planning on getting me, or another library worker in your life a gift to celebrate, then you've come to the right place. Remember, National Library Workers Day happens every April, so make sure you're prepared.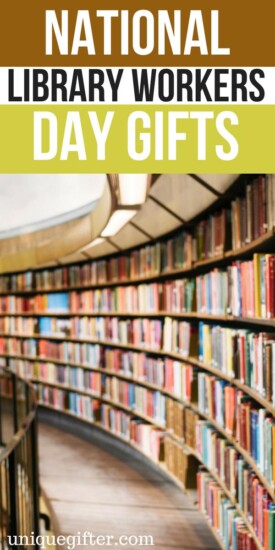 Fun National Library Workers Day Gift Ideas
Great Library Paperweight
This is a common theme among library workers. There's a reader for every book, as my boss says, but we also can offend everyone who walks in somehow with the contents of the library.
Made You Read Hoodie
Ha ha! It's always fun to trick people into reading. This is great for library workers or teachers.
Editor's Choice National Library Worker's Day Gift Idea
Grab a set of these awesome, whimsical stickers for your favorite librarian to celebrate their independent spirit!
Magnetic Poetry Set
They're probably an avid reader but it's time library workers showed off their more creative sides too. Magnetic poetry also sticks to metal book carts, just saying.
Books Before Looks
Just so everyone who comes by your desk knows where your priorities are.
Shh, I'm Reading Socks
Perfect for a book lover, especially in cooler weather. They can warm their toes, put their feet up, and send a clear message to the rest of the family all at the same time.
Book Nerd Gift Pack
Gift shopping when you're busy can be really stressful so instead of putting together a gift pack yourself buy a pre-made one instead. The pack comes with a bookmark, notepad, and magnet.
Library Stamp
What book lover wouldn't appreciate their very own library stamp the mark their collection?
Reading Sculpture
This elegant sculpture of a reader would look great in a library worker's office, on their desk, or even displayed in the library itself! It's a great idea for someone who has everything.
Book Lovers Mug
The library worker you give this mug to can (un)subtly show the world that they're reluctantly doing other things besides reading their book.
Vintage Library Posters
These vintage style posters will look great in a librarian's home or office. You could even hang them up in the library for some vintage library propaganda.
Editor's Choice National Library Worker's Day Gift Ideas
Funny Librarian Laptop Sticker
Library workers know better than anyone bringing up your favorite hobby isn't always as easy as you think. Luckily, you can let a sticker do all of the scary, unnecessary social interaction so you can get to the heart of the matter: books!
Treat YoShelves Shirt
Hey, even if no one gets you a gift, it's National Library Workers Day! Treat yoshelf!
Library Card Coasters
Sometimes you must set down your beverage to pick up a book and hopefully read it (or shelve it if you're at work). Keep the surface safe with these library stamp card inspired coasters.
Book Necklace
This is a really great way to say thank you to a library worker that's made a difference in your life. You can even have it sent to someone far away for a nice surprise in the mail.
Book Jockey Buttons
Sometimes you're a nice librarian and other times you're a punk ass book jockey. The perfect gift for someone with a sense of humour.
Book Chocolates
Chocolates are always a safe gift. These ones are packaged to look like a set of books, perfect for library workers.
Librarian Joke Mug
At work I had to YouTube how to change the fluorescent light bulbs but I could have always looked it up in the non-fiction section I guess. 645.5 – Light fixtures!
Volunteer Gift
Thank your volunteers, they're library workers too. This keychain can be personalized with their initial and is a great way to show that they're appreciated.
Dewey Decimal Art Print
They probably already know a lot about the Dewey Decimal System but even library workers sometimes forget the specific categories. This art print can be hung for easy reference.
Library Sign
Whether they need a sign at their work library or they just want to use it at home, this handmade sign is perfect for everyone who loves books.
National Library Worker Day T-Shirt
Great to give to library workers or for anyone to wear on National Library Workers Day! Show your library some love.
Not just for library workers! These are also just great gifts for librarians and book lovers all year long. What's your favourite book?